Lane Kiffin, Mack Brown muddle job picture with curious losses
USC's Lane Kiffin and Texas' Mack Brown aren't helping themselves in job evaluation that was already fragile before BYU and Washington State
• 3 min read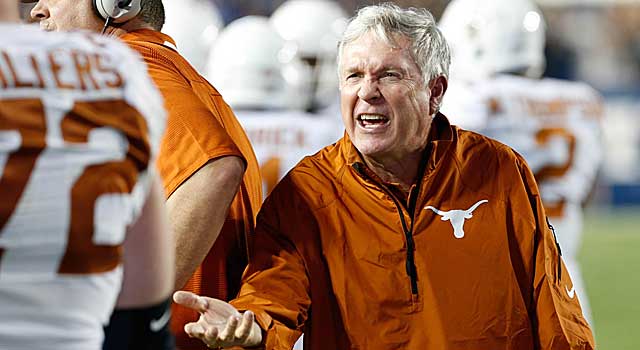 It seems a little silly to bury a coaching tenure after Week 2.
Maybe Lane Kiffin and Mack Brown are intent on burying their own.
More weekends like this and the offseason coaching game could include two premier jobs that undoubtedly will attract rising coaching stars.
Texas and USC aren't there yet, and might not be for awhile. USC and Texas administrators have pumped their coaches publicly. Brown's track record could help stave off pressure assuming Texas finishes the year in respectable fashion.
But it's not that these coaches lost a game in Week 2. It's what the losses represent.
Regression and confusion.
If Brown wasn't feeling heat, he wouldn't have fired defensive coordinator Manny Diaz on Sunday and replaced him with Greg Robinson.
Though there was buzz in coaching agent circles about a Texas booster putting out feelers to potential Diaz replacements, the Longhorns decided to stick with Diaz. Robinson was hired in the offseason as a staff analyst, so perhaps he was insurance if Diaz didn't finish. Still, it seems doubtful Texas expected to move Diaz after two games.
Is there really any coming back from giving up 550 rushing yards to BYU on the road? Probably not. In a statement, Brown said Saturday's defensive performance was "unacceptable, and we need to change that."
If Texas wasn't convinced Diaz was the answer after last year's air-tackling clinic, why didn't Brown pull the trigger then?
The losses Saturday in Provo and Los Angeles spoke to a bigger problem.
After an entire offseason of Brown and Kiffin saying all the right things and vowing improvement and deflecting any coaching heat, real or perceived, this is what the programs are left with -- Ls to Washington State and BYU, which averaged a wild 7.6 yards on 72 rushing attempts.
Coaching USC and Texas is less about talent and more about the evaluators evaluating that talent and maximizing potential. Whether Brown and Kiffin are doing this effectively is in question.
It's difficult to forecast whether the next 12 weeks will get better.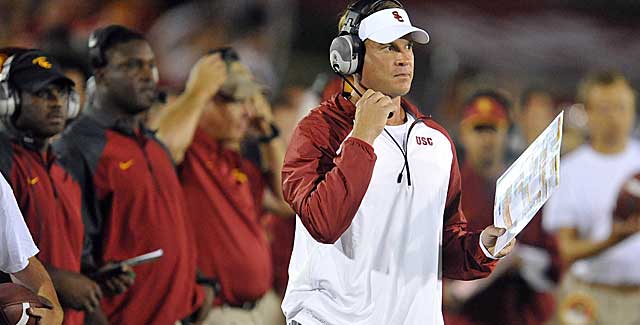 After losing to a Washington State team that wasn't expected to improve much from its 1-8 Pac-12 record a year ago, USC still gets Arizona State in Tempe, Notre Dame in South Bend and Stanford at home. The schedule seems manageable, but it won't be if the Trojans' quarterback problems persist. Neither Cody Kessler nor Max Wittek has taken ownership of the job.
There's a small group of people -- AD Pat Haden included -- that believe Kiffin is a promising young coach. He can't seem to prove them right.
Will Texas get to the Cotton Bowl with less than two losses? Ole Miss, Saturday's opponent in Austin, is improved. Kansas State lost much of its luster from last year's one-loss regular season but will be prepared for a Sept. 21 matchup in Austin. At least Texas has a quarterback it likes, even if it took a few years to find.
Last offseason produced four SEC jobs, which likely won't be the case this December, but openings at Texas and USC would be fascinating to watch unfold.
Texas is arguably a top-three job and the right personality would kill it there. Think James Franklin or Pat Fitzgerald wouldn't inject energy into that place?
USC loses points because of the NCAA scholarship reductions, a reality to which Kiffin probably hasn't gotten enough credit when his job performance is evaluated nationally, but this is still a top-10 job.
If Kiffin and Brown keep their jobs, the volatile coaching market will be less attractive. But these two aren't making that evaluation easy.
Rhoads led Iowa State to three bowl games in seven years as head coach

The Georgia middle linebacker is one of the most valuable players in college football

Explaining my 2017 Heisman Trophy ballot and Jackson's tremendous season
Mayfield is the sixth Oklahoma player to win the Heisman since its inception

The Heisman Trophy will be presented to the best college football player this season

Army topped Navy for the second straight year in an absolute thriller in Philadelphia