Lawyer for Louisville signee responds following felony charges
A lawyer for Louisville signee Sharieff Rhaheed-Muhammad says the charges against his client should not have been made public, and expects the university to let the legal process play out.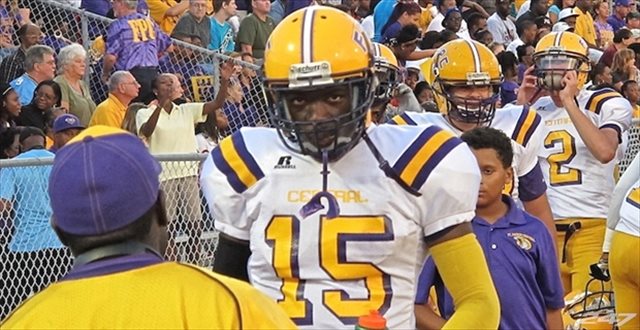 An attorney for Louisville signee Sharieff Rhaheed-Muhammad responded publicly Wednesday after charges were filed against his client earlier this week, alleging felony lewd behavior with a minor. Rhaheed-Muhammad was arrested in his Fort Pierce, Fla. home, TCPalm.com reported Tuesday.
Attorney Robert Watson told WPBF-TV in West Palm Beach the case should not have been made public by the Fort Pierce police department because the 17-year-old Rhaheed-Muhammad is a minor. The signee is alleged to have impregnated a 14-year-old girl who is also his cousin, according to multiple reports. The girl reportedly had an abortion.
"What happened, according to the allegations, was experimental activity between two teenagers," Watson said. "One child would have been slightly over 16 [at the time of the incident], the other approximately 14 ... not something that would be all that extraordinary in human behavior."
Per the Louisville Courier-Journal, a Louisville spokesperson said coach Bobby Petrino was aware of the issue but would not comment on it.
"It's my understanding that they're going to let the legal process unfold to see where the outcome lands," Watson said of Louisville. "This is such a good young man, that they shouldn't have any reservations whatsoever."
Rhaheed-Muhammad was a three-star linebacker recruit who chose to sign with the Cardinals in February over offers from Arkansas, Missouri and Michigan State. 
The Michigan coach had quite a few things to say on Monday after their visit to West Lafay...

The full ranking of all 130 college football teams includes TCU up and a major drop for Florida...

The charges all stem from an investigation into improper debit card charges
LSU at Florida has been picked as the SEC on CBS Game of the Week

It's an interesting move from Florida coach Jim MacElwain to say the least

Florida State's 0-2 start to the season can't be blamed on one specific thing