Lawyer: No discipline for Jameis Winston in FSU code of conduct case
Florida State quarterback won't face any discipline from Florida State as a result of the school's code of conduct case.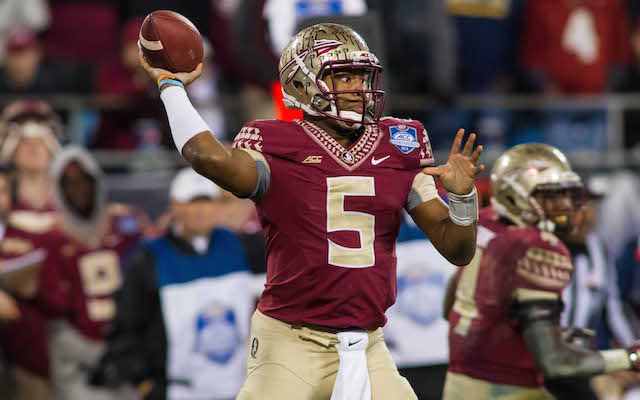 Florida State quarterback Jameis Winston will not face any discipline from the school after his code of conduct hearing following allegations of sexual assault.
Winston's attorney, David Cornwell, tweeted the conclusion of the case on Sunday afternoon.
"This was a complex case, and I worked hard to make sure both parties had a full and fair opportunity to present information," wrote Major Harding, the retired Florida Supreme Court Justice who heard the case wrote in a letter to Winston. "In sum, the preponderance of the evidence has not shown that you are responsible for any of the charge violations of the Code. Namely, I find that the evidence before me is insufficient to satisfy the burden of proof.
"As summarized in the preceding paragraphs, the evidence regarding the events that unfolded between you and (the woman) once in your room is irreconcilable. In light of all the circumstances, I do not find the credibility of one story substantially stronger than that of the other. Both have their own strengths and weaknesses. I cannot find with any confidence that the events as set forth by you, (the woman), or a particular combination thereof is more probable than not as required to find you responsible for a violation of the Code."
Florida State president John Thrasher released a statement about the case on Sunday.
"The university selected Justice Major Harding, a highly qualified and respected jurist, to remove any doubt about the integrity of this process and the result," said Thrasher. "He conducted a thorough Student Conduct Code hearing and reviewed more than 1,000 pages of evidence generated by three other investigations, and we would like to thank him sincerely for his service. Moving forward, we remain committed to the principle of due process, and our highest priority will continue to be the safety and well-being of all our students."
Had Winston been found in violation of the school's Code of Conduct he would have faced discipline that could have included expulsion from the school. It is possible, however, that Winston could face legal trouble in a civil case.
But that won't have any effect on his eligibility as Florida State's quarterback as the Seminoles prepare to face Oregon in a College Football Playoff semifinal at the Rose Bowl on New Year's Day. 
Everything you need to know about the week that was in college football

Dennis Dodd checks in after another wild week as two big-time programs fall from his top 2...

The Buckeyes are a touchdown favorite over the Nittany Lions in a huge Week 9 game
Josh Adams and Derrius Guice helped their teams to big wins in Week 8

The Eagles have started winless in Summers' second season and were 5-13 overall under him

The Fighting Irish are up to No. 9 in the latest edition of these college football ranking...