Leaving early for NFL Draft a riskier proposition every year
Of the record 98 underclassmen in the NFL Draft, a record 36 went undrafted, leading to uncertain futures and questions about leaving early.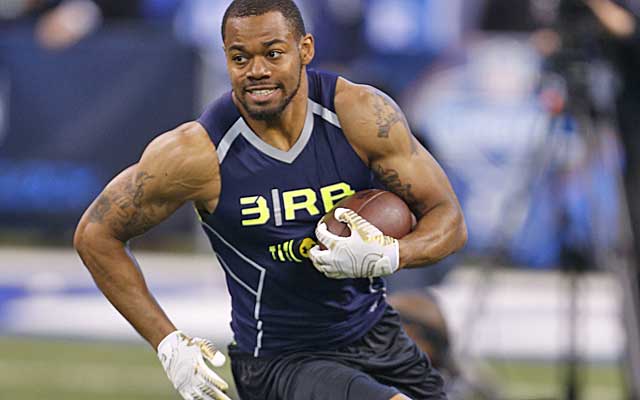 Draft coverage: Picks and grades | Prospect Rankings | Sam goes No. 249 | News
At times last week, it was hard to get past the NFL Draft freak out of the moment.
Johnny Freefall dropped.
Michael Sam languished.
Texas flat out got skunked.
Those situations either were -- or will be -- rectified. (Assuming Texas gets another player drafted. The Longhorns didn't have a player selected for the first time since 1937.) Perhaps the most overlooked story of draft weekend, though, was record unemployment. That came after a record 98 underclassmen declared for the draft resulting in a record 36 such players going unselected.
That's a failure rate of almost 40 percent.
"They aren't ready," said Ray Anderson, Arizona State's AD. "They think they are."
Anderson has an up-close view, having arrived at ASU in January from the NFL where he was executive vice president of football operations.
"I think you're going to have a lot more guys disappointed than ever before. It's going to take a class or two for that to happen before [realization] kicks in."
Don't tell that to the 62 underclassmen who did get drafted. Half the first round was early entries. No. 1 overall pick Jadeveon Clowney led a charge that included four of the first six and six of the first 10.
"This was an underclassman year in my opinion all across the board," said Oregon State  receiver Brandin Cooks, a junior who was taken in the first round by Saints. "to receivers to running backs to quarterbacks to defensive backs. We felt like as juniors we were the top of the class."
For the fourth consecutive year there were a record number of early entries. Just about everyone saw it coming. Ever since the last collective bargaining agreement instituted a rookie salary cap three years ago, it's largely become a chase for that second contract. The thinking is the quicker a player gets to that second (uncapped) deal the quicker he gets paid.
Rookie contracts are set at four years. First-round contracts contain an option for a fifth year. Free agents sign three-year deals. "With the change of the CBA two years ago, [the message was] 'Let's not give these first-time draftees all this money and this big guarantee before they've even made the team,' " former Kansas City Chiefs GM Carl Peterson said. "Give that money to the guys who earned it."
There wasn't -- perhaps still isn't -- enough faith in underclassmen who might be physically, emotionally and academically underprepared. Unemployment isn't exactly the right term when the undrafted wake up this week. A lot of them will sign free-agent contracts. A fraction of those might even become starters with long careers.
But they won't necessarily be secure. Clowney is projected to sign a $22 million deal, but you can see here the dropoff in the lower rounds is fairly dramatic.
The message hasn't gotten through. For every Clowney, there is the possibility of a John Clay. Remember him, 2009 Big Ten player of the year? Clay came out in 2011 after rushing for 1,012 yards and 14 touchdowns as a junior? Clay's NFL career totaled 10 carries in two games.
Texas' Kwame Cavil caught 100 balls in 1999. He left a year early and caught four passes in one NFL season before matriculating to Canada.
Historically, far more underclassmen go undrafted than go in the first round. For purposes of this column, the discussion really starts after the third round. Twenty-two underclassmen were taken in the fourth round or later last week. That historically limits their chances of making a long-term NFL living.
"What's happening is, this generation is not as patient, a little bit more 'me' oriented," BYU coach Bronco Mendenhall said. "There's a little more influence of agents and their self interests.
"What they're not doing is educating them on what happens afterward. Systemically and emotionally there are some things at odds right now."
To put the fallout of the college dropouts in perspective, this is the 25th year since the NFL welcomed underclassmen. (The rule actually says players are eligible for the draft three years past high-school graduation.) Almost 10 percent of all underclassmen left undrafted in history (36 of 378) were passed over last week.
For further perspective, the average for the past 24 years has been 14.2 undrafted underclassmen per draft. That number increased last week more than 2 1/2 times.
"I think it's sad for the college game," Arizona State coach Todd Graham said in the days leading up to the draft. "You could have some guys who could have incredible, memorable senior seasons that are going out getting drafted after the fourth round or not drafted at all."
The list of this year's unselected ranges from the well-known to the desperate. And just about every label between.
James Wilder Jr. took his national championship ring -- and his chances -- and left after three years at Florida State. Wilder, a five-star high school prospect, underachieved in college. A history of injuries and legal dustups made him a fringe prospect. On that great '13 FSU team, he carried only 81 times.
Cal led the way with four players. Nine of the undrafted came from the SEC. Notre Dame tailback George Atkinson -- an impressive combination of size and speed -- has scored touchdowns on two continents. None of that mattered in the draft.
Undersized Wyoming quarterback Brett Smith came out, too. The NFL decided he was also unremarkable.
No one could have blamed Missouri junior Henry Josey. After missing 1 1/2 years because of a shredded knee, his return to the lineup in 2013 was key for the SEC East champions. He leaves Mizzou with fond memories, a healthy knee and a free-agent deal with the Eagles.
Meanwhile, Alabama State tailback Isaiah Crowell has only himself to blame. Crowell was the 2011 SEC freshman of the year at Georgia. But gun charges (since dropped) led him to getting kicked off the team. Cleveland signed the onetime top-five prospect out of high school to a free-agent deal.
USC's Steve Sarkisian lost five underclassmen. Only two were drafted -- receiver Marqise Lee and center Marcus Martin. Sark lost safety Dion Bailey, defensive lineman George Uko and talented tight end Xavier Grimble.
All three immediately found work as free agents, but that certainly wasn't the plan.
"The old school model -- come in and redshirt, you're here for five years -- that doesn't pertain a lot anymore," Sarkisian said.
"My assessment of it all is you really have to count on juniors leaving. It's a little different climate than it was six years ago. USC's not the only one unique to that. I think you've seen a really growing trend around the country. I don't agree with it. I think guys are not making great decisions."
The look of the entire draft may have hinged on the decision made by Oregon quarterback Marcus Mariota. The kid who could have been the No. 1 quarterback taken quickly decided after the season he was staying in school.
"I wanted to finish and get my degree," Mariota said. "Football is only for so long. The biggest thing is coming back and enjoying college. You get to be a kid for a year, kind of hang out with my teammates for a year."
Mariota was nicked by a knee injury that limited his mobility last season. It helps this year that he is backed up by a multi-million dollar insurance policy.
By staying, Mariota becomes a candidate for the overall No. 1 spot in 2015 or -- heaven forbid -- in need of having to use that insurance policy.
That's really the issue, balancing the lure of the NFL against an injury suffered by staying an extra year.
The plight of Arizona State linebacker Carl Bradford seems to suit the discussion. He hadn't played until Graham came along two years ago. Bradford hit a high point in 2013, getting 19 tackles for loss and 8 1/2 sacks.
He was drafted in the sixth round, that nether region where nothing -- least of all riches -- is promised.
"I think it's sad when they make mistakes based on the wrong information," said Graham, who wasn't speaking specifically about Bradford. "On the other hand if he's going to be a top pick in the draft ... we're going to celebrate that."
Eagles coach Chip Kelly said on ESPN he prefers draftees with degrees. Six of the seven Eagles' picks have either graduated or are on track to graduate this semester. The seventh, Wisconsin defensive tackle Beau Allen, is reportedly 14 credit hours short.
"No. 1, I think [graduating] shows you the intelligence factor, and No. 2, it shows that they're committed to establishing goals and following through on their goals," Kelly said. "You're going to face some adversity, whether it's in school or on the football field. You've got a bunch of driven guys, and that's evidence that they are driven."
For now, the players and agents must regulate themselves -- almost an impossibility. There is a future chance that more agent interaction may be allowed in a restructured NCAA. It's almost a certainty that players who leave early will have their remaining education paid for, if they choose to pursue a degree in the future.
Under the banner of student-athlete welfare, that would at least economically soften the blow of a foolish NFL decision made before graduation.
For now, no one's going to tell them they can't come out. BYU's Mendenhall has an idea. If at least 30 percent of an agent's underclassmen don't get drafted, de-certify the agent. Peterson had a similar conversation with super agent Tom Condon: If an agent projects a client to be a first-round pick, put it in writing. If the player drops out of that first round, the agent promises to make up the difference in that rookie salary cap money out of his own pocket.
"Agents realize it and the coaches realize it and the players realize it," Anderson said. "You know what, going out early isn't some guarantee.
"I think we're going to go through a phase of a couple of years where guys go 'I shouldn't have declared.' "
CBS Sports HQ Daily Newsletter
Get the best highlights and stories - yeah, just the good stuff handpicked by our team to start your day.
Please check the opt-in box to acknowledge that you would like to subscribe.
Thanks for signing up!
Keep an eye on your inbox for the latest sports news.
Sorry!
There was an error processing your subscription.
The next chapter of the Smith saga includes protection orders and plea deals

Anybody can rank the 25 best teams, only the Bottom 25 ranks the worst every single week

Turpin was previously arrested twice for causing bodily injury to a family member
Turpin is a standout playmaker on the Horned Frogs

SportsLine's advanced computer model simulated every Week 9 college

Mack is out indefinitely after undergoing surgery on the injury