Les Miles wants to temper the Fournette hype he helped create
LSU coach Les Miles wants everybody to lower their expectations of freshman running back Leonard Fournette.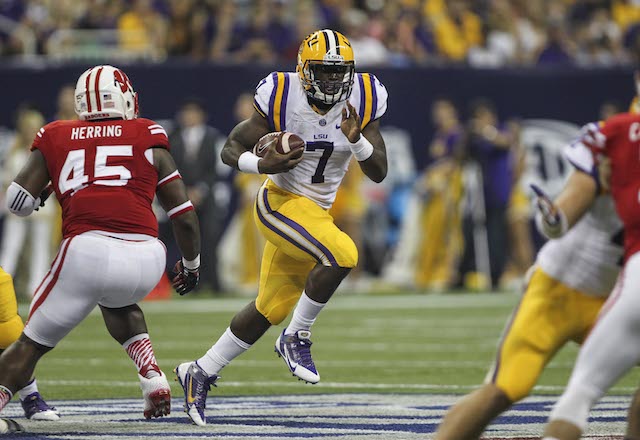 Les Miles would like everybody to lower the sky-high expectations they had for LSU freshman running back Leonard Fournette, even though Miles himself played a big part in building the hype.
Fournette was the top-ranked recruit in the 2014 recruiting class, which raised expectations on its own, but before the Tigers opened the season against Wisconsin last weekend plenty of people were talking about him as the next great college football running back. I heard people throwing out Adrian Peterson as a comparison, which is quite a lofty expectation for anybody. 
Then the season began and Fournette rushed for only 18 yards on eight carries against Wisconsin, and everybody wanted to know what happened. Well, on Wednesday Les Miles wanted you to know you had unrealistic expectations.
"He did great," Miles told reporters. "First games are not to be comparable to his 30th game, Expectations are unrealistic. Can you imagine that somebody would comment on how you played your first game as a true freshman? To say it was anything other than exactly what we needed – this is a mistake."
And what Miles said makes a ton of sense, but there's one small problem. Miles probably shouldn't talk about anybody having unrealistic expectations of Fournette when this is what Miles said about him at SEC Media Days.
"He expects himself to be something very special," Miles said then. "I think if you look at Michael Jordan, he could not have been coached to be Michael Jordan. Michael Jordan accepted the role of expecting him to be better than any. I think (Fournette) has a quiet confidence there that will benefit him, and I think we will always have an opportunity to play at that spot."
Now, to be clear, Miles did not say that Fournette is going to be the Michael Jordan of college football. What he did, though, was immediately bring up the name Michael Jordan when asked a question about Fournette. And then it said it a few more times, which sends a message of "this kid is like Michael Jordan."
Gee, I wonder if that led to somewhat unrealistic expectations from fans and the media alike?
I guess we'll never know!
These five teams have the best chance of being the Group of Five darling this coming year

Drevno had been running the Michigan offense for three seasons

Aaron was reportedly shot while trying to protect his girlfriend when a fight broke out at...
An assistant-by-assistant look at changes Saban made to the Tide's staff ahead of 2018

Find out when Nick Saban, Kirby Smart and the rest of the coaches will speak ahead of the...

It wasn't only the massive $75 million contract that got Fisher to depart for College Stat...