Let's wait until next year on substitution proposal, officials say
Most coaches hate the 10-second substitution proposal, but officials involved in next week's decision-making say maybe it would be best-accepted after a year to digest
• 3 min read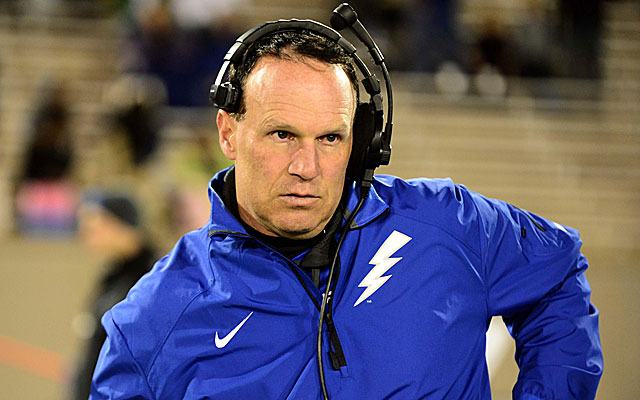 More college football: Bruce Feldman | Dennis Dodd | Jeremy Fowler | Latest news
Rarely does a basic college football rule proposal spark widespread debate.
Rules should induce yawns, not a political beast.
But not this rule,  the 10-second substitution proposal from the NCAA rules committee that's engendered vitriol from every coach running a no-huddle offense.
The targets are too easy -- Nick Saban, Bret Bielema, rules committee member Troy Calhoun or anybody who considers fast offenses either a safety hazard (no hard evidence suggests that) or a threat to traditional football (OK, maybe that).
The vitriol is authentic, as evidenced by ESPN.com's poll that unveiled an overwhelming majority of coaches are against the proposal.
We know how coaches feel, so I wanted to ask a few non-coaching sources with knowledge of the situation -- either on the side of the NCAA football oversight committee scheduled to meet next week or high-ranking college football officials privy to NCAA process -- about how all of this might go down in the next five days or so.
Here are a few things I gleaned.
• Wait until next year: Since the rules committee sprung this on coaches Feb. 12, the wounds appear too fresh for the proposal to get serious consideration.
In fact, one official who spoke on condition of anonymity called ruling "D.O.A."
Major football rules are typically passed in two-year cycles, and this is an in-between year. Football is the rare sport where defenses can't sub as they wish (must wait for the offense to do so first), so perhaps this proposal, if retooled to accommodate both sides, is worth a robust debate when everyone calms down.
If this gets passed now, riots in the streets.
"If they are wise they will table this thing and have a really good debate about it next year," said a source involved in next week's decision-making. 
• Only a legitimate safety concern would give the rule a chance now:  NCAA coordinators official Rogers Redding told colleague Dennis Dodd there was no hard data suggesting the current rules are a safety concern.
More than two weeks later, still no hard evidence. Calhoun's perceived back-tracking didn't help, either.
The oversight committee knows it can't move this along without some form of medical data.
And, no, Bielema pointing to Cal player Ted Agu dying in an offseason workout does not suffice.
• The rules committee will meet first: The rules committee will meet at some point before the oversight committee's March 6 meeting. At that point, the committee can decide to drop the proposal or push forward.
If the committee has a glimmer of hope, it might come from the Big 12, which I'm told had a close-to-even straw poll vote from its coaches. It was either 5-5 or 6-4, according to a source, which is noteworthy because of the Big 12's penchant for offense.
For comparison, the Mountain West's vote was 8-3, with one coach not voting.
Speaking of the Big 12…
• Will eight-man officiating crews be the solution defenses are looking for?: The Big 12 wonders.
The Big 12 was the first to experiment with eight instead of seven, getting a one-year trial approval last season from the NCAA and football officiating coordinators.
There's buzz that leagues won't need such approval in the future to implement eight-man crews. They can do so at at their own discretion.
The Big 12 is satisfied with eight because a crew can designate the extra official to helping defenses substitute.
The SEC is experimenting with eight during spring practices.
"I think (eventually) you'll see eight officials as the norm," Big 12 commissioner Bob Bowlsby said.
Big 12 offenses averaged 74.7 plays per game last year, up slightly from 73.8 the year before, but that's with first-year head coach Kliff Kingsbury running a FBS-leading 1,135 plays for Texas Tech. Take out Kliff and the average is 73.25.
Plays per game don't tell the whole story of no-huddle offenses -- plays per second are just as significant, because it's about how fast you score -- but based on these stats, eight-man crews didn't thwart or enable offense. The production remained relatively stable.
Miami got punched in the face but reacted like any undefeated team would

Another week, another win for Wisconsin

NCAA football scoreboard, highlights and updates from the biggest Week 12 games
The Bulldogs look to regain their footing when they host the Wildcats in the SEC on CBS

Because sushi is easier to eat than gold, right?

Donovan Peoples-Jones may have had a touchdown catch, but it was ruled an incompletion