Liberty Bowl Quick Hits: Tulsa 31, Iowa State 17
The Golden Hurricane dominate on the ground and win their rematch against Iowa State.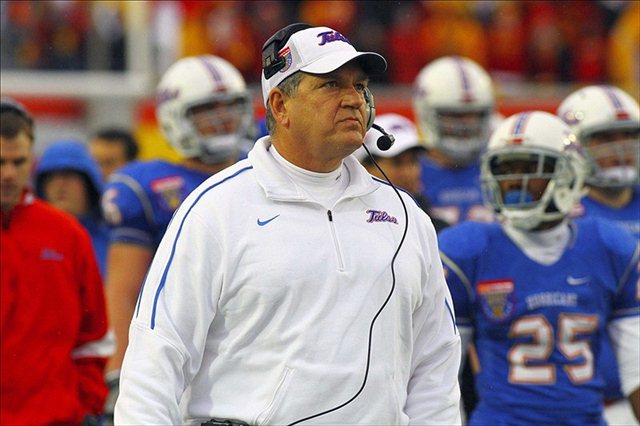 Bill Blankenship added a Liberty Bowl trophy to his 2012 haul. (US Presswire)
TULSA WON. Week 1 was a long, long time ago in college football terms, and Tulsa showed exactly how long by turning the tables on Iowa State -- 38-23 victors over the Golden Hurricane back on Sept. 1 -- and dominating their Liberty Bowl rematch. Conference USA's best rushing team (and champion, not coincidentally) racked up 311 rushing yards, 149 of them by junior tailback Trey Watts, and held the Cyclones off the scoreboard for the final 48 minutes of the game.
WHY TULSA WON: Offer plenty of credit to the Hurricane; Their offensive line and tailbacks -- not just Watts, but Ja'Terian Douglas and Alex Singleton, who combined for 263 of those rushing yards -- simply destroyed the Iowa State front seven, and likewise the Tulsa defensive line caused the Cyclones offensive front major headaches all game long.
But the Hurricane's defensive job was made far easier by an Iowa State quarterbacking performance that was, to put it politely, lackluster. Subtract the busted-assignment 69-yard touchdown pass to tight end Ernst Brun and starter Sam Richardson is 10 of 20 for a whopping 60 yards, an average of 3 yards an attempt. After Richardson had failed to lead the Cyclones to a single third-quarter first down, former starter Steele Jantz came off the bench ... and in three drives threw for less than 6 yards an attempt himself while throwing an interception and fumbling the ball away.
To be fair, both Richardson and Jantz were under pressure on the majority of their dropbacks and didn't always get a lot of help from a Cyclones receiving corps that sometimes struggled to get open. But the bottom line is that it's hard to win any bowl game -- much less one against a conference champion bent on revenge -- without more production from under center.
WHEN TULSA WON: Down 31-17 with 10:55 to play, Iowa State punted away (again) needing a quick stop. Instead Tulsa rushed for nine consecutive snaps, gaining three first downs and not giving the ball back until less than five minutes remained. The drive didn't yield points, but the way the Cyclones offense was sputtering, it ate up enough clock that only a miracle could save Iowa State at that point.
WHAT TULSA WON: 2011 wasn't a bad debut season for Bill Blankenship -- a 7-1 C-USA record, 8-4 mark overall, and bowl appearance -- but 2012 will mark him as one of the sharpest up-and-coming coaches in the league and maybe the country after a C-USA championship and the throttling of the Cyclones. It's the first 11-win season for Tulsa since 2008.
WHAT IOWA STATE LOST: Bowl games still aren't regular occurrences for the Cyclones -- this is just their 12th one -- and this would have been just the program's second bowl victory since 2004. It's not a huge loss in the grand scheme of things, but it won't help change the Cylclones' standing as a team that's rooted firmly to the middle of the Big 12 pack.
FINAL BOWL GRADE: The first 15 minutes were a thrill, the last 45 a complete snooze unless you're a particularly big fan of 4-yard Tulsa runs and punts. Grade: D+.
The 21-year-old quarterback was expected to start for the Cougars in 2018

The Fighting Irish will be without some playmakers in 2018

It may have been impossible for Sumlin to meet the expectations set for him in College Sta...
Some players are more easily replaced than others

The 2017 season is in the books, and several big-name stars are jumping early to the NFL

Love was second in the nation in rushing with 2,118 yards in 2017