Line Study: Major Showdown In Autzen
Every Monday (or in this case, Tuesday) the Eye on College Football's Tom Fornelli takes an early look this week's most interesting point spreads in Line Study.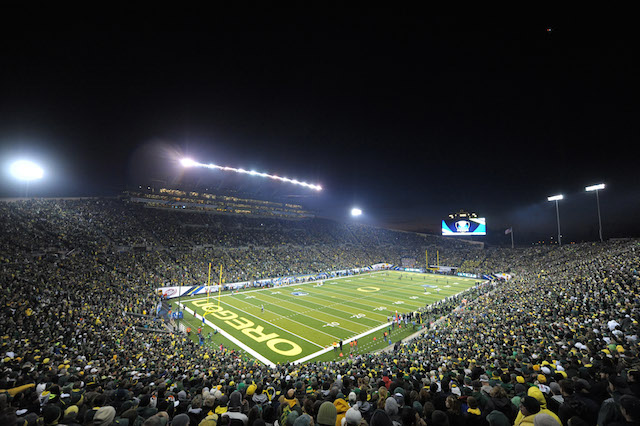 Every Monday (or in this case, Tuesday) the Eye on College Football's Tom Fornelli takes an early look this week's most interesting point spreads in Line Study.
Like a lot of teams in college football, I got off to a bad start this season. In last week's Line Study I picked five games, and I went 2-3 in them. Though, in my defense, I said from the beginning I was never confident either way in that Texas A&M/South Carolina, and I was a half-point away from being right about LSU and finishing 3-2.
That damn hook gets you every time!
But what's in the past is in the past. It's a new week, and I have new games to pick from featuring teams I've actually seen play football now! That's more information at my disposal, and having information is a good thing. So let's just go 5-0 this week.
THE GAMES YOU'LL BE WATCHING
No. 7 Michigan State at No. 3 Oregon (-13.5)
Does this spread not seem rather large to you? It originally opened with Oregon as an 11-point favorite and quickly grew to 13.5, which is quite all right with me because I'll take Michigan State and however many points they want to give me.
I know playing in Autzen (hey, a big time non-conference matchup taking place on an actual campus somewhere) is tough for any road opponent, but defense travels. And Michigan State's defense is very good. 
Aside from that, though, I have other reasons to lean toward the Spartans. First of all, Michigan State is 9-1 ATS (against the spread) on the road over the last two seasons, and 4-0 ATS as a road underdog. It's not just a recent trend, either, as Michigan State has gone 30-19-1 ATS on the road in Mark Dantonio's seven years with the school. Then there's the fact that over the last three seasons Michigan State has lost 10 games. The average margin of defeat in those games is 7.6 points. The average margin of defeat in Michigan State's losses the last two seasons is 4.9 points.
Even when Michigan State loses, it's rarely losing by much.
On the flip side there's an Oregon team that's very good at home overall, going 20-2 at Autzen the last three years, but is only 10-11-1 at home ATS in those 22 games. So while I can't say with a certainty who is going to win this game, I am rather confident that no matter what the final score is, it's going to be a single-digit margin. Take Michigan State +13.5.
Michigan at No. 16 Notre Dame (-4.5)
This is another line that's had some early movement, as Notre Dame opened up as a 6-point favorite and that quickly went down to the 4.5 points it's currently at. Unlike the Michigan State/Oregon game, though, I don't have any immediate inkling as to which way to go. Both teams looked impressive in their openers, but they did so against Appalachian State and Rice, so you don't want to read too far into either game.
Fortunately we have plenty of history between these schools to work with, and there are a couple of things I see that make me lean toward Michigan.
Michigan has not only won four of the last five meetings in this series outright, but it's covered in four of the last five as well. I should point out, though, that in the last two games played in South Bend the two teams have split, but that doesn't happen often for Notre Dame at home when it comes to the point spread.
Brian Kelly is now in his fifth season with the Irish, and during that time Notre Dame has been a home favorite in 53 games. It's gone 19-31-3 ATS in those games. So while I don't have a ton of confidence in this line either way, if I have to give a pick (and I'm pretty sure I do, as that's the point of this feature) I'd lean Michigan +4.5 right now, though I would also recommend waiting this one out to see if there's any further movement of the line before kickoff.
No. 14 USC at No. 13 Stanford (-3)
I watched a lot of teams play over opening weekend, and there weren't many that left more of an impression on me than USC. The Trojans dismantled Fresno State, running a Pac-12 record 105 plays on offense en route to a 52-13 win. Stanford, meanwhile, was playing UC-Davis, so it's kind of hard to take anything from that game very seriously.
It's also hard for me to get a solid read here, as no trends really stick out. While Stanford is 20-1 at home under David Shaw, it's only 11-10 at home ATS under him. USC is 10-13 ATS on the road the last four seasons, but that includes an 0-5 mark in 2012 when Lane Kiffin's team couldn't beat a spread if its life depended on it (7-6 overall, 3-10 ATS). Steve Sarkisian's recent history doesn't clear things up much, either, as his Washington team went 6-7 ATS on the road the last three years.
As for actual games between these two schools, while Stanford has won four of the last five meetings, it's only gone 3-2 ATS in those games, and the last four games have been decided by a grand total of 20 points.
In other words, these two have played some close games, and that's a low spread. So I don't have much to work with here, though my gut is telling me to take USC +3 and my head is telling me it's probably best to sit this one out.
THE GAMES YOU SHOULD EXPLOIT
No. 20 Kansas State (-12) at Iowa State
I never like being too confident about a road favorite, but this line opened up with Kansas State as a 15.5-point favorite and was quickly bet down to 12. And I like it there.
Over the last three years Kansas State has gone 11-2-1 ATS on the road, and 3-1-1 as a road favorite. While some teams have had trouble going to Ames, Bill Snyder's teams are generally pretty reliable from week to week. 
Meanwhile, Iowa State is coming off a loss to North Dakota State last week (which isn't anything to be ashamed of) and lost its best wide receiver to a torn ACL. It's a team I just don't have any confidence in right now. Take Kansas State -12.
Arizona (-7) at UTSA
I just said I never like being too confident about a road favorite, and here I am taking another one. I'll probably pay for this, but I just look at this line and I feel so good about it, and I can't stay away. 
This line screams overreaction to me. Yes, UTSA was impressive in a surprising 27-7 win over Houston to open the season. It's a good team that could easily end up making a lot of noise in Conference USA this season.
But only a touchdown underdog against Arizona? Even at home, that seems a bit generous. If the spread swings closer to 10 points I'd definitely lean toward the Roadrunners, but where it currently sits I really like Arizona -7.
Guice is dealing with a 'minor injury' that has not been specified by coach Ed Orgeron

Professional college football bettors are loving Jim Harbaugh and Michigan against Purdue

Temple knocked off USF last year to claim the division title
These are the best bets to make in Week 4 including Florida-Kentucky and Oklahoma State-TC...

Two players died as a result of playing college football on Saturday

Gary Danielson previews this week's SEC on CBS Game of the Week from Nashville