Line Study: The Season Is Finally Here
Every Monday the Eye on College Football's Tom Fornelli takes an early look this week's most interesting point spreads in Line Study.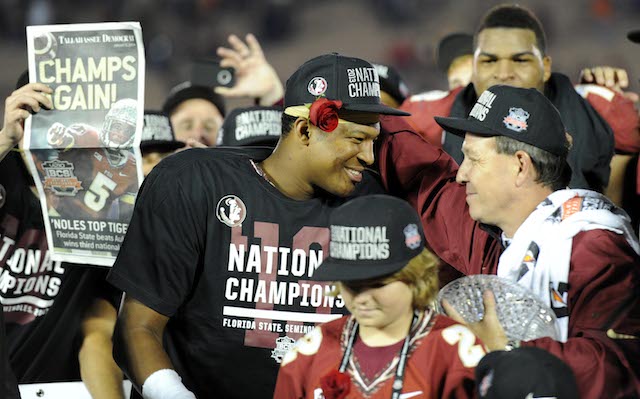 Every Monday the Eye on College Football's Tom Fornelli takes an early look this week's most interesting point spreads in Line Study.
It feels like I've been waiting months for this day, and that's because I have been waiting months. The college football offseason is finally over. In just a few short days there will be actual college football games for you to watch, and what's the fun in watching unpaid college students compete if you don't have money riding on it?
Exactly.
So let's get to this week's biggest games and see how things look.
THE GAMES YOU'LL BE WATCHING
No. 1 Florida State (-17.5) vs. Oklahoma State in Arlington, TX
Florida State went undefeated last season en route to its national championship, but what may have been the most impressive aspect of it all was the Seminoles record against the spread. They didn't just destroy their competition (winning by an average of 39.5 points per game), but they destroyed Vegas as well, going 11-2-1 against the spread. 
Now, odds are that won't happen again as those things tend to even out in the long run, but we don't need to worry about that right now. All that matters this week is whether Florida State can cover against Oklahoma State.
I tend to think it can. Oklahoma State went 10-3 overall and 8-5 against the spread last season, but it loses a lot of players on both offense and defense from that team. While I think Oklahoma State could exceed expectations on the season, I don't think they're going to exceed them in Arlington. Florida State -17.5 looks pretty safe to me here.
No. 21 Texas A&M at No. 9 South Carolina (-10.5)
While the season officially begins on Wednesday night with Georgia State and Abilene Christian, this is the game that really kicks things off on Thursday. I have to be honest, though, as I'm not all that confident on this line either way.
At first it seems a little large given the Aggies won nine games last season, but there's a lot of change in College Station this season, and that change includes Johnny Manziel. So when you look at it from that angle, it's not hard to see the Gamecocks running off with this one against an A&M defense that was porous last season.
But there's the other side too. The one where the Gamecocks were only 7-6 ATS last season, and only 4-3 at home and 3-5 against SEC opponents. Plus it's the first night of the season, and weird things tend to happen during the first game of the season. So while I'm leaning South Carolina -10.5 right now, I don't have nearly as much confidence in it as I do Florida State covering 17.5.
No. 16 Clemson at No. 12 Georgia (-7.5)
The line here opened with Georgia as a nine-point favorite and has since been moved to 7.5. I can understand why. Both of these teams replace important parts this year, and Georgia was absolutely terrible against the spread last season, going 3-9-1. That being said, while Georgia is replacing Aaron Murray, Clemson is replacing Tajh Boyd, Sammy Watkins, Roderick McDowell and Martavis Bryant.
The Bulldogs, meanwhile, still have Todd Gurley, Malcolm Mitchell and Michael Bennett. So while everybody jumped on Clemson and nine points, I'm feeling good about taking Georgia -7.5 at home.
No. 13 LSU (-4.5) vs. No. 14 Wisconsin in Houston, TX
Yes, LSU is replacing a lot on offense, but the replacements the Tigers have at the skill positions may be the most talented players they've had in year. Then there's Wisconsin which is bringing back only three starters on defense, none of whom reside in the front seven.
LSU isn't exactly the kind of offense (four returning starters on offensive line) I want to be facing with a completely unproven front seven on defense. Plus, to be completely honest, I've seen enough games between teams from the SEC and Big Ten play on opening week to know that when you see the SEC team only giving up 4.5 points you jump on that.
So take LSU -4.5 and feel good about yourself as you realize you're winning this bet before halftime.
THE GAME YOU SHOULD EXPLOIT
No. 5 Ohio State (-14) vs. Navy in Baltimore, MD
This line opened with Ohio State as a 19-point favorite and then the Braxton Miller news came. The line then overcorrected to Ohio State as a 12.5-point favorite, and while it's since slid back to Ohio State -14, you should jump on it before it moves again.
No disrespect to Navy, but with or without Braxton Miller, Navy just doesn't have the athletes to compete with the Buckeyes for 60 minutes. I have a hard time imagining Navy's offense being able to move the ball consistently enough against that Ohio State defense, even if Noah Spence isn't playing.
Olson has a lot of the tools offensive coordinators want in a quarterback

The Tigers have a wealth of talent at their biggest position

Pineiro received the award for stopping an attack the morning of Oct. 15, 2017
The first opening weekend lines for college football in 2018 have been posted

A year-end wrap-up of college football statistics you need to know from 2017

Stanford produces apps and Super Bowl participants