Little Caesars Bowl: Central Michigan 24, Western Kentucky 21
Instant analysis of the Chippewas' win over the Hilltoppers.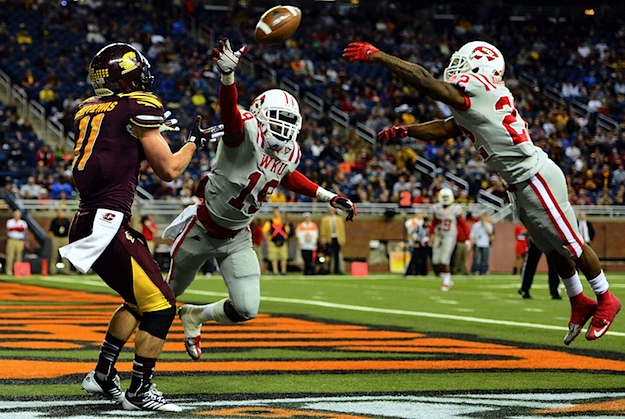 Ryan Radcliff's game-winning touchdown pass to Cody Wilson threads the needle. (US Presswire)
CENTRAL MICHIGAN WON. The Chippewas got three touchdown passes from Ryan Radcliff and overcame a series of failures in the red zone to present the home-state crowd with a tense, come-from-behind victory. With that, they also delivered a winning record from the depths a 2-5 start over the first half of the season, possibly saving coach Dan Enos' job in the process.
HOW CENTRAL MICHIGAN WON. Radcliff's 37th and final start as a college quarterback was the best of his senior season, and one of the best of his career. With two of his top three receivers sidelined by pre-game suspensions, Radcliff completed 19 of 29 passes for 253 yards and no turnovers, earning both his highest efficiency rating (172.9) of the year and his first fourth-quarter comeback since a rally to beat Western Michigan back in 2010. After a pair of early touchdown passes to Andrew Flory on Central Michigan's first two offensive possessions, Radcliff put CMU up for good on his last throw, an 11-yard strike to Cody Wilson that split two Western Kentucky defenders in the end zone with 5:11 remaining.
But the triumph didn't come without missed opportunities: On their first three trips across the WKU 20-yard line, the Chippewas managed only three points, twice coming up empty courtesy of a missed field goal attempt in the second quarter and a failed fourth-down conversion from the goal line in the fourth. From there, it was up to the defense and special teams, which came through by forcing a quick three-and-out following the goal-line stand and then getting a hand on the subsequent WKU punt from its own end zone. Only then was the offense finally able to take advantage of a short field for the winning points.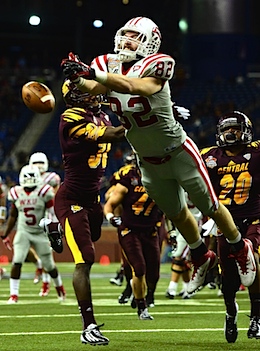 Jack Doyle couldn't come down with WKU's last gasp. (US Presswire)
WHEN CENTRAL MICHIGAN WON. Trailing 24-21 following the go-ahead pass to Wilson, Western Kentucky took over at its own 25-yard line and proceeded to drive 54 yards to the Chippewa 19-yard line. There, facing a do-or-die decision on fourth-and-two with the clock ticking under a minute, the Hilltoppers rejected a 36-yard field goal attempt to tie in favor of a play-action pass to move the sticks, which sailed just beyond the reach of tight end Jack Doyle. All that was left was for CMU to kneel out the final seconds and claim the victory.
The decision may have thumbed its nose at conventional wisdom, but shouldn't have come as a surprise for a team that a) Was just 2-for-5 in the regular season on field goals longer than 30 yards; and b) Had seen similarly bold moves work on multiple occasions in the regular season, both in its favor and in its opponent's favor. With nothing to lose, at least the Hilltoppers don't have to spend the next eight months wondering what if?
WHAT CENTRAL MICHIGAN WON. After back-to-back, 3-9 flops in his first two seasons, Enos can finally claim a winning record at 7-6 and put to rest any lingering doubts about his immediate future. Western Kentucky is the only CMU victim this season that boasts a winning record (the Chippewas' six regular season wins came at the expense of opponents that combined for just nine FBS victories between them), and only the second in Enos' tenure.
WHAT WESTERN KENTUCKY LOST. Again, led by an interim head coach (Lance Guidry) in their first ever FBS bowl game, the Hilltoppers were playing with house money. Aside from the loss, junior tailback Antonio Andrews came up short in his pursuit of Barry Sanders' record for all-purpose yards in a season, finishing with 184 on 33 touches as a rusher, receiver and return man. But he'll have another crack at it next year, when new head coach Bobby Petrino assumes the reins of a program that still feels like it's moving in the right direction.
These Jayhawks got a tremendous surprise they weren't expecting

Jovon Durante announced on Twitter he's headed to FAU

From Week 1 through the title game, everything runs through Atlanta this season
A concert is a nice way to break up preseason camp

Mills was arguably Georgia Tech's most important player coming into the season

Hugh Freeze's phone records reportedly show another troubling pattern for Ole Miss