Little Caesars Bowl Primer: Western Kentucky vs. Central Michigan
There are 35 bowl games. Here's everything you need to know about one of them.
There are 35 bowl games. Here's everything you need to know about one of them.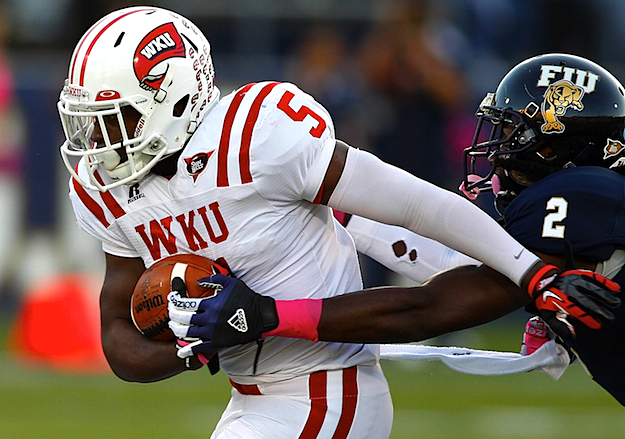 Western Kentucky's Antonio Andrews has his sights on the FBS mark for all-purpose yards in a season. (US Presswire)
- - -
Western Kentucky Hilltoppers (7-5 Overall; 4-4 Sun Belt)


Western Kentucky is no stranger to the postseason from its days as a mainstay in the I-AA playoffs, but this will be the Hilltoppers' first bowl game since moving up to the I-A/FBS ranks in 2009, a milestone they'll celebrate without head coach Willie Taggart. A former WKU running back in the mid-nineties, Taggart parlayed a remarkable turnaround at his alma mater -- from 0-12 in '09, the year before his arrival, to back-to-back 7-5 finishes three years later -- into the top job at South Florida, leaving defensive coordinator Lance Guidry in charge for the postseason while Taggart's full-time successor, Bobby Petrino, waits in the wings. With or without the guy who led them there, the Pizza Bowl may be the most visible stage that has ever hosted Western Kentucky football.
At Their Best. WKU was the only Sun Belt team to beat the eventual conference champion, Arkansas State, holding the league's highest-scoring offense to arguably its worst game of the season in a 26-13 upset in September. For the season, the Hilltoppers led the SBC in yards allowed per game and per play, and finished first or second in every other major defensive category.
At Their Worst. The low point of a November swoon was a 38-27 flop against Florida Atlantic, one of only two FAU wins in Sun Belt play. The loss was the second in a three-game losing streak for the Hilltoppers down the stretch, which was snapped only by a fourth quarter rally against North Texas in the season finale.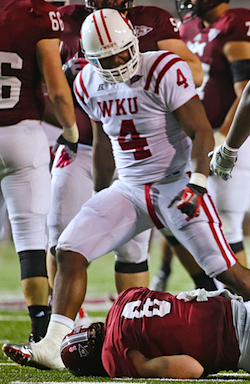 Andrew Jackson was one of six Hill- toppers voted first-team All-Sun Belt. (AP)
Headliner. No player in college football this season racked up more mileage than do-it-all tailback Antonio Andrews, who easily led the nation in all-purpose yards as a rusher (1,614), receiver (411) and return man (957) on nearly 30 touches per game. (In November alone, Andrews handled the ball 149 times in just four games, accounting for nearly two-thirds of the touches by the entire team. He also went over 300 yards in all four.) With 274 yards against Central Michigan, Andrews will officially pass Barry Sanders in the NCAA record books for all-purpose yards in a season, though it must be added that whenever one of Sanders' staggering 1988 marks is in jeopardy, his Holiday Bowl romp over Wyoming is still excluded from the official record. Even with an asterisk, moving to the top of that list would be one impressive, exhausting feat.
- - -
Central Michigan Chippewas (6-6 Overall; 4-4 MAC)


No one is happier to be in Detroit than Central Michigan head coach Dan Enos, and not only because he grew up nearby: Two months ago, the Chippewas were left for dead at 2-5, and Enos was left staring down the barrel of his third consecutive losing record. From there, CMU rallied for four wins in its last five, thereby qualifying for a bowl game with victories over Iowa (3-8 vs. FBS opponents), Akron (0-11), Eastern Michigan (2-10), Miami of Ohio (3-8), UMass (1-11) and an FCS victim, Southeast Missouri State. After back-to-back 3-9 finishes in his first two seasons, Enos will take it.
At Their Best. In September, the Chippewas stunned the Big Ten by scoring nine points in the final 45 seconds of a 32-31 upset at Iowa, one of only two MAC wins over the B1G this season. Senior quarterback Ryan Radcliff completed 26 of 35 passes against the Hawkeyes for 283 yards, two touchdowns and no interceptions, setting career highs for completion percentage (74.3) and pass efficiency (161.1).
At Their Worst. The only thing standing between CMU and a perfect November was a 42-31 loss against Western Michigan, which rallied from a 23-14 deficit with four fourth-quarter touchdowns. That was the Broncos' only win over the second half of the season, and couldn't prevent them from firing their head coach two weeks later.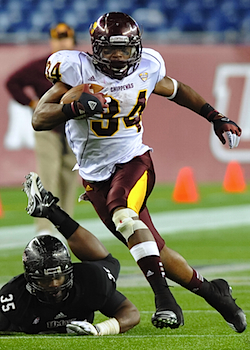 Zurlon Tipton tied for the MAC lead with 19 rushing touchdowns. (US Presswire)
Headliner. Few prospects have rocketed up draft boards more quickly this season than left tackle Eric Fisher, who is almost certainly bound for the first round of next April's draft and seems to have some scouts convinced he should be one of the first two or three offensive linemen off the board. Unfortunately, he's not going get a chance to prove it against Western Kentucky's pass-rushing ace, Quanterus Smith, who was leading the nation in sacks before he went down with a season-ending knee injury in the next-to-last game.
- - -
What: Little Caesars Pizza Bowl.
When: Wednesday, Dec. 26 • 7:30 p.m. ET • ESPN.
Where: Ford Field, Detroit.
Weird: Western Kentucky is probably best known for its mascot, "Big Red," a fantastically amorphous creation whose appeal lies largely in the fact that he seems to represent nothing in particular. Whereas Central Michigan's mascot is literally nothing: A university ban on Native American iconography has left the Chippewas without a live mascot for more than two decades.
Line: Western Kentucky (–6)
Prediction: These two teams ended the regular season moving in opposite directions, and the best defensive player on the field will be watching from the Hilltopper sideline, alongside a temporary head coach. Still, whatever advantage might have been chalked up to "momentum" is moot after a month-long layoff, and Central Michigan's previous encounters with fellow bowl teams resulted in five losses in five attempts by an average margin of 21.8 points per game.


Western Kentucky 34, Central Michigan 26.
The movie will zero in on former Penn State coach Joe Paterno during the Jerry Sandusky sc...

Bidding for Salaam's trophy, which the auction house says was obtained legally, ends Satur...

Locksley has been the offensive coordinator at Illinois and Maryland during his coaching c...
Many NFL-eligible juniors ignore advice provided by the league and risk going undrafted each...

Snyder died in Manhattan, Kansas, on Wednesday

Locksley joined Alabama's staff in 2016