Logan Thomas hits the classroom to ready for Senior Bowl week
Va. Tech QB Logan Thomas had an up and down career with the Hokies, but the towering quarterback is ready to show NFL scouts he's still developing into someone worth keeping an eye on.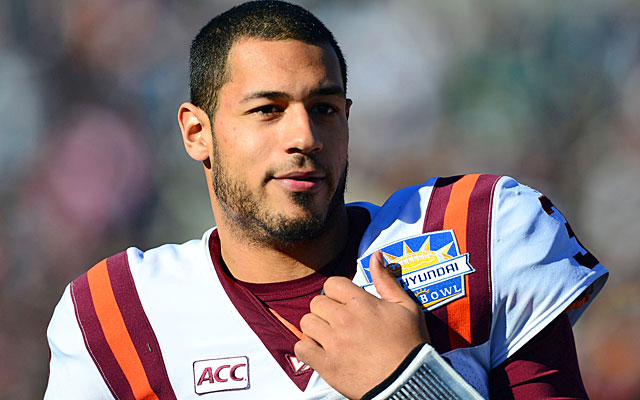 More Draft: Senior Bowl measurements | Weigh-in winners and losers
CARLSBAD, Calif. -- Logan Thomas, decked out in an Athletes First sweatsuit and hat, sits in a makeshift QB room with whiteboards on all the walls surrounding him. The 6-foot-6, 250-pound Thomas is so enormous, he makes the room feel cramped. A pair of his size-17 shoes sitting besides his chair look like they weigh 20 pounds. Thomas dwarfs the quarterback seated to his left, Brock Jensen, a guy who was listed at 6-3, 225 by North Dakota State. It's 2:30 on a Monday afternoon in mid-January. In a week the Virginia Tech quarterback will be down in Mobile, Ala., for the Senior Bowl as NFL personnel men study his every move.
"Best thing I can tell you is for the next three months I'm somebody that's been through this," said Kevin O'Connell, the man standing in front of them up at a whiteboard. "I know the important parts, and I know the not-so-important parts."
The 28-year-old O'Connell, a former star QB at San Diego State, spent five seasons in the NFL with five teams. For the 2013 season, O'Connell worked with ESPN as a commentator. He backed up Tom Brady in New England after being selected by the Patriots in the third round of the 2008 draft. At about this same time six years ago, O'Connell was being viewed as a seventh-round guy but through strong performances at the combine and in his individual workouts and meetings, his draft stock soared. The affable former QB who is helping George Whitfield run his draft camp is hoping his new protégés can make a similar rise.
Thomas isn't the most prominent member of Whitfield's draft crew here this winter. Texas A&M's Johnny Manziel is, but it's the Hokies QB who figures to be in the spotlight a lot this week in Mobile since his merits are sure to trigger plenty of debate.
"He's intriguing because he's got great size, is athletic and has a very big arm, but he was just so inconsistent," one NFL scout said. "You wonder if he can ever put it all together. But in his defense he really didn't have much talent at all to work with the past two seasons."
Thomas' career at Virginia Tech -- including three seasons as the Hokies' starter -- seemed to have almost as many downs as ups. He wowed his coaches in his first action, which came in a tight spot the year before he took over the starting job. In 2010, forced into action on a crucial third-and-16 at Miami after Tyrod Taylor went down, the young QB displayed an advanced understanding of the position -- and his powerful arm when he connected on a 24-yard pass for a first down.
"They weren't playing what we thought they were gonna play," former VT quarterbacks coach coach Mike O'Cain told me years ago. "We thought it'd be a 2-deep with man-under. Instead [Miami] was playing just a plain old 2-deep. Logan came off his primary read to the second one, making the right read and a great throw. You like to see that. He'd never been in a pressure situation."
Thomas' first season as the starter was strong. He threw for over 3,000 yards, ran for 469 more while totaling 30 TDs and completing 60 percent of his passes, leading the Hokies to the Sugar Bowl. Some NFL Draft analysts talked about him potentially becoming the first pick. Not bad for a guy who came to Blacksburg as the top-ranked tight end prospect in the 2009 recruiting class or, as O'Cain put it, wasn't one of these guys "who has been to 37 QB camps" since the time when he could barely walk.
The big QB's stock seemingly plummeted in 2012, when, not so coincidentally, so did the level of talent around him on Tech's offense. Gone were game-breaking RB David Wilson as well as go-to receivers Jarrett Boykin and Danny Coale, all off to the NFL. Thomas went from being a 60 percent passer to a 51 percent completion mark. His 19-10 TD-INT ratio fell to 18-16.  Worse still, all of that hype about draft gurus pumping him up left many ripping the Hokies QB. It almost was a given that anytime Tech played on a national TV stage, Logan Thomas would end up trending on Twitter, and not because he was carving up a rival defense or his team was piling up points.
"You definitely have to have a thick skin to play quarterback," Thomas said. "You have to have a thick, old, leathery skin about it, and I do. I know it's the most scrutinized position in sports. That [mental toughness and focus] has gotta be a part of you. You have to be calm, cool and collected."
This past season, Thomas -- playing in a new system with a new offensive coordinator -- put up a little better numbers: His completion percentage went up 57 percent. His interceptions were down a bit to 13 but questions about his accuracy and his decision-making still remain. Some have speculated whether Thomas had lost confidence -- something that can be devastating for a QB, perhaps more than any other position in sports.
"I've never lost confidence," Thomas told me this weekend. "While we struggled it was a whole team effort, and as a quarterback you have to take the blame."
Asked how he'll respond when NFL teams question him about why, for all his physical tools, his performance was so inconsistent, Thomas said: "I'm still a little bit raw. I've worked hard every singe day. I'm still developing and I know that."
Whitfield (who like O'Connell is being paid to train Thomas) is excited by what he saw in the first week with Thomas in Southern California.
"He was throwing balls that everybody on the field stopped and watched and were wowed by," said Whitfield. "James Lofton [the Hall of Fame receiver who is training Texas A&M's Mike Evans as part of the same group] and Johnny and [speed coach] Ryan [Flaherty] on the opposite corner doing agilities all were staring. He was throwing ropes."
Whitfield said a big point of emphasis is Thomas developing more touch on his passes. The private QB coach also has made some mechanical tweaks with Thomas, who had a tendency to keep the ball by his ribs. "We're working on bringing his hands up higher -- 'thumbs to collarbone.' So he has leverage on the ball and we're just trying to make sure he's fluid. This is a huge guy with size-17 feet. There's a lot of moving parts."
"We've told him, 'You have to have more awareness of your mechanics more so than smaller QBs. Your machine's too big to be nonchalant.'"
In Mobile, Thomas will be coached by the Atlanta Falcons' staff so O'Connell had a friend get him the foundation of the team's playbook so they could focus on some of the nuances of that system. O'Connell tutored Thomas not only on the Falcons' scheme, but also on the verbiage the young QB should be versed in when he speaks with NFL personnel folks. When he had Thomas go up to the board to draw up his favorite plays on third downs or red zone situations, it wasn't just what the quarterback was saying, but how he said it.
"Don't picture us sitting here, picture Andy Reid," O'Connell told Thomas. "Talk big. Stand big. Sound big."
Another O'Connell classroom tip for Senior Bowl week: "Think players, not plays."
"On Day 1, play catch with the guys. See which guy runs good stop-routes. Who's got the jets? Who is the big physical guy? Who is your X [receiver]? Can he win on a three-step slant?"
By the end of the week as Thomas prepared for his cross-country flight, O'Connell seemed more like a big brother to his protégé. Whitfield, who has worked with Thomas in the offseason since 2012, brought O'Connell in to help the training process with his QBs, says he sees a revitalized Logan Thomas.
"I think he's refreshed," Whitfield says. "Lots of guys as they try and make the jump to the NFL take a huge inhale because they're ready for the next step. Just a great chance to reboot. It isn't so much about Team any more. It's about you."
"Once you get past Johnny, Teddy [Bridgewater] and [Blake] Bortles, who is 4-5-6 [among the QBs in the 2014 NFL Draft]? If Logan is really cleaned up, it can be him. You're talking about bringing in a guy who is 6-6, huge arm, really smart, good athlete. EJ [Manuel] went No. 1 last year. Nobody had EJ higher than Matt Barkley at this point, but look what happened in the draft."
Thomas knows it is going to be a long process, but feels like he's now ready for it.
"I think this is gonna help me a great deal," he said of his draft prep. "I think it's knowing what I'm getting myself into. I've learned a lot from Coach Kevin and George, and now I get to prove myself. You play the game to compete against the very best and I'm extremely excited for this."
The senior tailback for the Georgia Bulldogs is as strong as ever

New odds to make the College Football Playoff have been released by Bovada.LV

The former Penn State kicker served as the Nittany Lions' kickoff specialist
Delany will reportedly receive $20 million in 'future bonus payments' from the Big Ten

Tom Allen welled up when speaking about Hugh Freeze and his resignation at Ole Miss

Oatis is a very large child prodigy