Long's diverse experience makes him ideal fit as selection committee chair
Arkansas AD Jeff Long is largely known as the guy who fired Bobby Petrino. Soon, though, he'll be known for much more: the face of the new playoff era.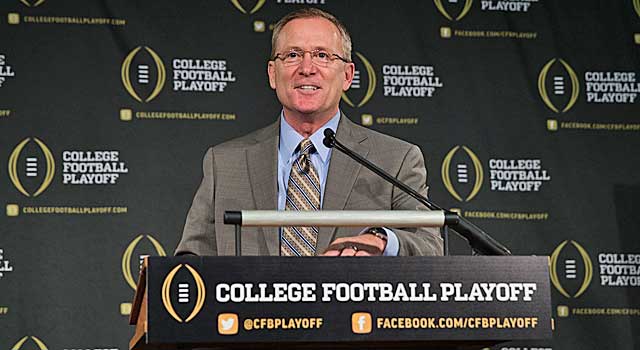 FAYETTEVILLE, Ark. -- Jeff Long wants to be recused. Please, kick him out of the room in this first season of the College Football Playoff.
Arkansas' athletic director knows it would be a total conflict of interest if -- as the chairman of that playoff selection committee -- he were evaluating the Hogs' worthiness.
"Absolutely," Long said playfully. "I look forward to the day I am recused."
That would mean, of course, the Razorbacks would be ranked in a first-of-its-kind poll that won't debut for nine weeks. Further, it would mean the Hogs would be contending for the top six bowls in the new CFP set up. In a fantasy world, Arkansas would also be in contention for a top-four playoff berth.
But Long -- and eight other members of the 13-person committee -- won't be anywhere near voting on institutions with which they have a financial relationship. That's the result of the selection committee recusal policy.
The reality is Long doesn't have much to worry about for the moment. The Hogs finished 3-9 overall, 0-8 in the SEC during Bret Bielema's first season. Arkansas is one preseason coaches' poll vote away from fitting a rather unique profile: Qualifying to be this year's version of 2013 Auburn -- unranked, zero votes in the polls, rebounding from a winless season in major conference play.
Poised -- given Auburn's miracle rise -- to play for a national championship. Like we said, not much to worry about.
Closer to Long's radar: Making sure this first year for the committee ends in something less than a firestorm. Getting the "right" and "best" four teams in the playoff has been open to interpretation since the commissioners went all in two years ago.
That recusal policy eliminates nine of the 13 members from voting on teams where they have a financial relationship. Six of the nine have teams ranked in preseason polls -- Clemson, Mississippi, Nebraska, USC, Stanford and Wisconsin.
To have Arkansas in that mix would be wonderful for the 53-year old former Division III quarterback and father of two daughters. But he is something bigger now -- something more powerful too. For one, he is the guy who fired Bobby Petrino.
Like it or not, Long is about to become the face of the new era. He'll be the guy traveling to Dallas each Sunday night for a two-day meeting with the committee. He'll be the guy each Tuesday night on national TV, beginning Oct. 28, breaking down the committee's latest top 25.
That would be the only top 25 that matters.
He's the guy with his own dedicated studio set in the bowels of Bud Walton Arena where he can do remotes to the world. At the end, he'll be the guy to give us the first Football Four on Dec. 7. He'll also be the guy enduring the slings and arrows of Why Didn't My Team Make It.
"We want to get it right," Long said. "I want to get it right."
"I understand there will be teams [at numbers] five, six, seven and eight that think they should be in the four. I understand that. We're going to be trying to make a decision that is in the best interest of college football."
Being that face of college football is not something Long necessarily aspired to. But his job experience at schools in four of the five Power 5 conferences made Long sort of the perfect candidate.
A native son of Kettering, Ohio, with stops at Pittsburgh, Oklahoma, Virginia Tech and Michigan, currently living in Northwest Arkansas, Long doesn't quite cut the figure as an SEC loyalist. It's almost the opposite. It's his diverse experience that qualifies him.
Long wasn't even aware he'd been nominated by the SEC to be on the committee. Then one day he got a call while on vacation in London from commissioner Mike Slive.
"When Mike called I was really floored," Long said.
Soon after, the chairmanship followed. It's suddenly Long's to -- as Rodney Dangerfield once reminded us -- keep it fair.
"I have a very, very high sense they are integrity people and will be able to check those biases at the door," Long said of the committee. "Even if subconsciously they [biases] enter in, there are 12 other people."
All we know for sure is that every undefeated Power 5 team should be accommodated. (No more than three such teams finished the season undefeated in the BCS era.) Lose a game and you've lost a voice in the argument.
That's where it begins to get complicated. In this age of super conferences and divisional play, a league champion might not be the best team in a conference.
There are perceived -- or real -- biases that would have made others too lightning rod-ish. Osborne is Nebraska. The same goes for Wisconsin AD Barry Alvarez.
Membership, though, does have its privileges. Earlier this month, the committee met in Colorado Springs, Colo., for a mock selection exercise. Without committee member Michael Gould's connections none of them would have been able to tour NORAD (North American Aerospace Defense Command) earlier this month.
"I got to see the alien ...," Long said. "Supposedly they've had aliens stored there."
The NORAD facility is top secret. Long was being totally facetious.
Kind of like that other-worldly tour, in this first-time endeavor there will be times the committee doesn't know what it doesn't know. There are questions, obstacles, controversies that have yet to be defined.
Example: Strength of schedule has taken on a life of its own. Those five power conferences have snatched up the concept and shaped part of their national championship chase around it. Five conferences, five different scheduling philosophies. All the committee has said is schedule strength will be only one component.
"That's a fan reaction, that's a people reaction," Long said. "People tend to focus on one thing."
Ask Long about Ohio Wesleyan's schedule strength and he chuckles. That's where he played non-scholarship Division III football in a rather salty Ohio Athletic Conference.
"When I played it was really tough," Long said, smiling.
Not that he remembers every detail 35 years later but Long once threw a touchdown on a fake field goal to beat Mount Union. In the summer Long painted houses. At the quarter break, he sold Christmas trees. It took this everyman seven years to pay off his student loans.
Those closest to him say he is a bit of a prankster, a definite foodie. But sitting in Long's office, you can imagine the quiet, reserved, respected AD asking Petrino to tell him the real truth. Remember, the lack of candor probably got the coach fired, not necessarily having an affair with a staffer.
Most days, Long is as unassuming as they get in the roiling everyday of the SEC. But there's only one guy who replaced Frank Broyles as AD at Arkansas. There's only one guy who fired Petrino.
"A lot of people focus on that," Long said. "I'd like to believe that I've worked in four of the five conferences and that I've developed a relationship with people and a reputation of 30 years in intercollegiate athletics.
"Certainly that's the heightened awareness and the national stage of the Petrino thing made those outside of the conferences aware of me but I think those conference commissioners had a familiarity with me."
Next stop: A proper introduction to the entire college football world.
>> Want more college football? 25 things about playoff era
Jovon Durante announced on Twitter he's headed to FAU

From Week 1 through the title game, everything runs through Atlanta this season

A concert is a nice way to break up preseason camp
Mills was arguably Georgia Tech's most important player coming into the season

Hugh Freeze's phone records reportedly show another troubling pattern for Ole Miss

They aren't necessarily great teams, but they're teams I'm really interested in following this...