LOOK: Jim Harbaugh's at it again, this time dancing at a Migos show
Jim Harbaugh was back on stage at a rap show on Wednesday, this time linking up with the Migos.
• 1 min read
If you thought the news of satellite camps being banned by the NCAA would dampen Jim Harbaugh's spirits then you were severely mistaken. After ripping into the NCAA and SEC on Tuesday over the new rule, Harbaugh moved on to his second favorite pastime (behind getting under the SEC's skin) -- getting on stage at a rap concert. 
Harbaugh and the Migos, an Atlanta rap group, have developed quite the bond over the last year. Before the Ohio State game last year, Quavo and Takeoff sent in a video supporting the Wolverines and the two returned for Michigan's Signing Day extravaganza earlier this year. 
On Wednesday night, Harbaugh showed up at the Migos show in Ann Arbor in his standard attire -- khakis, Michigan sweatshirt, Michigan hat -- and danced on stage as they performed "Hannah Montana." 
Jim Harbaugh got drenched with water onstage at Migos. pic.twitter.com/WnX0p0rJSA

— Rachel Premack (@rrpre) April 14, 2016
He also was backstage hanging out with the group, with ice around his neck and his wrist on chill.  
A photo posted by QuavoHuncho (@quavohuncho) onApr 13, 2016 at 6:31pm PDT
Backstage with @CoachJim4UM @MGoFish @TremendousUM @SamWebb77 @nickbaumgardner @DavidArnoldCFB pic.twitter.com/xgY1ovHmMb

— djlaczyn (@djlaczyn) April 14, 2016
Harbaugh doesn't understand why coaches don't want him coming to their states for camps. Is it because he's handsome and wealthy? 
Whatever the reason, NCAA, you can take his camps away from him but you can never take away his Migos.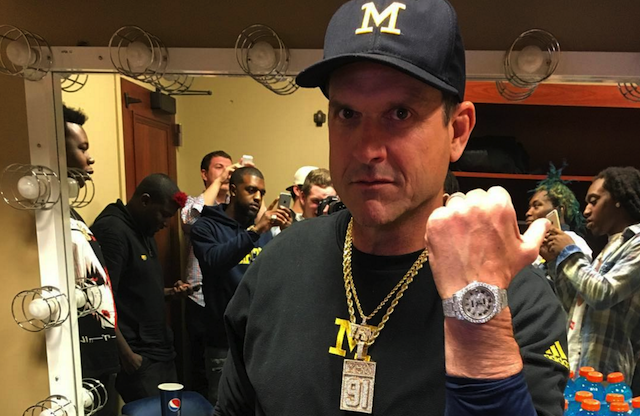 The alliance includes including scheduling, training, development, recruitment, retention and...

Power Five home-and-homes have been a priority for UCF AD Danny White

Greg Byrne and Danny White had some words about what it means to be national champions
The team at TheMichiganInsider.com have an exclusive look at Michigan's spring practice

The 'Conference of Champions' won't be in the Round of 32 for the time since 1986

Everything you need to know about Colorado's spring game