LOOK: UAB has some new helmets
UAB has new helmets it will wear during the 2014 season.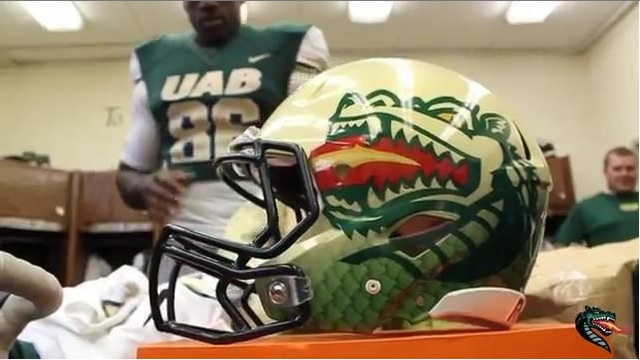 Helmets with comically large logos are all the rage these days. And by these days I mean the last 48 hours or so. First there were the orange Boise State helmets, then the new red Kansas helmets, and now UAB's new giant dragon helmet.
The new lids for @UAB_Football #uniswag pic.twitter.com/KM7LyLx6XT

— Uniswag (@Uniformswag) August 13, 2014
Now, it sort of looks like the dragon is vomiting all over the place, but I don't think that's necessarily a terrible thing. Sure, a fire-breathing dragon is far more dangerous, but I'm pretty sure that lighting your opponent on fire is against NCAA rules, and I don't remember seeing anything about vomiting on your opponent.
Would you want to tackle somebody that's throwing up all over you? I mean, beside your friend outside a campus bar at 3 a.m., but that's just because the cops are coming and you need to get them the hell out of there.
These three Pac-12 teams could surprise in 2017

Maybe this wasn't the use of social media considering the circumstances

Saban has thoughts on conference schedules, changing bowl requirements and expanding the p...
Chip and Barton pick win totals for Ohio State, Penn State, Michigan and more

These three teams could surprise quite a few people in 2017

With the Chargers moving to Los Angeles, the Aztecs now need to find a new home -- fast