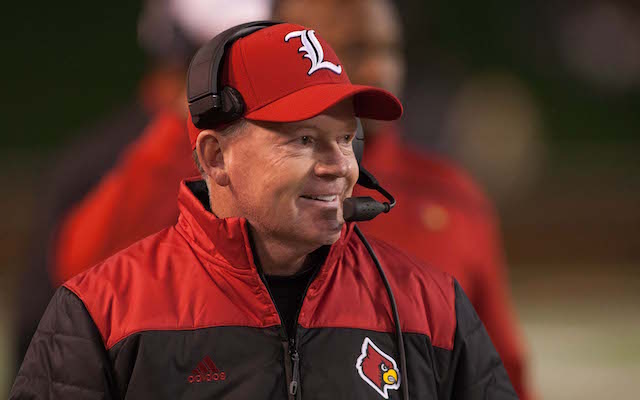 It's been a good week to be a football coach in the ACC. Earlier this week, Clemson made Dabo Swinney one of the highest-paid coaches in the country, and now Louisville has given Bobby Petrino a new deal which also comes with a nice raise.
The school announced a new seven-year deal for Petrino, and according to ESPN's Brett McMurphy, it will pay him $30.625 million, or $4.35 million per year. Petrino made just over $3 million with the Cardinals last year.
"I'm thrilled with the job that Bobby has done here, and it's been great to have his wife Becky, their children and three grandchildren back in the city of Louisville," said Louisville athletic director Tom Jurich.
"Their commitment to the community through the Petrino Family Foundation has been extremely successful in raising charitable funds and assisting our community. Bobby has done an excellent job reinforcing our commitment to academics and career development. He has exceeded my expectations on the field, especially closing last year with a win in the Music City Bowl over a talented Texas A&M team. I think the future of this program is extremely bright, and I'm excited that with this extension, Bobby has reinforced his commitment to the University of Louisville."
While Petrino will be the third-highest paid coach in the ACC, based on last year's salaries in the USA Today's database, $4.35 million would have made Petrino the 10th-highest paid coach in the country last season, just ahead of Ole Miss' Hugh Freeze, and right behind LSU's Les Miles.
The question I have is why?
When Petrino returned to Louisville in 2014, he signed a seven-year deal that runs through the 2020 season. It also included a $10 million buyout. Typically coaches get these extensions and raises when they've either done really well, are flirting with another gig, or the contract is expiring soon.
That doesn't seem to be the case with Petrino right now. The Cardinals have gone 17-9 the last two years, and 10-6 in ACC play. Neither number is terrible, but neither are good enough to move the Cardinals above third place within their own division, either.
Even if I can understand the extension -- it's always good to tell a recruit your contract runs seven years -- I don't quite get the raise, but hey, it's not my money.