Louisville's DeVante Parker suffers foot injury, out indefinitely
Louisville wide receiver DeVante Parker suffered a foot injury in practice Friday and is out indefinitely.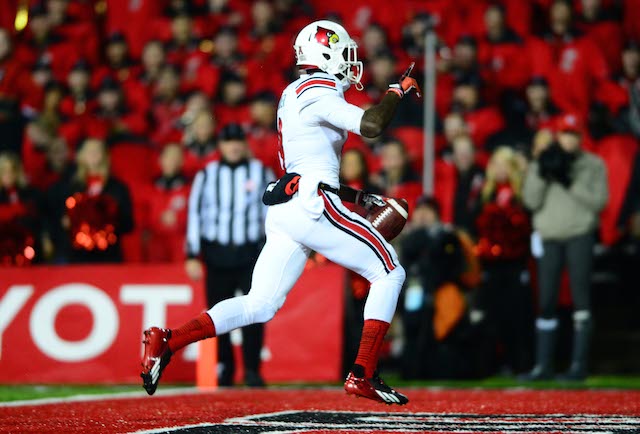 Louisville may have taken a serious blow on Friday night, as the school announced that wide receiver DeVante Parker suffered a foot injury in practice and is out indefinitely. Parker is heading to Charlotte to have his foot looked at by Dr. Bob Anderson.
Now, the good news is that Dr. Bob Anderson is a very good doctor. It's just that Anderson is an orthopedic surgeon and athletes generally don't go see him unless something has gone very wrong. For instance, Anderson is the same surgeon the Yankees' Derek Jeter went to see after suffering an ankle injury in 2012 before missing nearly the entire 2013 season.
We'll have to wait and see what the prognosis is for Parker, but odds are the news won't be very good.
Which is terrible for Parker, and bad for the Cardinals. Parker set a school record with 12 touchdown catches last season (he caught 55 passes total for 885 yards) and was expected to be the biggest playmaker on the Louisville offense this season. Now, even without Parker the Cardinals still have talent and depth at the receiver position, but that doesn't mean he'll be easy to replace.
The 2014 season was already going to be tough for Louisville as it not only made the transition from the AAC to the ACC, but it also transitions from Charlie Strong to Bobby Petrino as well as moving on from Teddy Bridgewater. Now it could be facing the prospect of being without its leading receiver from 2013.
That's a lot to deal with.
Eichorst had been at Nebraska since 2012

Three straight titles makes it seem like 'Alabama and everybody else' in the SEC

Some early-season Big Ten games could shake up the national standings
Trust the Process as Tom Fornelli leads you toward his best bets in Week 4 of the season

The Crimson Tide basically have to be perfect these days ... or else

Guice is dealing with a 'minor injury' that has not been specified by coach Ed Orgeron