Lowlights: ACC reads refs the riot act, and more of the worst of Week 8
Celebrating the weekend's losers, on the scoreboard and in spirit.
Celebrating the weekend's losers, on the scoreboard and in spirit.
• SEE NO EVIL. How bad was ACC officiating Saturday? On Monday, the conference publicly reprimanded one entire crewand levied suspensions against two members of another, and it didn't even address the worst call of the weekend.
According to a release, the league sent letters of reprimand to every member of the crew that worked Florida State's 33-20 win at Miami, and suspended crew chief David Epperley for one game for "failure to properly administer the 10-second runoff rule at the end of the first half." Two more suspensions were in order for the head linesman and side judge in Duke's 33-30 upset over North Carolina, who apparently saw nothing wrong with UNC linebacker Shakeel Rashad pointlessly blindsiding Blue Devil receiver Conner Vernon during a substitution in the second quarter. (See video above; Rashad was not flagged for the hit.) Even in finger-pointing mode, though, the league was silent on the controversial replay of an obvious fumble by Clemson's Sammy Watkins against Virginia Tech…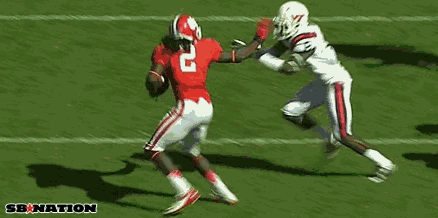 …which inexplicably determined that Watkins was down before the ball came loose. At the time, Clemson only led by a touchdown, 17-10, and the turnover would have given the Hokies a golden opportunity to tie the game in the third quarter. Instead, the Tigers retained possession and scored a few plays later to extend their lead to 24-10, and Virginia Tech never threatened again en route to a 38-17 loss.
• HOUSTON, WE HAVE A TURNOVER PROBLEM. Taking generosity to the extreme, Houston served up an incredible nine turnovers at SMU, including six interceptions at the expense of three different Cougar quarterbacks in a 72-42 romp for the Mustangs. Four of those giveaways were returned directly for touchdowns by the Mustang defense, helping SMU set a new school scoring record less than a week removed from a humiliating loss to Tulane. Predictably, the debacle left Houston ranked 123rd out of 124 teams in turnover margin, ahead of only Idaho, which just fired its head coachbarely halfway through the season.
• THIS WEEK IN BOSTON COLLEGE. Two years ago, Boston College actually led the nation in rushing defense, which is just one more footnote in the ongoing humiliation of an outfit that now ranks 119th out of 120 against the run after yielding 391 yards and four touchdowns on the ground Saturday to Georgia Tech – a team that entered the weekend on a depressing three-game losing streak itself. Over the course of its ongoing, five-game losing streak, B.C. has allowed at least 560 yards' worth of total offense in all five games.
It's not really necessary at this point to keep pointing out that Frank Spaziani is totally firedby the end of the season, is it?
• WORST GAME OF THE WEEK: Vanderbilt 17, Auburn 13
Vanderbilt fumbled the ball away three times against the Tigers, forced zero turnovers in return, and still cruised to its second conference win in a battle of the SEC's most anemic offenses. Even with the benefit of three turnovers, Auburn's offense managed just 212 total yards, converted just two of 12 third down attempts and scored a single touchdown en route to its fourth consecutive loss, thereby clinching the worst start by any Auburn team (1-6) in 60 years.
• WORST PLAY OF THE WEEK: Miami's biggest fan.
Occasionally, the line between "Worst" and "Best" can be bent, or blurred beyond recognition. Then there are those moments, like this one in the first half of Florida State's eventual win over Miami, in which certain rare individuals manage to transcend all standard definitions and exist on both sides of the line at the same time:
According to multiple accounts from the stadium, the fan continued his trek all the way to the Miami student section in one of the end zones, removed his shirt and eluded multiple security guards before finally being brought down.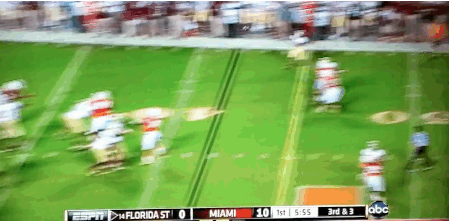 Officially, however, the referee announced to the crowd that "the fan on the field had no effect on the play," which made him at least as effective as several Miami starters during a 33-3 FSU run over the subsequent three quarters.
• LOWLIGHT HALL OF FAME: Southern Miss' Misdemeanor Mom.
It's been a depressing season for Southern Miss, which just clinched its first losing season since 1993 in a 59-24 debacle against Marshall. Which was embarrassing enough, frankly, before word got out that the starting quarterback's mother was arrested during the game for confronting some disgruntled hecklers in the audience:
The mother of Southern Miss freshman quarterback Anthony Alford was escorted from the stands at M.M. Roberts Stadium Saturday and charged with a pair of misdemeanors after being arrested by Hattiesburg Police.

Lawanda Ann Alford, 38, was booked into the Forrest County Jail Saturday on disorderly conduct and resisting arrest charges.

She was ordered from the stands after getting into a loud argument with another fan who was berating her son's play during USM's 59-24 loss to Marshall.
Oh, and of course there's video:
On the bright side, at least this is a welcome distraction from USM's actual QB play: Alford left the game in the third quarter with a foot injury, joining two other Southern Miss quarterbacks on the injured list and opening the door for the Golden Eagles to introduce their fourth different starter of the season this weekend at Rice.
• THE DREADFUL DOZEN. Baker's dozen edition of the worst of the worst, in ascending order…
- - -
1. Massachusetts (0-7). Minutemen seemed to improve dramatically over the course of September, but back-to-back blowouts against Western Michigan and Bowling Green have cleared up that misconception.
2. New Mexico State (1-5). Aggies have dropped six in a row since their season opening win over Sacramento State, the last five coming by double digits.
3. Idaho (1-7). Vandals have no conference home after this season and can't afford an established coach to replace outgoing Robb Akey, but after giving up 70 points and 839 yards at Louisiana Tech, they can be fairly certain things aren't going to get any worse.
4. Southern Miss (0-7). 2011 Eagles were arguably the best team in school history; 2012 Eagles are arguably the worst.
5. Tulane (1-6). Green Wave rank dead last nationally in total offense, scoring offense and rushing offense, averaging 27.1 yards per game on the ground.
6. Florida Atlantic (1-6). Double-overtime loss to fledgling program at South Alabama is a new low for a team that's experienced a lot of them.
7. Florida International (1-7). On the bright side, Panthers are only a few weeks away from getting to play Florida Atlantic.
8. Colorado (1-6). Buffaloes have given up 176 points in their first four conference games, and will be lucky if Oregon decides to stop short of that mark on Saturday.
9. Colorado State (1-6). Rams haven't won since beating Colorado in the season opener, and haven't come close.
10. Boston College (1-6). No fan base wants this season to be over already more than this one.
11. Army (1-6). Black Knights have lost to Stony Brook, Kent State and Eastern Michigan within the last month, but still managed to beat Boston College.
12. Auburn (1-6). Tigers are well on their way to an 0-8 finish in SEC play, although the Iron Bowl date with Alabama could still be deemed too grisly to put on the official record.
13. Kansas (1-6). 2012 Jayhawks are already well into preparation for 2013.
Next week in the Worst: Indiana battles Illinois for rights to the Big Ten basement, Texas prays it doesn't give up a billion yards at Kansas and officials have already declared Autzen Stadium a federal disaster area in preparation for Oregon vs. Colorado.
Stanford produces apps and Super Bowl participants

The Alabama QB has a new look after the Tide claimed another national title

Young was injured during Miami's Orange Bowl loss to Wisconsin
The movie will zero in on former Penn State coach Joe Paterno during the Jerry Sandusky sc...

Bidding for Salaam's trophy, which the auction house says was obtained legally, ends Satur...

Locksley has been the offensive coordinator at Illinois and Maryland during his coaching c...