Lowlights: Illini in reverse, and more of the worst of Week 7
Celebrating the weekend's losers, on the scoreboard and in spirit.
Celebrating the weekend's losers, on the scoreboard and in spirit.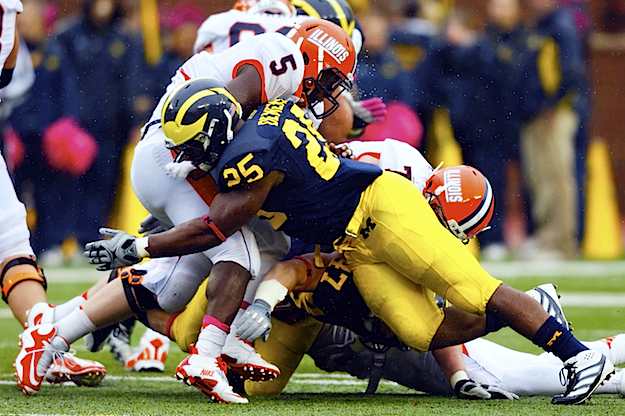 • In its last six years under its former coach, the oft-mocked Ron Zook, Illinois lost six games by a margin of at least 20 points. In its first seven games under Zook's successor, Tim Beckman, Illinois has already lost four games by at least 20 points, including a 45-0 collapse Saturday at Michigan that will go down as one of the most inept offensive performances in ages at a program that has seen more than its share: For the game, the Illini managed just 134 total yards, its worst output since 2006 and easily the worst by any Big Ten team in any game this season. Quarterbacks Nathan Scheelhaase and Reilly O'Toole combined to complete 7 of 16 passes for a grand total of 29 yards, almost half of that coming on a single completion to Josh Ferguson covering 12 yards.
On the heels of that collapse, Illinois heads into a bye week on a four-game losing streak, ranked dead last in the Big Ten for the season in rushing, total and scoring offense. On the bright side, perennial doormat Indiana is waiting on the other side of the break. On the other hand, the Hoosiers have just thrown back-to-back upset scares into Michigan State and <span data-shortcode= State" data-canon="Ohio Bobcats" data-type="SPORTS_OBJECT_TEAM" id="shortcode0">, and no doubt relish the rare opportunity to transfer the "doormat" title.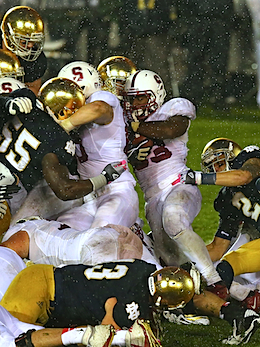 • All of the attention after the game was on the decisive non-touchdown in overtime, for obvious reasons, but is it possible the worst call in Notre Dame's rain-soaked, 20-13 win over Stanford didn't come on the final play? After the game, Stanford's biggest gripe was reserved for a phantom whistle on the Cardinal's final possession of regulation, which (according to him) caused tailback Stepfan Taylor to be hit for a 7-yard loss on a critical third-and-2 play from the Irish 3-yard line:
"Oh, yeah, I heard a whistle," said Taylor, who finished with 102 yards on 28 carries. "That's why I stopped. The line stopped as well. We all heard the whistle. I was surprised the play wasn't stopped.

"Everybody heard the whistle. If I had known it wasn't the right whistle, I would have kept going. It was an offsides type of deal when it blew. It was like the ball was snapped and the whistle blew. As soon as the ball was snapped I assumed it was an offsides call. I heard a whistle. I didn't know what it was, but I heard a whistle."

[Stanford coach David] Shaw closed out his postgame press conference with a statement about the whistle.

"I'll just make one comment," Shaw said. "In case you're wondering, just before our last field goal down there, we had a third-and-2 and there was a whistle that came from the crowd. That's why our guys stopped playing. It was verified. It was heard. The play did not stop.

"I don't know what the rule is on that. I'll double check with the officials, with the head officials and make sure that whatever we can do gets done in that situation. That one hurt. The whistle came from the crowd. I don't know what can be done about it. I've heard from many people that it's happened here a few times."
Instead of a possible touchdown to cap a 16-play, eight-minute drive, Stanford had to settle for a field goal to go up 13-10. Notre Dame answered with a 12-play, 79-yard march for a field goal of its own to tie, and whatever controversy might have accompanied the mysterious whistle was quickly eclipsed in overtime.
• With Texas' 63-21 flop in the Red River Shootout, Mack Brown fell to 5-9 against his nemesis from Oklahoma, Bob Stoops, but the record is only skimming the surface of Stoops' ownership of the series: Four of those nine losses are the four most lopsided defeats of Brown's tenure at Texas, with Saturday's rout joining the 55-17 debacle in last year's game, a 65-13 blowout in 2003 and a 63-14 massacrein 2000 in the Longhorn Hall of Shame. In 14 meetings, Stoops' teams have outscored Brown's by a combined 461 to 305, or a little more than 11 points per game.
• WORST GAME OF THE WEEK: Temple 17, Connecticut 14 (Overtime).
The Huskies jumped out to an early lead courtesy of two touchdown passes by quarterback Chandler Whitmer in the first quarter. How inevitable was their eventual demise from there? A fan behind The UConn Blog posted this with his team still leading 14-0:
I'm really excited for George DeLeone to learn nothing from this passing, run 40 times in the second half and have UConn lose 17-14.

— TheUConnBlog (@theuconnblog) October 13, 2012
George DeLeone is UConn's offensive coordinator. And although he did not call 40 runs in the second half (by my count, it was only about a dozen), the important part of that prediction held up: The Huskies didn't score again in the final three quarters, and Temple put up 17 unanswered to win in the extra session.
• WORST PLAY OF THE WEEK: Another Auburn QB in over his head.
Saddled with an 0-3 start in SEC play and an offense that ranks dead last in the conference in both yards and points per game, Auburn decided to switch things up a little by starting junior quarterback Clint Moseley at Ole Miss in place of struggling sophomore Kiehl Frazier. How did that work out?
OK then. Here it is GIF form, just because I'm amused by the illusion that Moseley is fast: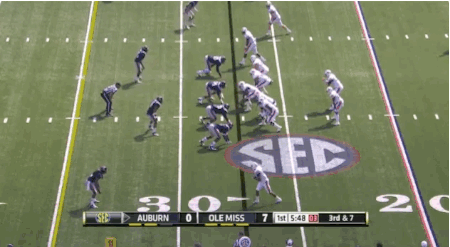 That was one of two Tiger turnovers on the day, a significant improvement for an offense that gave the ball away 13 times in its first three conference losses. Alas, they finished with a meager 213 total yards on an even more meager 3.6 yards per play en route to a 41-20 defeat, thereby snapping Ole Miss' 16-game SEC losing streak dating back to 2010. At least Auburn fans seem to be taking it well.
• LOWLIGHTS HALL OF FAME: Dave Christensen, MD.
These days, coaches on all levels have learned to be extra sensitive about the potential effects of head injuries, which have been linked to all manner of disturbing long-term effects. Maybe someone should have passed the memo along to Wyoming coach Dave Christensen before he repeatedly accused an Air Force player of faking a head injury to buy time on a fourth-quarter touchdown drive:
After Saturday night's game, Christensen confronted Air Force coach Troy Calhoun on the field and questioned whether Falcons quarterback

Connor Dietz

was really injured when he left the game for one play with about eight minutes left in the fourth quarter and Wyoming leading 27-21. He said the several minutes that trainers attended to Dietz gave Air Force time to strategize the next play.

Air Force (3-3, 2-1 Mountain West) scored what turned out to be the winning touchdown when backup quarterback Kale Pearson ran a bootleg in from 5 yards out on third down after Dietz left.

The referee announced that Dietz, by rule, had to leave the game because his helmet came off. At the time, Air Force had all three of its timeouts available.

When the game ended, Christensen was visibly upset as he met Calhoun on the field. Calhoun described the meeting with Christensen as "probably not a conversation that I'd have with my mom." In interviews after the game, Christensen continued to criticize Air Force, saying he didn't believe Dietz was hurt. "In this game, we're supposed to be ethical and that's not ethical," he said.
Did you catch the kicker there? Not only did Air Force have all three of its timeouts at the time, but the incident occurred with more than eight minutes remaining in the game. Wyoming was only ahead by six points. What possible reason could the Falcons have had for wanting to stop the clock so desperately that they would forego a timeout and instruct a player to fake an injury instead?
For the record, Dietz said after the game he was feeling no effects from the injury, Christensen has apologized. Next time he's feeling conspiratorial, though, it's probably a better idea to say "Our defense should have stopped them," and leave it at that.
• THE DREADFUL DOZEN. The worst of the worst, in ascending order…
- - -
1. Massachusetts (0-6). Minutemen were off last week, but the reigning No. 1 in this space, Tulane, actually won a game, leaving a vacancy at the top/bottom only UMass could fill.
2. Eastern Michigan (0-6). Eagles combined with Toledo on Saturday for eight touchdowns in the third quarter, on plays covering 47, 89, 58, 65, 70, 60, 41 and 59 yards. But they still boast the nation's longest losing streak at eight games and counting.
3. New Mexico State (1-5). Aggies took the week off to marinate in their depressing loss to Idaho.
4. Idaho (1-6). Meanwhile, the Vandals rediscovered their true selves by getting pummeled at Texas State, 38-7.
5. Florida Atlantic (1-5). With Tulane's 27-point outburst against SMU, FAU is the only team in the nation that has yet to score 21 points in any game.
6. Memphis (1-5). Missed the Tigers last week following their first win, but we warmly welcome them back to the fold on the heels of a 41-7 blowout at East Carolina.
7. Boston College (1-5). Shhhh, BC fans. It will all be over soon.
8. Auburn (1-5). Tigers opened as nine-point underdogs for this weekend's trip to Vanderbilt, their last realistic shot at a conference win.
9. Southern Miss (0-6). Golden Eagles played their best game of the year Saturday, pushing Central Florida into double overtime, but still have to win six in a row to avoid USM's first losing record since 1993.
10. Florida International (1-5). On the bright side, the Panthers probably don't have to worry anymore about bigger schools trying to poach coach Mario Cristobal this winter.
11. Colorado (1-4). Buffaloes kept it respectable for a half against Arizona State, then stumbled into an open mine shaft on national television.
12. Colorado State (1-6). Rams' losing streak stands at six games since their opening-day win over Colorado, all six coming by double digits.
Next week in the Worst: Kansas goes to the slaughter at Oklahoma and BYU and Notre Dame battle to the last safety.
Locksley joined Alabama's staff in 2016

Saban reportedly wants to hire Freeze, but there may be things keeping that from happening

Florida State-Miami will be on Oct. 6, and the Seminoles will play Clemson on Oct. 27
Weis Jr. was an offensive assistant for the Atlanta Falcons in 2017

Lott is joined by three current athletic directors and will serve a three-year term

These are the top guys every school is still chasing