Lowlights: 'Sack Maynard' takes his lumps, and more of the worst of Week 5
Celebrating the weekend's losers, on the scoreboard and in spirit.
Celebrating the weekend's losers, on the scoreboard and in spirit.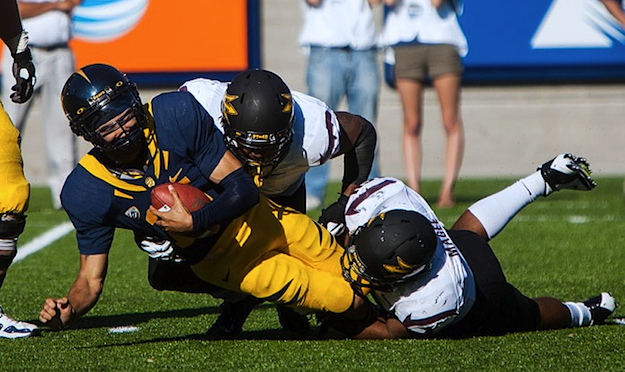 • Black and Blue Bear. California dropped its third in a row Saturday against <strong>Arizona State</strong>, 27-17, leaving the Golden Bears in a world of hurt at 1-4 with four ranked teams still left on the schedule. In the case of quarterback Zach Maynard, the pain is quite literal: Including the six sacks he suffered at the hands of the Sun Devils, Maynard has been taken down a staggering 22 times in the last three games, more than any other FBS quarterback has been sacked all season.
Five opposing players in that span put Maynard on the ground on multiple occasions; two, USC's Morgan Breslin and Arizona State's Will Sutton, were credited with four sacks apiece. This week, the student paper has taken to referring to its beleaguered QB as "Sack Maynard."
The more persistent question is whether coach Jeff Tedford is on his way to being sacked at the end of the season. Four losses in the first five games means the Bears are certain to finish unranked for the sixth consecutive season, and barring multiple upsets down the stretch, they're well on their way to a second losing season in the last three. The momentum from the early years of the Tedford administration has fizzled. The balance of power in the Bay Area has long shifted to Stanford. The long-awaited renovations to the stadium and facilities are finally finished. Even if his quarterback survives the season, it's looking increasingly likely that Tedford will not.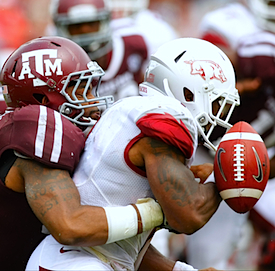 • Woooo Pig Kablooie, Continued. There was some thought last week that Arkansas, reeling from three consecutive losses, would find a way to rally the troops for a respectable effort at Texas A&M. Instead, the Razorbacks plumbed new depths of humiliation Saturday in a turnover-marred, 58-10 debacle that emphatically stamped out the few remaining traces of optimism. On Sept. 2, Arkansas was ranked eighth in the country and gearing up for a darkhorse SEC/BCS championship run. On Oct. 2, they're 1-4 and hoping there's one more win on the schedule before they kick interim coach John L. Smith to the curb at the end of the season. Well, "hope" may be too strong a word, except when it comes to the next coach.
After yielding 716 yards to A&M, the Razorbacks rank dead last in the SEC in total defense, scoring defense and turnover margin, in which they rank dead last nationally. They also reside in the league basement in rushing offense, pass defense and pass efficiency defense; the last three quarterbacks they've faced have all completed at least 70 percent of their passes for well over 10 yards per attempt. Texas A&M averaged a little over nine yards every time it snapped the ball. At this pace, Arkansas is well on its way to the worst finish by a preseason top-10 team in recorded history.
• Raiders of the Lost Snark. Before this weekend, Middle <span data-shortcode=" data-canon="Tennessee Volunteers" data-type="SPORTS_OBJECT_TEAM" id="shortcode0"> had won exactly four games over the last two years, all four of them against Memphis and Florida Atlantic. Saturday, as double-digit underdogs at Georgia Tech, the Blue Raiders blasted the Yellow Jackets 49-28, sending Tech's sagging season into a full-on spiral. After deflating overtime losses to division rivals Virginia Tech and Miami, the Jackets are already effectively eliminated from the conference championship race. After yielding well over 500 yards of total offense to the Hurricanes and now Middle Tennessee in back-to-back weeks, it's beginning to look like the defense is going to be hard-pressed to get the team into a bowl game.
• LOWLIGHT HALL OF FAME: Gaps In Baylor's Coverage Plan.
It's impossible to isolate a single play to define West Virginia's atomic shootout with Baylor, in which the offenses combined for 19 touchdowns, 1,507 yards and 133 points, and the defenses were left burned beyond recognition. But if there was a moment that captured the basic atmosphere of the afternoon, it was the fourth touchdown reception by the Mountaineers' top target, Stedman Bailey, whom – having already caught three touchdown passes – one would assume would be a high priority for the Baylor secondary. But one would assume wrong: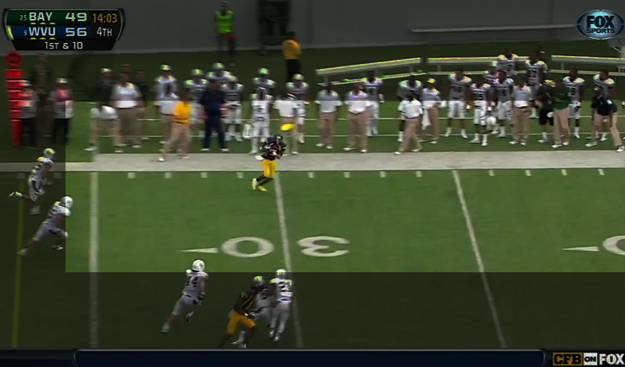 A simple wheel route left Bailey astonishingly wide open for the longest play of a game consisting of almost nothing but long plays, covering 87 of Bailey's school-record 303 receiving yards for the day. Unless you're counting the ones watching helplessly from the sideline, at no point in the play was a Bears defender within seven yards of him.
• WORST GAME OF THE WEEK: Louisville 21, Southern Miss 17.
It's not their fault, but the Cardinals and Golden Eagles played most of the game in the midst of a relentless downpour that left the field covered in an inch of standing water and ruled out giant swathes of both teams' playbooks. After the rain came in the first half, neither team completed a pass longer than 15 yards, and Southern Miss quarterback Ricky Lloyd– only starting in the first place due to injuries to the top two – finished just 2-of-8 passing for 25 yards.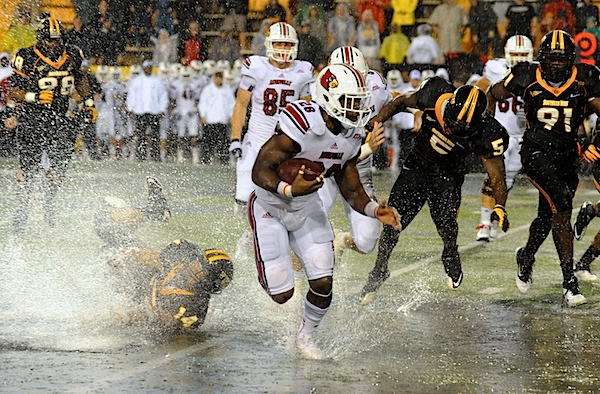 Louisville eventually found enough footing to win on the legs of Senorise Perry and Jeremy Wright, and got out of Hattiesburg on the first ark with 5-0 record intact.
• WORST PLAY OF THE WEEK: .
Like a lot of secondaries Saturday, <strong>NC State</strong>'s had a rough day across the board at Miami, yielding an ACC-record 566 yards and five touchdown passes to Canes quarterback Stephen Morris, including a decisive Hail Mary with a few seconds to play. But it doesn't get much worse than giving up a touchdown on a pass that's right in your hands – and then right off your head, into the receiver's hands:
Well, Morris is a talented kid. I'm sure he meant to do that.
• DEMERITS. Also coming in for scorn this week…
• NC State's return game.
• Tyler Bray's grip.
• Virginia's broadcast team.
• Boise State's run defense.Virginia's radio team.
• Everything about Wisconsin and Nebraska's uniforms.
• THE DREADFUL DOZEN. It's a baker's dozen this week of the worst of the worst, in ascending order…
- - -
1. Tulane (0-4). As a team, the Green Wave has two touchdowns and 20 yards rushing. Total. For the season.
2. Army (0-4). Black Knights debut on this list with a bullet, thanks to a 23-3 collapse against Stony Brook. That's right: Our nation's future fighting men failed to score a touchdown against Stony Brook.
3. UMass (0-5). Improving Minutemen put up their best fight of the season by far Saturday against Ohio, but blew a fourth-quarter lead in a tough 37-34 loss.
4. Idaho (0-5). Vandals rebounded from their best effort of the season against Wyoming with their worst, a 66-0 debacle at North Carolina fueled by five Idaho turnovers.
5. Memphis (0-4). On the bright side, I'm fairly certain the Tigers didn't lose over the bye week.
6. UAB (0-4). It's not their last chance, but Saturday's visit from Southeastern Louisiana is certainly the Blazers' best chance for a win.
7. Southern Miss (0-4). Biblical deluge notwithstanding, Eagles are still staring down the barrel of their first losing season since 1993.
8. Eastern <span data-shortcode=" data-canon="Michigan Wolverines" data-type="SPORTS_OBJECT_TEAM" id="shortcode0"> (0-4). Saturday's homestand against Kent State could draw as many as 6,000.
9. Arkansas (1-4). In their first two SEC games, Razorbacks have been outscored 110 to 10.
10. Washington State (2-3). Cougars had Oregon right where they wanted it at halftime, then watched the Ducks zip to 28 consecutive points in 13 minutes to turn a serious upset bid into a laugher.
11. Colorado (1-4). Coming off their first win, Buffaloes returned to non-fighting form in a 42-14 loss to UCLA.
12. Colorado State (1-4). Rams allowed 449 yards rushing to Air Force in their fourth consecutive loss. Is there any way to get Colorado on the schedule again?
13. Kansas (1-3). I was going to put 1-3 Rice in this spot after the Owls' loss to previously winless Houston until I remembered that Kansas lost to Rice.
Next week in the Worst: Rice and Memphis inhabit the same field and Arkansas battles Auburn for dibs on the SEC West basement.
- - -
Photo of Maynard via the Daily Californian.
The movie will zero in on former Penn State coach Joe Paterno during the Jerry Sandusky sc...

Bidding for Salaam's trophy, which the auction house says was obtained legally, ends Satur...

Locksley has been the offensive coordinator at Illinois and Maryland during his coaching c...
Many NFL-eligible juniors ignore advice provided by the league and risk going undrafted each...

Snyder died in Manhattan, Kansas, on Wednesday

Locksley joined Alabama's staff in 2016