Lowlights: Washington State's failure to launch, and more of the worst of Week 1
Celebrating the weekend's losers, on the scoreboard and in spirit.
Celebrating the weekend's losers, on the scoreboard and in spirit.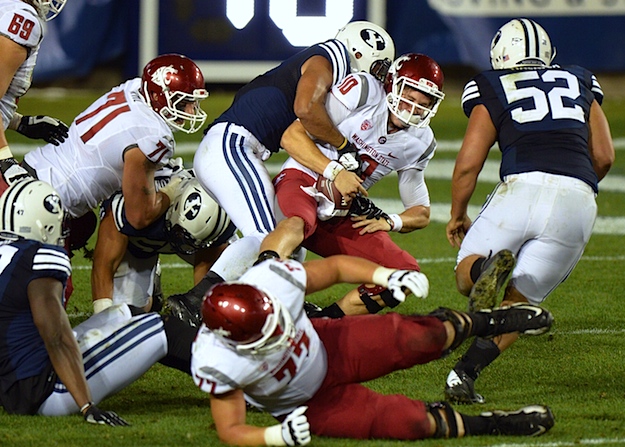 Well, you did say you wanted to be more offensive… Washington State 's defense yielded 30 points to BYU in Mike Leach's first game as Wazzu head coach, a respectable effort for a team that's allowed at least 32 points per game in five consecutive seasons. Leach's much-anticipated "Air Raid" offense, on the other hand, was dead on arrival: Washington State put up just 224 yards of total offense, matching its worst effort of the season in 2011, and failed to find the end zone once in a long, ugly, 30-6 debacle. Senior quarterback Jeff Tuel, gobbled up by fantasy players everywhere in an anticipation of a big year in Leach's system, put the ball in the air 45 times but averaged just five yards per pass – which comes out to a paltry 7.6 yards per completion– and was picked off twice.
LOWLIGHT HALL OF FAME: Andre Parker, Kent State. Actually, while Parker clearly initiated the dumbest play of the year by running 58 yards in the wrong direction following a fumble recovery in Kent State's opener against Towson, there are more than enough "Dunce" caps to go around for the Towson players who actually chased Parker down and tackled him rather than let him score an unwitting safety in their favor:
Mr. Parker: For your absentminded gusto, we salute you. Towson bros: Get your heads in the game.
You say you're feeling a sudden burning sensation? N.C. State's David Amerson came into Friday night's opener against Tennessee regarded by pretty much everyone – including pro scouts – as the best cornerback in college football. But Vol quarterback Tyler Bray vowed before the game to go after Amerson "just like any other DB," and proceeded to make him look worse than that: In the first quarter alone, Amerson was posterized on two long Tennessee touchdowns, the first covering 41 yards from Bray to juco transfer Cordarrelle Patterson, followed by a 72-yard bomb from Bray to Zach Rogers that put the Vols on top for good. A few seconds later, Amerson was left in the dust again by Patterson on a 67-yard sprint to the end zone, Tennessee was well on its way to a 35-21 victory and draftniks were beginning to openly question whether Amerson is really all he's cracked up to be.
WORST PLAY OF THE WEEK: As outstanding as he was as a passer, Tyler Bray's LOL-worthy attempt at a quarterback sneak at the end of the first half against N.C. State could be used as a tutorial for "WHAT NOT TO DO" when handling the ball at the goal line:
Not that mattered in the end, but had Tennessee scored there, they would have gone into the half up two touchdowns, 29-14, and the Wolfpack's goose would have been pretty well cooked. Instead, Bray's hasty gaffe allowed N.C. State to go into the half down just one score, and come out of the locker room still very much in it.
WORST GAME OF THE WEEK: Minnesota 30, UNLV 27 (Triple Overtime.)
What's worse: That a Big Ten team needed three overtimes to put away a perennial doormat picked to finish at or near the bottom of the Mountain West? Or that the Gophers reacted to narrowly escaping an upset at the hands of said doormat like they'd just clinched a spot in the Rose Bowl? I guess after September losses to the likes of New Mexico State, North Dakota State and South Dakota over the last two years, you learn to appreciate the little things.
- - -
Honorable mention: Oklahoma State played "at least" 19 walk-ons Saturday against Savannah State, and still had trouble putting on the brakes in an 84-0 debacle that should have been stopped by court order. Can anyone alive justify a reason this game was played?
WORST FAN OF THE WEEK: In fairness, this Kentucky partisan deserves an "A" for effort, but gets an "F" for execution during Sunday's game against Louisville: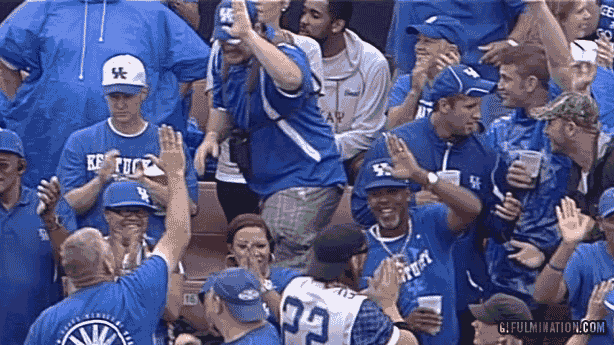 The really bad part is, the way the Wildcats played in a 32-14 loss, that was his one and only chance to stick the high-five all day.
DEMERITS. Also coming in for scorn this week:
• Oklahoma's offensive line.
• Denard Robinson's arm.
• Creepy Joe Paterno cutouts at Beaver Stadium.
• Maryland being Maryland.
• Paul Ryan's pregame pep talk.
WORST OF THE WORST. This week's Dreadful Dozen, in descending order:
- - -
1. Massachusetts (0-1). UMass' first game as a full-fledged FBS program yielded zero points and just 59 yards from scrimmage in a 37-0 loss at UConn, although the Minutemen did manage to pull of a nice tag-team interception.
2. Idaho (0-1). The WAC may go ahead and kick the Vandals out a year early after a 20-3 drubbing at the hands of Eastern Washington.
3. Memphis (0-1). The Tigers changed coaches, ditching alum Larry Porter for the fresh-faced Justin Fuente, but they couldn't change their stripes in a 20-17 flop against Tennessee-Martin.
4. Akron (0-1). At least first-year coach Terry Bowden has a better idea what he's in for after a 56-14 thumping at the hands of Central Florida.
5. Houston (0-1). The highest-scoring offense in the nation in 2011 looked so inept in a 30-13 loss to Texas State, a 34-point underdog, the Cougars have already fired their offensive coordinator after his first game on the job.
6. Pittsburgh (0-1). The Paul Chryst era at Pitt caught fire on the runway in a 31-17 loss to an FCS team, Youngstown State, that wasn't even as close as the score.
7. Middle Tennessee (0-1). McNeese State didn't even need Tyrann Mathieu to make quick work of the Blue Raiders, 27-21.
8. Rice (0-1). Unless you actually believe UCLA's offense is suddenly clicking on all cylinders based on a 49-24 blowout in a largely empty Rice Stadium. Yeah, I didn't think so.
9. Colorado (0-1). The Buffs dropped a heartbreaker Saturday to rival Colorado State, meaning if they don't take care of business this week against Sacramento State, they're on the fast track to 0-12.
10. Florida International (0-1). FIU has come a long, long way under coach Mario Cristobal, but get blown out by Duke, and the Dreadful Dozen awaits.
11. Maryland (1-0). When you play in the ACC, a "hard fought," 7-6 win over William & Mary is not a very good omen.
12. Florida Atlantic (1-0). The good news: The Owls won their second game in a row after an 0-11 start in 2011. The bad news: It was a tight, 7-3 decisionover Wagner.
NEXT WEEK: Auburn and Mississippi State meet to commemorate the fourth anniversary of possibly the worst college football game ever played. The Bulldogs are already preparing accordingly: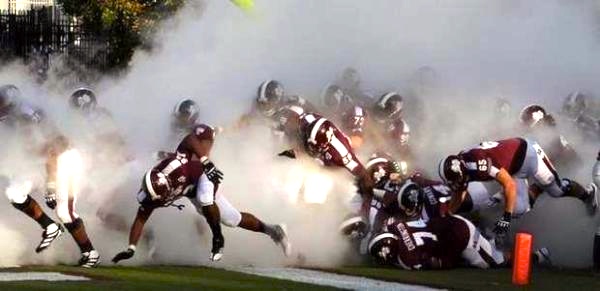 Many NFL-eligible juniors ignore advice provided by the league and risk going undrafted each...

Snyder died in Manhattan, Kansas, on Wednesday

Locksley joined Alabama's staff in 2016
Saban reportedly wants to hire Freeze, but there may be things keeping that from happening

Florida State-Miami will be on Oct. 6, and the Seminoles will play Clemson on Oct. 27

Weis Jr. was an offensive assistant for the Atlanta Falcons in 2017