LSU coach Les Miles deserves better than AD Joe Alleva's ineptitude
LSU athletic director Joe Alleva's spectacular miscalculation left the Tigers and their popular coach, Les Miles, embarrassed. Where does LSU go from here?
What a spectacular miscalculation. What disarray. What a joke. What a time to be Joe Alleva.
With all the sincerity of Voldemort, LSU's athletic director announced Saturday night that "Les Miles is our football coach and will continue to be our football coach."
Well, at least until Jimbo Fisher says yes.
Florida State's coach ultimately wasn't enticed to come to LSU, so life goes on in Baton Rouge. Well, as much as it can in a world where Alleva had Miles run out after 11 years without much of a succession plan.
See, that's how these things work. If you're going to fire a highly successful coach, you sure as hell better have the next guy locked up.
Turns out Alleva really had no idea what he was doing.
Now who deserves to be fired?
Can you believe this? Miles was taken down from the gallows in the same public way he was hoisted up on them. Shabbily.
A week that began with Crazy Les reportedly not making it through Monday continued with him remaining the Tigers coach indefinitely. You know, the way a national championship coach who has won 78 percent of his games deserves to be treated.
Alleva cannot hide from looking like a snake of an administrator being backed into a corner. That back-up plan after Fisher, well, there really wasn't one.
Alleva had to realize that it was Fisher or bust. Welcome to bustville where contingencies named Art Briles, Jim Mora Jr., Tom Herman or Mike Gundy just don't cut it.
They're all fine coaches but they're not Fisher -- not even close. And they're definitely not Les Miles. If it wasn't for the millions Miles would be giving up in lucrative buyout money, he should have quit on the spot.
What Miles lost in face these last 10 days, the coach earned in leverage. After this fiasco, he could should demand a new indoor facility in case the posh one he already practices in springs a leak. Just, well ... because. 
In the end, this has been awkward, odd and potentially damaging long-term to everyone around LSU -- except Les Miles.
You see, if you're going to fire the most successful coach in school history, you better know how things are going to end before the carousel starts spinning. They teach you that in AD school. Never leave your program hanging after you hang your hall of fame coach out to dry.
What would you expect from a guy in Alleva who hired Carl Franks and Ted Roof at Duke?
This is the state of LSU football right at this moment: Basking in afterglow of a firing that didn't happen. The only thing that could make it more absurd would be a national championship next year by the Tigers. At which time, Miles might raise a middle finger before he raises the trophy.
This Day in Les History started when Fisher told his president Saturday that he's staying in Tallahassee. For now, we'll have to take him at his word.
At some point, Fisher had to realize that he'd better win two national championships if he came to LSU. Look how they treated the guy who won the last one.
No doubt Fisher is about the only coach who could have made Miles worth firing. But that's kind of the point for Alleva. When your pool of candidates is either a highly successful Nick Saban legacy or bust, you sure as hell better get your man.
Alleva not only failed, he bungled. If there is a Napoleon Dynamite of the profession, he is it. All he needed was a T-shirt adorned by a unicorn.
Sadly, we still know there was a sinister faction at LSU that was rooting for Miles to lose. That makes sense at Louisiana-Monroe, a place where they regularly cycle through coaches. Not at LSU where misguided power brokers define a downturn in the moment.
They rooted for Miles to lose -- enough -- to sell his firing. And that's pathetic. So Les lost five in a row to Nick Saban. This just in: A lot of coaches have lost five in a row to Nick Saban. And as I recall, Miles is one of only three coaches to beat the great Saban in consecutive meetings. (The others are Hugh Freeze and Steve Spurrier.)
Clearly there's a disconnect at LSU that a lot of us still don't understand. Miles hasn't endeared himself to some important fans and boosters. That's a view from the inside. From the outside, Miles is a highly successful, quirky coach who wins in strange ways.
But that's the point. He wins. In that sense, LSU had forgotten where it came from. Until Saban came along in 2000, the program had wandered in the wilderness for a couple of decades. This may be hard to believe for some, but LSU didn't used to matter in the national landscape.
Look what happened to USC when it replaced Pete Carroll. Look what happened to Nebraska. LSU replaced a national championship coach with another national championship coach -- and got better.
Saban lit the torch. Miles carried it boldly, made it brighter.
Can the factions who wanted to run Miles out of town -- particularly Alleva -- look themselves in the mirror at the moment? They/he have set a new low for how to conduct business.
They almost ran off a coach who had 40 LSU players on 2015 NFL opening day rosters -- the most of any school. They almost fired a coach who wins three-quarters of his games, regularly contends for the SEC title and does all of it with class and largely without scandal.
Bob Stoops summed up this all-in gambit for me when I visited Oklahoma last week.
"Be careful what you wish for," he warned. "You might just get it. Everyone thinks you just plug somebody in and it always works."
Apparently, transparency is not in Alleva's vocabulary. Not when he soured on Miles and snuck around behind his coach's back like a Windsor-knotted saboteur.
Not when Alleva emerged Saturday to issue a statement like nothing had happened. "Les will continue to be our football coach."
We're talking about a guy who was coaching the No. 2 team in the nation -- a month ago.
There are ways to change coaches. One way is not to allow media reports to leak out about your intentions. And if they do, at least address them. I have no idea if Alleva ever spoke to Miles face-to-face during this two-week ordeal, but I suspect he did not.
Alleva let Miles take the podium at his weekly press conference while reports swirled of his firing that day.
Alleva was nowhere to be found Friday to diffuse the situation when Miles had to explain the semantics of his comments to a Tiger Club booster group.
It was tragic and pitiful to watch Miles twist in the wind.
It will be fascinating to see how the coach regains his throne.
That outrageous $15 million buyout LSU was apparently willing to pay to get rid of Les? First order of business for George Bass, Miles' agent: The number just went up to $20 million.
And Alleva better not utter a peep. For once around LSU, the silence would not be deafening.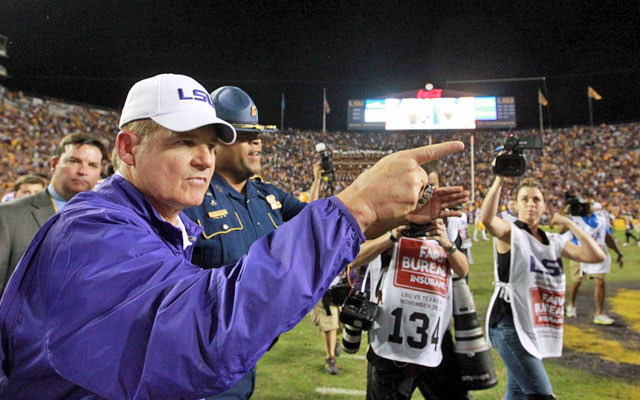 CBS Sports HQ Daily Newsletter
Get the best highlights and stories - yeah, just the good stuff handpicked by our team to start your day.
Please check the opt-in box to acknowledge that you would like to subscribe.
Thanks for signing up!
Keep an eye on your inbox for the latest sports news.
Sorry!
There was an error processing your subscription.
Bohn previously stated 'everything is on the table' regarding USC's conference affiliation

The Texas coach is looking for some advice amid a massive staff overhaul in Austin

Drinkwitz is injecting energy, passion and personality that Mizzou football didn't know it...
William Hill Sportsbook has seven quarterbacks on the top of its list of favorites

Faulk has been on the LSU staff since 2018 and previously served as the director of player...

The LA Bowl will play its first game in December 2020, and will take place in SoFi Stadium...
CBS Sports was with you all day covering National Signing Day as the Class of 2020 wrapped...

Complete analysis, highlights and coverage of the 2020 College Football Playoff National Championship

Live scores, highlights and updates from the Miami (OH) vs. Louisiana football game