LSU DB Jalen Mills' lawyer: He didn't punch victim
The attorney for suspended LSU defensive back Jalen Mills said his client didn't punch the alleged victim in the incident that led to Mills' arrest.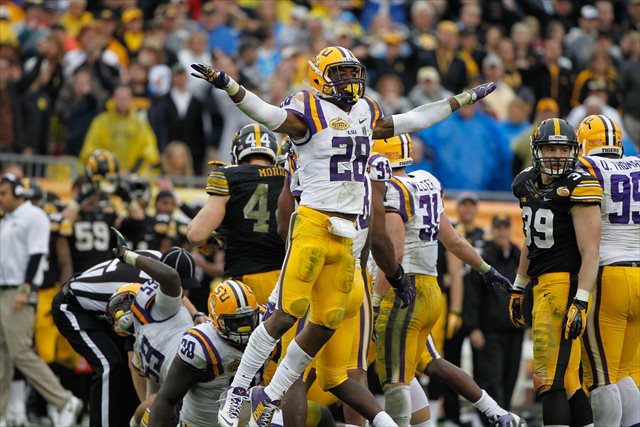 More college football: Jon Solomon | Dennis Dodd | Jeremy Fowler | Latest news
The attorney for suspended LSU defensive back Jalen Mills told USA Today Wednesday that his client did not punch the female victim in the alleged May 4 battery that led to Mills' arrest this week.
"He was not the person who struck the victim," Brent Stockstill said. "That would be consistent with some of the information I've received ... I've been contacted by several people that were there when the incident took place. And their version of what happened is not consistent with the arrest warrant."
Mills was arrested early Wednesday and charged with second-degree battery after the victim told police, per his arrest warrant, that following a confrontation at his apartment door Mills punched her in the mouth. Acording to the warrant, the victim and a witness who corroborated the account each identified Mills out of a six-person police lineup. 
Stockstill said he had received differing accounts, suggesting the victim may have been punched by another woman over conflicting romantic interests concerning Mills.
Mills was released on $10,000 bond Wednesday afternoon and has been indefinitely suspended by LSU, with Les Miles saying he would not comment until the case's legal resolution.
The 20-year-old Texas native is a two-year starter who earned freshman All-American honors as a cornerback in 2012 before moving to safety late in the 2013 season. He was the Tigers' third-leading tackler in 2013 with 67 stops.
These are the teams that are getting too much -- or too little -- love before the season

The Crimson Tide start atop the AP Top 25 poll for the second straight season

Taking a close, detailed and opinionated look at the ACC a week before the start of the 2017...
There are new names to learn every season, and here are five to keep an eye on from the AC...

The champs defend without Watson, and Florida State's hopes are sky high

Kevin Sumlin addressed Texas A&M's decision to cancel a rally scheduled for Sept. 11