LSU (remember the Tigers?) announces itself as a contender
A retooled LSU defense helps foil TCU and could have the Tigers back in championship contention.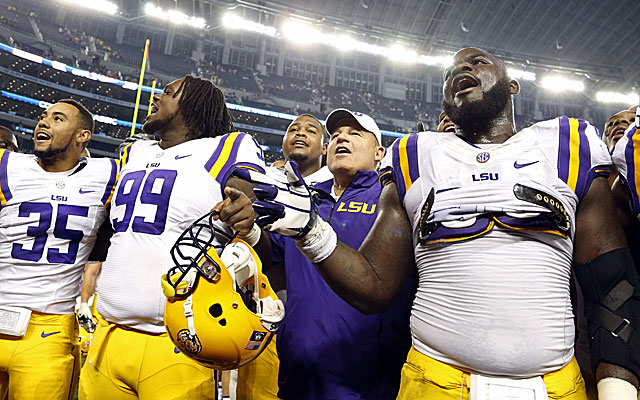 ARLINGTON, Texas -- Clearly the takeaway from Week 1 in college football is secrecy.
As much as Johnny Football talks on the field, he is media mum off it until further notice. Starting quarterback decisions were treated like encrypted launch codes. A flurry of last-minute player suspensions, well, couldn't have been that last minute, could they?
The mini-mystery of AJ McCarron's walking boot resulted in -- to paraphrase his coach -- the most famous ingrown toenail in history.
Add to this covert conduct the Harry High School hijinks of Les Miles and Gary Patterson prior to Saturday's Cowboys Classic. They jousted with each other basically hinting at playing suspended stars who had done some pretty heinous stuff.
Both LSU tailback Jeremy Hill (caught on camera sucker punching a guy) and TCU defensive end Devonte Fields (violation of team rules, out two games) actually dressed Saturday night. Both coaches seemed bent on mutually destroying each of their reputations had either one played.
But the threat was empty and, finally, some basic truths filled the air as college football's first Saturday drew to a close.
LSU isn't going away. In an SEC and national conversation filled with the praise of Alabama, a Georgia mission and everything Manziel, the Tigers are your national championship dark horse, ladies and gentlemen.
"Our dream," declared defensive tackle Ego Ferguson, "is California."
That would be the Rose Bowl, site of the final BCS championship game.
"If you're not playing for California, why play the game?" he added.
OK, so LSU is a really, really dark horse considering the depth of the SEC and bumps and grinds of Saturday's 37-27 over No. 20 TCU in the Cowboys Classic. But still ...
This was Cowboys Stadium where SEC teams are now 10-0. LSU launched a BCS title game run here two years ago against Oregon. Alabama began its 2012 run last year by blasting Michigan.
This was a de facto LSU home game despite TCU's campus being 19 miles away. You have to remember, there are more ticketless fans back home at Tiger Stadium tailgating for the average home game than there are students enrolled at TCU.  The overwhelmingly majority of the 80,000, then, fell in love with a whole new set of Tigers.
Five LSU true freshmen saw their first career battles in the first quarter. Six Tigers made their first career start. Until Saturday, the massive Ferguson (four tackles, one tackle for loss, one hurry) was more famous for his first name than for his play.
"My feeling tonight was, 'About time,'" he said after his first career start. "It was about time I started making some plays."
A similar thing happened two years ago in this very place when LSU announced a title run with the likes of Tyrann Mathieu and Sam Montgomery in that win over the Ducks.
"My role here two years ago was to contribute to the team a little bit," Ferguson said. "We had a couple of good D-tackles in front of me, Michael Brockers and Bennie Logan. I just had to wait my time."
In short, LSU does the retool thing well. The defense that lost eight draft picks is still plucky. It survived TCU's two-headed quarterbacks, Casey Pachall and Trevone Boykin. The final margin -- sweat-stained for LSU until midway through the fourth quarter -- was almost cosmetic.
If not for a 100-yard kickoff return by TCU's B.J. Catalon and a fumble by LSU's Alfred Blue 6 yards from his own goal line that led to a Horned Frogs' touchdown, the score would have reflected the proper dominance.
Time of possession: 36 minutes for LSU. TCU was held to 259 yards.
"We didn't freak out when they did something different that we hadn't seen on film," said center Elliott Porter, making his second career start.
It was especially important that quarterback Zach Mettenberger not freak about anything. Mettenberger is not new but certainly different. New offensive coordinator Cam Cameron allowed the much critiqued Mettenberger to throw downfield perhaps more than any quarterback in the Miles era Saturday night.
The lower completion rate (16 of 32) was partially the result of some dropped balls, but there were more explosive plays. Give credit to Cameron, who is more than familiar with what Miles wants. It was Cameron who kept Les and his future wife together at a critical point in their courtship, according to Sissy Cameron.
The Mettenberger/Cameron relationship looks promising as well. The quarterback was helped by veteran receivers Odell Beckham Jr. and Jarvis Landry. There were more big plays. Seven Mettenberger completions went for at least 14 yards.
"I feel like it's a weight off his shoulders," Beckham said of his quarterback. "He's more like himself right now and he's comfortable. He knows he's going to make some amazing plays."
Hill's absence affected the Tiger tailback depth, well, not much. Blue, returning from a 2012 knee injury, ran for 89 yards.  Junior Terrence Magee is listed as a wide receiver/running back. He went for 95 yards and two touchdowns.
Perhaps it's good thing that few are talking about the Tigers. Good for the Tigers. It's hard to hide hopes on opening night. The secret about LSU may be out.
Lane Kiffin turned around FAU remarkably fast and has the Owls in the C-USA title game

NCAA football scoreboard, highlights and updates from the biggest Week 12 games

The junior injured his finger diving for the pylon late in the first quarter of the loss to...
Projecting the changes in the new AP Top 25 poll college football rankings after Week 12

There's only one true Turnover Chain in college football, and it belongs to The U

The 72-yard punt return was perfectly executed by the Trojans