LSU's Miles on banning Twitter: Like not allowing players to drive cars
Twitter has become a recruiting issue, and LSU coach Les Miles says it's better to educate athletes on using it responsibly than ban it altogether.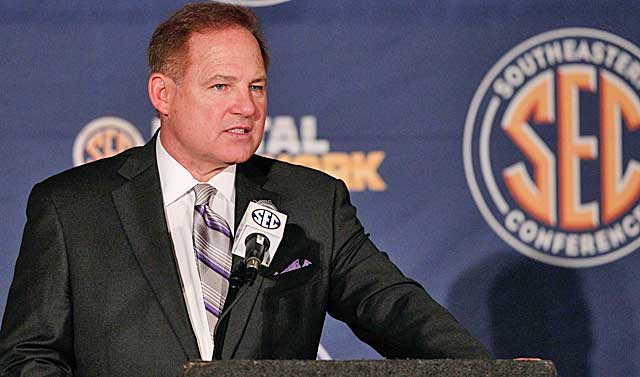 HOOVER, Ala. -- All the forests that have been killed, all the keyboards that have been pounded decrying the impact of Twitter, it all came clear to me this week when I was talking to a school official at SEC media days.
"Why," I asked, "doesn't your coach just ban players from Twitter if it's such a concern?"
He replied that the simple act of banning Twitter could become a recruiting issue. If, say, Texas A&M keeps Johnny Football and the rest of the Aggies off Twitter, that could be used against Kevin Sumlin in recruiting. "Wow," I thought. "This thing isn't going away. Ever."
Few coaches will ban Twitter. Not in this day and age. These kids have grown up with it. To them, it's like another limb. To the coaches, it can be an annoyance. Even worse, embarrassing.
Who better, then, to break it all down than LSU's Les Miles? Crazy Les has bigger problems than Twitter, but you get from these comments that he gets it. He dreads Twitter, but he's not going to ban it teamwide.
"Twenty years ago, there was not a policy on Twitter," he told reporters Thursday. "You know what, 20 years ago there was not a policy on Facebook. You know what, I'll bet you that 20 years ago no one did a Harlem Shake, you know what I mean?
"Here is what's happening. Somebody gave me the magic. They said there's 500 million on Instagram, whatever the hell that is. There's 3 billion on Facebook. These are phenomena that are not just youthful. LeBron James, athletes, entertainers, businessmen of our day. I mean, it's an amazing thing.
"What we really are trying to do is educate and give them their brand and the responsibility that they have to understand that this is a media outlet that, in fact, when you put a piece of information that you think you're just writing to your buddy, you are not. 
"The interesting piece is, I can't tell you the number of wonderful men that I have on my team. I'm telling you, quality guys, good students. When they get behind the social media cloak, they get to speak in a totally different way. It's like, 'Where did you get that? How did you think this was even appropriate?'
"He said, 'I just was going to try some of it.'
"So basically what I'm saying is, this is going to be with us. This isn't going away. We have to handle it, you know, with responsibility. That's kind of how we're approaching it."
If you were thinking about banning Twitter, I asked him, would you have to think twice because it could become a recruiting issue? 
"Well, again, it's kind of like saying, [when they first] had cars [that] I'm not allowing any of my players to drive cars. Why? Well, I like the old buggy. It's safer. The horse is a problem, but as long as you keep the horse pointed in the right direction, you're OK.
"I guess what I'm saying to you is, we've got computers now that you can carry in your pocket. If you hit the right button, you can talk to people. For us to not admit that's America, that's what we're doing, now let's do it right.
"Again, we're trying to educate, not necessarily make it a yes or no. Now, I want you to know something. If I find a guy that is absolutely without regard, it becomes a repeated issue, he represents our brand: LSU. He'll lose that responsibility or the opportunity to be in that team room real quick."
Thank you, Les. Enlightening as always. 
Eichorst had been at Nebraska since 2012

Three straight titles makes it seem like 'Alabama and everybody else' in the SEC

Some early-season Big Ten games could shake up the national standings
Trust the Process as Tom Fornelli leads you toward his best bets in Week 4 of the season

The Crimson Tide basically have to be perfect these days ... or else

Guice is dealing with a 'minor injury' that has not been specified by coach Ed Orgeron