Maaco Bowl Las Vegas: Boise State 28, Washington 26
Boise State won its third straight Las Vegas Bowl behind a most unlikely hero: placekicker Michael Frisina.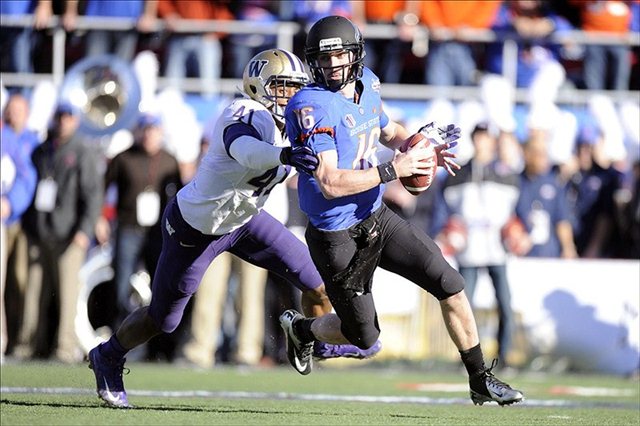 Joe Southwick played one of his best games of the season in Las Vegas (US Presswire)
BOISE STATE WON. As expected, Boise State won its third straight Las Vegas Bowl, and as expected, it came in much tougher fashion than against Utah or Arizona State. What wasn't expected was who emerged as the Broncos' hero. Placekicker Michael Frisina connected on field goals of 34, 30, and 27 yards -- the last one coming with only 1:16 remaining -- to edge Boise past the Huskies. Bronco quarterback Joe Southwick played what's likely his best game of the season, completing 26 of 38 passes for 264 yards and scrambling for 39 more key yards on the ground.
But even the Bronco victory couldn't overshadow the incredible performance of Huskie running back Bishop Sankey, who was named a rare bowl MVP from a losing team. Sankey carried 30 times for a school bowl record 205 yards and added 74 yards as a receiver.
WHY BOISE STATE WON. Because even Sankey couldn't make up for a truly lackluster effort from the Washington passing game -- and by "Washington passing game" we mean every aspect of it.
Quarterback Keith Price is likely to take the brunt of criticism, spraying throws across the field all game and finishing with two interceptions, including the ugly please-pick-me throw over the middle that finished Washington's last-gasp drive. But Price wasn't given a lot of help from an offensive line that let Price get hit on seemingly every dropback in the first half or receivers that weren't always sure-handed -- most notably on a drop by Jaydon Mickens that would have set up a late fourth-quarter first-and-goal. Instead the Huskies settled for a 38-yard field goal, and Boise responded by driving for their own game-winning field goal on the ensuing possession.
By contrast, Southwick wasn't perfect, but he seemed in far firmer control of the Bronco offense, made several accurate deep throws, and used his heady scrambling to keep multiple drives alive. In the end, Boise averaged 7.5 yards per pass attempt to Washington's 5.9, and committed two fewer turnovers in the passing process. And it won them the game.
WHEN BOISE STATE WON. Not until Price's final pass was picked off with less than 20 seconds to go.
WHAT BOISE STATE WON. Their fifth straight bowl game, further cementing Chris Petersen as one of the best in the business at bowl preparation. (That he did it with All-Mountain West defensive end Demarcus Lawrence suspended just before kickoff makes it even more impressive.) This was also the Broncos' 11th win of the season -- the fifth consecutive season they've reached that benchmark and ninth season in their past 11.
WHAT WASHINGTON LOST. Not much, really, other than an opportunity to send their seniors off on a nice note after they helped restore the program to respectablity in the wake of the Willingham era. But after seeing his talented-but-inexperienced team close out the season with two tough losses to archrival Washington State and now the Broncos, Stev Sarkisian will unquestionably be looking for bigger and better things in 2013.
FINAL BOWL GRADE: A star turn from Sankey, last-minute drama, big offensive plays, and even some patented Boise State trickeration ... the Las Vegas Bowl was far more entertaining than a game that shaped up as a defensive slog had any right to be. Still, it also felt a little too sloppy and just a bit buttoned-down down the stretch -- the last touchdown scored came with 2:28 to play in the third quarter -- to be a classic. Grade: B+
The Fighting Irish are getting more attention after throttling USC 49-14 Saturday night

Jerry Palm is back to look at where the bowl games stand after the midway point of 2017

The sophomore leads the SEC in total offense and passing
The Nittany Lions want the Crimson Tide after dismantling the Wolverines

The Nittany Lions and Fighting Irish are storied programs but newbies as CFP contenders

Plus, people need to start paying attention to Matt Campbell and Iowa State