MAC Preview: A secret no more, all eyes on #MACtion
Tom Fornelli says the MAC used to be this little conference nobody knew about, but after Northern Illinois' appearance in the Orange Bowl, 2013 could be the most important season in conference history.
When previewing the MAC last year, I wrote about how the unpredictability of the conference was what made it so much fun to follow. Then the MAC went and did something nobody would have ever predicted it would do.
It put a team in a BCS bowl.
What most people will remember about Northern Illinois' Orange Bowl excursion is how soundly it was beaten by Florida State, but the fact that the Huskies were even there in the first place was a minor college football miracle.
MAC All-Conference
Pos
Player
Yr
School
QB

Jordan Lynch

Sr.

Northern Illinois Huskies

RB

Beau Blankenship

Sr.
Ohio
RB

David Fluellen

Sr.

Toledo Rockets

WR

Titus Davis

Jr.

Central Michigan Chippewas

WR

Nick Harwell

Sr.

Miami (Ohio) RedHawks

TE

Alex Bayer

Sr.

Bowling Green Falcons

OT

Tyler Loos

Jr.
Northern Illinois
OT

Jake Olson

Sr.
Central Michigan
OG

Jared Volk

Sr.
Northern Illinois
OG

Jordan Hansel

Sr.

Ball State Cardinals

C

Zac Kerin

Sr.
Toledo
DE

Jonathan Newsome

Sr.
Ball State
DE

Colby Way

Sr.

Buffalo Bulls

DT

Roosevelt Nix

Sr.

Kent State Golden Flashes

DT

Cody Grice

Soph.

Akron Zips

LB

Khalil Mack

Sr.
Buffalo
LB

Chris Wade

Sr.
Miami (Ohio)
LB

Johnnie Simon

Sr.

Western Michigan Broncos

CB

Dayonne Nunley

Sr.
Miami (Ohio)
CB

Najja Johnson

Sr.
Buffalo
S
BooBoo Gates
Sr.
Bowling Green
S

Jimmie Ward

Sr.
Northern Illinois
K

Jeremiah Detmer

Jr.
Toledo
P

Anthony Melchiori

Soph.
Kent State
KR

Dri Archer

Sr.
Kent State
PR

Jamill Smith

Sr.
Ball State
The MAC is a conference that was never meant for the spotlight. It's place was in the dark corners of Tuesday and Wednesday nights, where only the college football hipster would even bother trying to find it.
But #MACtion is no longer a secret. It won't change, but more people will be aware of its existence, which might make this one of the most important seasons in the history of the MAC.
Like Boise State in recent seasons, after it climbed out of the non-BCS ooze and nearly reached the top of the mountain, the MAC won't be sneaking up on anybody this year. There are going to be more eyes on the conference, eyes that are trying to figure out what to make of this strange place filled with stranger mascots like the Zips, Chippewas, and Golden Flashes.
The reason people take Boise State seriously is because after its shocking upset over Oklahoma in the Fiesta Bowl, it kept winning. While the opening salvo got everyone's attention, it was the encores that kept it there.
This is where the MAC finds itself in 2013.
It's also why the unpredictable nature that somehow produced Northern Illinois last year, and has made this conference so fun to follow for years, could actually work to its detriment in 2013.
NIU became only the second team to repeat as MAC champion since the league moved its title game to Detroit in 2004, joining Central Michigan in 2006-07. The only MAC team to have won three consecutive conference championship games was Marshall, which won four straight from 1997 through 2000. The major difference then, though, was that the championship games were played on campus at that time and Marshall hosted all four of those games. Nor was the conference as deep then as it is now.
So the odds are against Northern Illinois being able to pull off a three-peat in this modern MAC era, even though quarterback Jordan Lynch returns with seven other starters on offense, including the entire offensive line.
The MAC is unpredictable in large part because of the coaching turnover that takes place in the conference every offseason, and Northern Illinois is not immune to this phenomenon. Dave Doeren left DeKalb for North Carolina State after last season and he was replaced by Rod Carey. While Carey was already a part of Doeren's staff at NIU, he's also the third head coach the Huskies have had in the last four seasons.
So odds are that the MAC won't have the next Boise State in the form of Northern Illinois, but that's alright. There may not be another BCS bowl game in the cards for this season, or many College Football Playoff berths down the road, but the MAC will still be the MAC.
The only thing about the conference you can predict is that it'll never be boring. And because of that people will keep searching those dark corners hoping to find it.
Offensive player of the year: Jordan Lynch, QB, Northern Illinois: It's somewhat hard to go against the Northern Illinois quarterback here. In 2012 he finished with 4,953 total yards and 44 touchdowns. To put those numbers in the proper perspective, 51 teams didn't have 4,953 total yards of offense last season and 52 teams didn't score 44 touchdowns.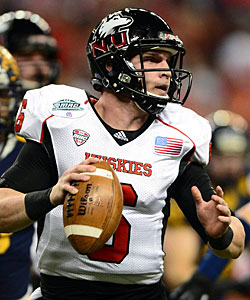 Defensive player of the year: Khalil Mack, LB, Buffalo: Mack was a monster during his junior season. He finished the year with 94 tackles, 20 of which were for a loss, and he also had eight sacks while blocking a punt and forcing four fumbles. However, those numbers weren't enough to earn him the award last season. That will change in 2013.
Top newcomer: Rodney Adams, WR, Toledo: Adams was a four-star receiver out of Florida that was also the prize of Toledo's 2013 class. He had offers from Florida, Florida State, Miami and Oklahoma amongst others, and he chose Toledo after originally committing to the Gators. He'll be a huge weapon for Toledo in Matt Campbell's offense.
Coach of the year: Matt Campbell, Toledo: Campbell did a good job keeping the program on track last season after Tim Beckman left for Illinois, and if the Rockets live up to the potential I see in them in 2013, Campbell will be a no-brainer as Coach of the Year.
Next MAC head coach to move on to a BCS job: Pete Lembo, Ball State: I could go with Matt Campbell here as well, but Pete Lembo was a name that came up in a couple coaching searches last offseason. Should Ball State have another solid season in 2013 I don't think Lembo returns to Muncie for a fourth season.
Next head coach to become a coordinator: Ron English, Eastern Michigan Eagles : I do not envy the job Ron English has had to do to turn around an Eastern Michigan program that was in bad shape when he took it over. EMU had been 16-42 in the five seasons prior to English's hire, but the Eagles have gone only 10-38 in English's first four seasons. Making matters worse, the Eagles went 6-6 in 2011, the school's best season in 17 years. They then followed up that promise by going 2-10 in 2012. English can't survive another season like that.
Best conference game: Northern Illinois at Toledo (11/20). A Wednesday night at the Glass Bowl will likely settle the West Division. The last time these two met in Toledo it ended in a 63-60 win for the Huskies.
Best non-conference game: Toledo at Florida (8/31): As is often the case, plenty of MAC teams will be taking on BCS conference opponents this season, but no school opens up with as tough as task as Toledo. Toledo will be a large underdog in this matchup, but considering Florida's problems putting points on the board last season and that this is the first game of the season, there's a chance this could get interesting.
Bold conference prediction: Last year there were seven MAC teams who qualified for a bowl game. That will not be the case this season, though what the conference will lack in quantity it will make up for in quality.
Predicted order of finish
East Division

1. Ohio: If there was ever a MAC team you thought might make a BCS bowl last season, it was Ohio. The Bobcats started the year by beating Penn State in Happy Valley and getting off to a 7-0 start. Unfortunately for Frank Solich's team, they'd end up losing four of their last five games before beating Louisiana-Monroe in the Independence Bowl. In 2013 the Bobcats return just about all their skill position players on offense, including quarterback Tyler Tettleton and running back Beau Blankenship. Combine that with a schedule that has Miami (OH), and Kent State coming to Athens, and I think the Bobcats will have a slight edge in the East.
2. Bowling Green: The Falcons are a popular pick in the East, and for good reason. Dave Clawson's team returns 19 starters, with ten on offense and nine on defense. The Falcons also get both Toledo and Ohio at home this season, which is another point in their favor. However, in a division race that I expect to be as close as this one, I remain a little skeptical that a defense that went from allowing 28.8 points per game in 2011 to allowing only 16.8 points in 2012 can maintain that level. I could be entirely wrong, though.

3. Kent State: The Golden Flashes finished 11-3 last year and nearly won the MAC, but I think they lost just a bit too much this offseason to repeat as East Division champions. Yes, Dri Archer is back, and he'll be extremely valuable to this team but coach Darrell Hazell left for Purdue and the offense has to replace its quarterback and three members of its offensive line. This should still be a bowl team, but a trip to Detroit just seems out of reach.

4. Miami (Ohio): Last season did not go how the Redhawks had hoped with Zac Dysert entering his senior season, but things should improve in Don Treadwell's third season with the team. Replacing Dysert's production will not be easy, but the truth is that it's the Miami defense that needs to improve. Frankly, it's hard to imagine it being much worse than it was in 2012.

5. Buffalo: The Bulls have a lot of playmakers on defense in Colby Way, Khalil Mack and Najja Johnson. The question is whether or not the offense can give the defense any help in 2013. I'm not so optimistic it will because while there may be nine starters returning on offense, it's nine starters from an offense that finished 12th in the MAC with 5.21 yards per play last season and converted only 33% of its third downs.

6. Akron: Fear the dadgum roo? Well, there's really not a whole lot to fear here, as the Zips have now gone 3-33 in the last three seasons. And while we can't be sure whether or not Terry Bowden is the man to turn this program around, we can be fairly certain he's going to need a bit more time to do so.

7. UMass: The transition from FCS to FBS isn't easy for anybody, and the Minutemen learned that the hard way last season. The Minutemen offense finished dead last in the nation -- not just the MAC -- in yards per game (278.3), yards per play (3.91), and points per game (12.7). Combine that with a defense that allowed 40.2 points per game -- which wasn't the worst in the country, as three teams actually allowed more -- and you can see how UMass went 1-11. Odds are things won't be all that different in 2013.
West Division

1. Toledo: I am the only member of CBSSports.com who is predicting Toledo will win the West. Everybody else went with Northern Illinois, and while I understand why, I'm sticking to my guns. The Rockets return nine members of a potent offense in 2013, and get Northern Illinois in Toledo in late November. It's very difficult to come into the Glass Bowl as a visiting team and leave with the victory, and I think that Nov. 20 contest settles the division in Toledo's favor.

2. Northern Illinois: The Huskies are still going to be a good team in 2013, but as I mentioned above, I feel the coaching turnover is going to catch up with them a bit this season. Though, Jordan Lynch is still going to put up insane numbers.

3. Ball State: The Cardinals should be taken seriously in this division as well. They've got all their skill-position players back on offense, and even with four new starters on the offensive line, this is still a team that should put up points. The question mark is whether or not a defense that allowed 32.0 points per game last season can improve enough to make them a serious contender. If it does, this is a team to be reckoned with.

4. Western Michigan: I picked Western Michigan to win the division last year, so Broncos fans should be thrilled to see I've got the team in fourth this season. There is a ton of positive momentum surrounding this team now that P.J. Fleck has come in and taken things over, however I don't think it'll be enough to turn around a 4-8 team to a conference contender.

5. Central Michigan: The Chippewas have an offense that could light up a scoreboard or two this season, but a porous defense and a tough schedule lead me to believe that the Chips won't be going back to bowl game again this season.

6. Eastern Michigan: As I mentioned in the superlatives above, things have not gone well for Eastern Michigan over the last forever or so (never forget the 1987 California Bowl). While that 6-6 campaign in 2011 provided some hope going into last year, all that hope quickly faded following a 2-10 campaign. I don't see things being much different in 2013.
Kevin Sumlin addressed Texas A&M's decision to cancel a rally scheduled for Sept. 11

Expectations are high for Charlie Strong at South Florida, and Houston looks to take the next...

There are new names to learn every season, and here are five to keep an eye on from the AA...
Taking a close, detailed and opinionated look at the AAC a week before the start of the 2017...

These Jayhawks got a tremendous surprise they weren't expecting

Jovon Durante announced on Twitter he's headed to FAU