Mack Brown: Comments to recruits were 'all positive towards Texas'
After one Texas commitment said Mack Brown had encouraged Longhorns recruits to visit other schools, Mack Brown commented on Twitter.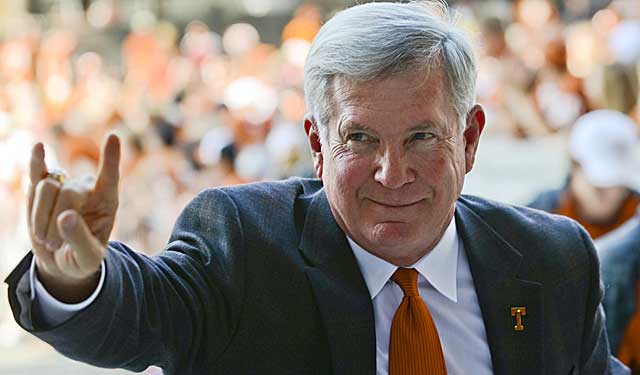 In a weekend interview with a local Houston TV station, four-star safety recruit John Bonney -- a Texas commitment -- said that he'd taken visits to Auburn and Baylor because Mack Brown himself had encouraged him to do so following his December resignation, an account that unsurprisingly left Texas fans scratching their heads.
Brown took to Twitter on Tuesday afternoon to provide his account of the meeting with Bonney and the other recruits on hand that weekend, one that -- also unsurprisingly -- claimed he had been far more supportive of the Longhorn program than Bonney implied:
Some of you have asked about my visit w/recruits & their families after I stepped down. Let me assure you it was all positive towards Texas!

— Mack Brown (@UT_MackBrown) February 4, 2014
Our new AD Steve Patterson was there with me and I told the entire group that Texas would hire a great coach, it is a wonderful place ...

— Mack Brown (@UT_MackBrown) February 4, 2014
... and they absolutely should still come.

— Mack Brown (@UT_MackBrown) February 4, 2014
Though Twitter is hardly the medium through which to make comprehensive statements and/or denials, it's worth noting that Brown doesn't deny that he suggested recruits take visits, and that this isn't quite a "he-said-he-said" situation. Brown could have suggested that recruits visit other schools and that he'd even put in a good word with other schools' coaches if they wanted to go, as Bonney said he did, while still offering nothing but praise for Texas and maintaining it would always be the best place for them, as Brown said he did.
That doesn't change the bottom line, however: that Bonney visited other schools, he says, because his understanding was that Brown felt that was the best thing for him. It seems far more likely -- particularly in the wake of Brown's response -- this came out of a misunderstanding or miscommunication than any sort of anti-Texas feeling on Brown's part. (Indeed, it's hard to imagine Brown having a legitimately anti-Texas bone in his body.) But whatever the reason, it's also hard to fault Texas fans for wishing Brown had chosen his words more carefully ... or not mentioned visiting other schools at all. 
UPDATE: Bonney's father Jerry Bonney has clarified Brown's statement to ESPN:
"His first general statement to the kids and all of us was 'I'm not telling you not to come to Texas. I think this is a fine place and you should stay [if you are committed to Texas]. However, if you are coming here for me to coach you and that was the main reason you were coming, those of you in that category, I certainly encourage you to look elsewhere because I won't be your coach. I'm stepping down immediately after the Oregon game.' "
Brown's supporters would say that -- as expected -- this is the classy move for an outgoing coach, encouraging recruits to stay with Texas but also being honest enough with them to suggest that if Brown's absence is a major issue for them, they should look elsewhere. Brown's detractors would argue that it shouldn't be beyond Brown to simply tell recruits they should come to Texas regardless of coach. Is the glass half full or half empty?
Our computer model simulated every Week 5 college football game 10,000 times with surprising...

Conferences have been out to the West Coast to speak with Google, Amazon, Facebook and oth...

Rimington takes of the athletic department after Shawn Eichorst was fired
The Penn State running back was unstoppable in a win over Iowa

The Bottom 25 ranks the 25 worst teams in college football every week

LSU at Florida has been picked as the SEC on CBS Game of the Week