Mack Brown emerges as man with class in this sordid Texas affair
So Mack Brown resigns as Longhorns coach while those around him make Texas look like one big mess.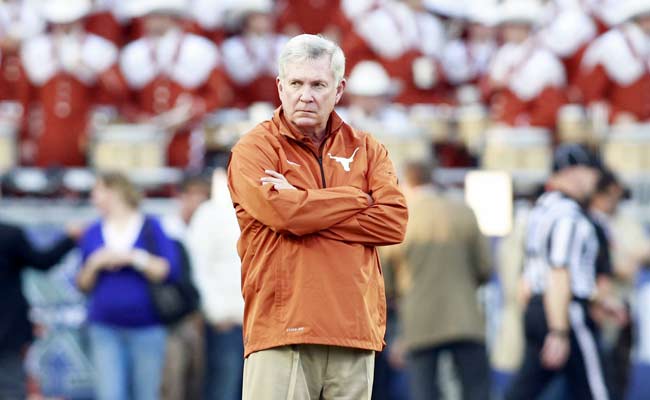 Just about the only sympathetic figure in this Texas docu-drama fed by billionaires, power-hungry wannabes and Saban Mania is Mack Brown.
Remember him?
The Texas coach for the last 16 years resigned Saturday night -– effective after the Alamo Bowl -- and it almost seemed like an afterthought.
At the end of this clumsy, ham-handed process, it was almost as if Mack wasn't the story.
Mack resigned and we didn't get Nick Saban.
Mack resigned and what about recruiting?
Mack resigned and who we gonna get?
Mack resigned and it's about time.
We pause, then, for the proper props. The Tennessee native, Vanderbilt/Florida State running back, Barry Switzer coordinator and coaching turnaround artist deserves better at this moment.
He deserves a plaque, his name on some UT ring of honor. He deserves to be in the College Football Hall of Fame. All those things will come in time. Perspective is lacking at this time so let's get some things straight.
For a coach perceived as being put out to pasture, he is the same age as a man who some Longhorns wanted so desperately -- Nick Saban.
Brown helped make Texas into one of the best -- if not the best -- jobs in America. Again. He won a national championship and if not for Marcell Dareus might have won two.
He came to Texas after back-to-back 10-win seasons at North Carolina. North Carolina -- a basketball school if you have to be reminded with a 2X4 to the head. That had happened once before in the program's history. It hasn't happened again.
At the end of it all, after that 1-2 start to 2013, Brown had the Horns within 30 minutes of winning the Big 12 last week at Baylor.
Did I say turnaround artist?
Yeah, that can be interpreted as spin. Texas didn't live up to Texas standards after that '09 season. But after bottoming out at 5-7 in 2010 the program got better. It was getting better.
I'll be the first one to wonder how Brown/Texas ended up with Garrett Gilbert in the pipeline after McCoy. But I'll also remind that David Ash -- the Big 12's most experienced quarterback coming into '13 -- was sidelined by a concussion. Case McCoy was no Colt, but he led the Horns to the brink of that conference title.
And sometimes that's all you can ask of a player -- of a team. They/he got better after that 1-2 start.
What I'll remember about Mack Brown is class. It was more than what was shown in January by a couple of Texas regents who were talking to Jimmy Sexton (Saban's agent) about the Texas job. According to reports, Brown was asked if he wanted to keep coaching. Sure, he said.
How would you feel if you were basically asked to move aside while you were still performing your job at a high level?
Brown kept it about class. I remember dropping in on Texas the Monday after that crippling Ole Miss loss. Brown does an off-the-record meeting with beat writers each Monday. I had no right to be in his office with those writers. That was their time. But I was invited in without reservation.
Later that day Brown gave me and a colleague 30 minutes alone with him for an interview on what could have been called one of the worst days of his professional life.
You don't root for coaches but in times like these you sympathize with them. I heard a lot about Mack losing out on three future Heisman Trophy winners -- Johnny Manziel, Robert Griffin III and Jameis Winston.
Let's be fair, so did Saban. Yeah, sure, Saban has been much more successful in recent years but -- guess what? -- Texas didn't get him either.
So where are we? Not in a good place for the Longhorns to be hiring a coach. Just about all the top names have gotten extensions. Texas A&M's Kevin Sumlin and Baylor's Art Briles weren't coming anyway because of their proximity to Texas sensitivities.
The incredible irony of it all is that the walls further closed in on Brown because his program had been lapped by Baylor in recent years. But there was no way Texas was hiring the Bears' coach ... because he was the Bears coach.
"We're hiring the BAYLOR coach?!"
No, you're not and that's Texas' loss. I'll repeat what I wrote in September when the walls were closing in around Brown. It's a bad time for Texas to be hiring a coach.
What Texas needs after Mack Brown is ... another Mack Brown -- circa 1998. Young, accomplished, on the come.
You wonder if that guy is out there. In any year, the Texas job has very defined qualifications. Basically, a George Clooney who can X and O.
They need a guy who can press the flesh and pound the line. They need a guy who isn't spooked by the Longhorn Network but can scare Oklahoma. They need a winner who doesn't come off looking like a loser.
Stanford's David Shaw would be my first and only choice except that his next move -- if there is one -- looks to be the NFL. Jim Harbaugh seemingly has shot down the possibility of coming to Austin. The Steelers' Mike Tomlin is interesting but the last time he recruited a college athlete was for Cincinnati in 2000.
Florida State's Jimbo Fisher would be perfect, if you believe he'd come -– and Texas would wait for him -- after the BCS title game. Plus, like Sumlin, Briles and Saban, Fisher has signed a long-term extension.
But what does any of that mean anymore? Brown seemed to gain footing on Thursday when supporter/UT president Bill Powers survived a threat from the Texas regents. Was the drama enough to scare off Saban?
If so, good on Brown. There's something to be said for resigning on your own terms.
For all those cursing Chip Brown, he had it absolutely right four days ago. The Orangebloods.com writer first reported that Brown would step down by the end of the week. The national narrative changed about three or four times since then, but Chipper was right.
That reveals another truth about Texas. There are too many people that talk at Texas. Whoever the new coach is, he is descending into an insidious, political, back-biting cesspool.
He's also taking over what might be that best job in the profession. Brown proved that -- for 16 years. Now it's up to the new guy.
A piece of advice: Just don't look over your shoulder, Jimmy Sexton might be lurking, talking to a regent.
Many NFL-eligible juniors ignore advice provided by the league and risk going undrafted each...

Snyder died in Manhattan, Kansas, on Wednesday

Locksley joined Alabama's staff in 2016
Saban reportedly wants to hire Freeze, but there may be things keeping that from happening

Florida State-Miami will be on Oct. 6, and the Seminoles will play Clemson on Oct. 27

Weis Jr. was an offensive assistant for the Atlanta Falcons in 2017