Mack Brown keeping the faith after another tough loss
Two tough losses haven't shaken Mack Brown's faith in the Longhorns.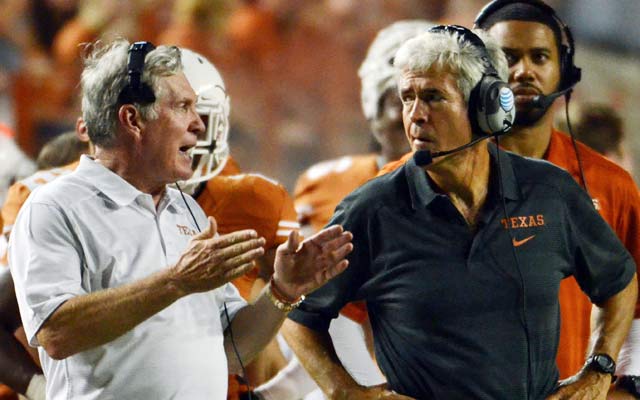 Texas coach Mack Brown wasn't exactly putting on a happy face after tonight's 44-23 loss to Ole Miss in front of an increasingly unhappy home crowd, but he's not giving up either.
"We've got a new start next week.  We've got Kansas State.  We can get this all righted by winning a Big 12 championship.  That's what they've got to do," Brown said.  The game against the Wildcats will also be here in Austin.
After last week's disaster in Provo, when the Longhorns gave up a school-record  550 yards on the ground to BYU, Brown fired his defensive coordinator Manny Diaz, and replaced him with Greg Robinson.  Robinson was last seen leading one of the worst defenses in Michigan's storied history, so it remains to be seen how much that move will help.
Brown is asking for patience with Robinson.  "I don't think he can really be effective in the first three days, which is what he had tonight," Brown said.  "Next week, I think we'll start seeing more progress.  They obviously played better tonight than they did last week."
Just as obviously, that's not much of a standard.  But even if Robinson was the second coming of Buddy Ryan, he can't just throw out the defensive plan and playbook and start over midseason.  It'll be more about changing attitude and execution than schemes.
Brown feels like the biggest problem the team has right now is consistency, not effort. "I told [the team] that I don't know why we're playing inconsistent."
It's also a problem that he admitted he doesn't know how to fix.  "That's something we'll have to go back and look at," he said.  "We've got to have guys continue to make plays when things aren't going well.  Somebody has to step up."
Fans here have been wondering out lout whether Brown is the guy to fix the problems going on with his program.  He's not deaf to those concerns.  He was asked what he would tell the fans about where the Longhorn program is going.
"Keep coming.  Let's beat Kansas State," Brown said.  "Forget the coaches, come for the kids."
He pointed out that he felt the crowd was very positive tonight, which for the most part, it was. Other than a smattering of boos toward some conservative play calling in the fourth quarter, the Texas fans were as supportive as they could reasonably expect to be.  However, they ran out of patience and ran for the exits with about eight minutes left in the game.
If Brown can't get things righted here, and very soon, the call for him to run for the exits may get too loud for him to bear.  He's not focused on that at all right now.  He's trying to put the problems of the last two weeks in the rear-view mirror and look ahead to the possibility of winning the Big 12.  Nothing that has happened the last two weeks indicates that's even remotely possible, but don't tell Brown that.  He's 0-0 and keeping the faith.
The junior will take the snaps for the defending national champions in 2017

MetLife Stadium is about 10 miles away from where the World Trade Center buildings once st...

The Terps will wear these against Indiana on Oct. 28.
The coach of the Eagles isn't here for no science talk

These are the teams that are getting too much -- or too little -- love before the season

The Crimson Tide start atop the AP Top 25 poll for the second straight season