Mack Brown missed on Johnny Manziel -- but he was far from alone
Former Texas coach Mack Brown not signing Texas A&M star Johnny Manziel out of high school is one of many stories of top recruiters missing on players.
• 3 min read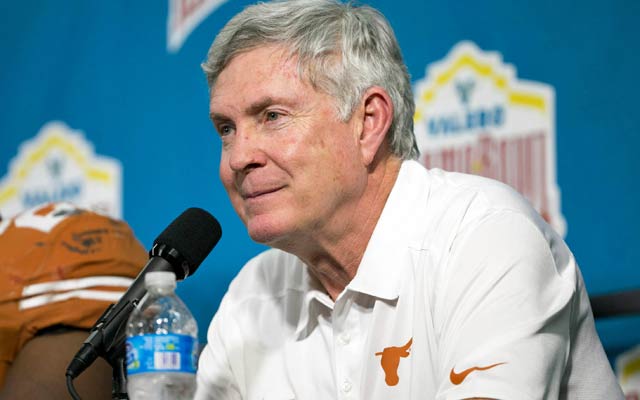 More: Signing Day Central: Latest recruiting news
Mack Brown gets drilled for passing on Johnny Manziel out of high school. But if 50 coaches were in Brown's place, how many would unequivocally sign the undersized, mildly-recruited quarterback out of Kerrville?
Ten of those coaches might actually want to make him a safety.
Even top coaches pass on potential stars. Happens every year all over the country.
When you consider all factors – the sheer volume of good players, the unpredictability of player development and genetics, the numbers game, waiting for months on a player's decision – all coaches have at least one miss in them.
Especially at Texas, where 300-plus Division I football players flood the state.
Kentucky coach Mark Stoops helped build FSU's title-winning roster while he was the Seminoles' defensive coordinator from 2010-12, and though he calls Jimbo Fisher one of the country's best talent evaluators, he knows the Noles left some star power on the cutting room floor.
"We've all had a miss there and been off on a guy that turned out to be an All-American," Stoops said. "We all have moments where we look around and say, 'Wow, we really missed on that guy.'"
After asking around to coaches, some of whom wanted to remain anonymous, here are a few notable misses – when schools either did not offer a scholarship to a player they probably could have had or backed out shortly after an offer for various reasons.
Apparently a coach can miss on a player and still sign him. I heard a story from a former LSU staffer that at least two players from the famed 2003 and 2004 LSU signing classes that went on to become first-round picks, Saban didn't want at first. He had to be sold on them.
*Calvin Pryor and FSU: After Pryor's three seasons at Louisville, many draft analysts consider a first-round pick in May's draft.
According to at least one FSU coach, the Seminoles could have had Pryor in 2011 but had a logjam at safety, including Karlos Williams (now a running back) and Keelin Smith, a two-year commit.
Stoops explains.
"We loved him. We offered him," he said. "He didn't commit right away. Then we got down the road with other people. Ended up moving on. Worked out well for both places."
*Chance Warmack and Georgia: Before he was a first-round pick by the Tennessee Titans, Warmack was an Atlanta Westlake standout that didn't get an offer from Georgia.
He went to Alabama, won titles and became the 10th overall pick in the 2013 draft.
A former Georgia assistant coach said the staff was torn on Warmack and he simply didn't have the athleticism the Bulldogs wanted.
*Von Miller and LSU: The Tigers didn't offer the DeSoto, Texas defensive end, despite chances to do so, in part because of the Tigers' 4-3 scheme, former LSU assistant and now Southern Miss coach Todd Monken said.
A&M's 3-4 scheme suited Miller just fine.
"The rest is history," Monken said.
Not that LSU was desperate for pass-rushing talent, but an elite rusher such as Miller could have propelled the Tigers' attack.
*Tajh Boyd and Tennessee: This back story is well-known but worth noting here. Boyd was a highly rated passer out of Hampton, Va., in 2009 who reportedly wanted to play for Phil Fulmer at Tennessee. When Lane Kiffin replaced Fulmer, he didn't connect with Boyd early on the job and Clemson swooped in.
A few Tennessee quarterbacks since then: Tyler Bray, Matt Simms, Justin Worley.
Locksley has been the offensive coordinator at Illinois and Maryland during his coaching c...

Bidding for Salaam's trophy, which the auction house says was obtained legally, ends Satur...

Many NFL-eligible juniors ignore advice provided by the league and risk going undrafted each...
Snyder died in Manhattan, Kansas, on Wednesday

Locksley joined Alabama's staff in 2016

Saban reportedly wants to hire Freeze, but there may be things keeping that from happening