Mack Brown out, so now what is Longhorns' next move?
Expect UT to consider FSU head coach Jimbo Fisher, UCLA's Jim Mora, Baylor's Art Briles, Vandy's James Franklin and Auburn's Gus Malzahn as well as ASU's Todd Graham and Michigan State's Mark Dantonio. Plus three other wild cards from the NFL ranks.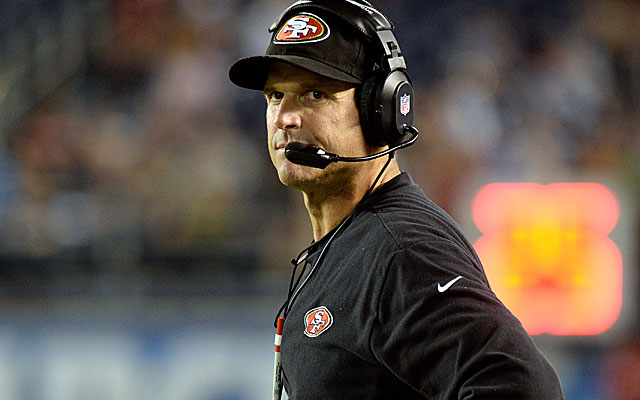 On the eve of the suspected news that Mack Brown was stepping down at Texas, the biggest potential candidate already had come off the board when Alabama and Nick Saban agreed to a huge new deal. Where might the Longhorns look for someone to lead a program that hasn't had a double-digit win season since 2009?
Expect UT to have a lot of big-name options.
"This is a huge job," said one source. "It's as big a job as there is in football is with great resources and everything in place to win championships, including a location that appeals to people from all over the country, unlike USC, which might not be ideal for some people who are turned off by living in LA or like how some West Coast guys might not feel like they fit in the Deep South."
Some of the names I expect to be in consideration for the Texas vacancy: Florida State head coach Jimbo Fisher, UCLA's Jim Mora, Baylor's Art Briles, Vanderbilt's James Franklin and Auburn's Gus Malzahn. Two other college head coaches who also could be in play are Todd Graham, a Texas native who coaches at Arizona State and worked under new UT AD Steve Patterson, and Michigan State's Mark Dantonio, a 57-year-old Texas native who just led MSU to a 12-1 season and the Big Ten title.
In Malzahn and Fisher, you have two coaches playing to win a BCS national title next month, while in Briles and Franklin you have two guys who have turned punch-line programs in consistent winners.
The 58-year-old Briles, a Texas native, is 29-9 the past three seasons at Baylor. 29-9. At Baylor. He's produced one Heisman winner (Robert Griffin III) and just won a Big 12 title. Briles' age may concern some UT folks, but keep in mind he's in excellent shape and is only two years older than Saban was when he took over at Alabama.
The 41-year-old Franklin went into the toughest conference in college football three years ago and took over a program that won just 13 SEC games in the previous 10 seasons. After a 6-7 debut season in Nashville, the charismatic Franklin has coached the Commodores to a 17-8 record and a 9-5 mark in their past 14 SEC games.
The 52-year-old Mora has led a previously underachieving UCLA program to an 18-8 mark in his two seasons despite having one of the youngest teams in the country this fall.
Sources also tell CBS that three NFL head coaches also could be in the mix: the 49ers' Jim Harbaugh, Pittsburgh's Mike Tomlin and Seattle's Pete Carroll. Multiple sources told CBS weeks ago to keep an eye on Harbaugh, who bypassed an opportunity for a coaching extension in the offseason. The 49-year-old Harbaugh transformed a Stanford program that had been 1-11 the year before he showed up into one known for its toughness and physical style, things no doubt that would appeal to Texas brass after hearing that the UT program had gone soft. The Cardinal went from 4-8 in Harbaugh's debut season to 12-1 and No. 4 in the nation in his fourth and final year in Palo Alto.
Of the current college head coaches, several have recently agreed to new contract extensions: Fisher, Mora, Briles and Malzahn, but it is worth noting that most coaches agree to deals but often don't immediately sign the contracts for weeks and even months, and even if they do, there are often manageable buyouts. And at a place like Texas with as deep pockets as the Longhorns have, the term manageable is defined much differently than it is almost every place else in college sports. Texas A&M's Kevin Sumlin who recently agreed to a new contract, which was approved two weeks later by the school and the coach signed the deal that night, but I'm told those turnarounds aren't that common when it comes to getting new deals signed.
As for the coaching carousel's white whale, Jon Gruden, I'd asked a source Saturday night if the ESPN announcer could be in the mix for the Texas vacancy: "Jon Gruden's the greatest tire-kicker in the history of coaching."
After a chaotic week in Austin, things are about to get really interesting.
NCAA football scoreboard, highlights and updates from the biggest Week 12 games

There's only one true Turnover Chain in college football, and it belongs to The U

The 72-yard punt return was perfectly executed by the Trojans
We have now reached "peak #GRUMORS"

As an imperfect person, Mayfield is the perfect candidate for a now-imperfect award

Add these to the list of things Mayfield has apologized for this year