Mack Brown's sad farewell high on sentiment, low on results
Texas coach Mack Brown had an unfortunate farewell in a 30-7 loss to Oregon, but Texas shared their love with the resigning coach after the game.
• 4 min read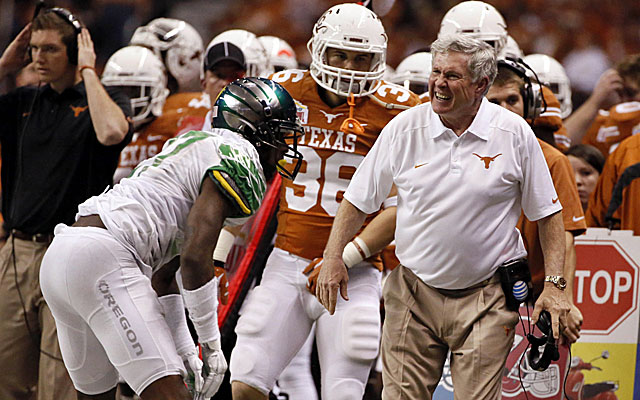 SAN ANTONIO -- Mack Brown left the locker room for the last time smiling and holding his grandson, Mack Ryan, a red-cheeked lad who wore a No. 15 burnt orange jersey with "Mack" spelled on the back.
The Brown family quietly walked through the tunnel until arriving at Brown's taupe Audi sedan, where he posed for a few pictures with fans. That was it. He and wife Sally were off.
"We're going to wait and take a nice vacation somewhere warm," Sally said.
It was a delicate ending to a career that finally got a chance to exhale.
Texas' 30-7 loss to Oregon in the Alamo Bowl punctuated a brutal month for a coach whose job status never stood a chance. Regent power plays, bitter breakups and buyout negotiations clouded Texas' football program in early December. Brown wanted to keep coaching, until he didn't, until all lines were blurred when he finally announced his resignation Dec. 14.
The bowl game was supposed to be the fitting ending Brown didn't get weeks earlier. But as much as Texas pumped the Alamodome with Mack nostalgia, watching a coach with 16 seasons, 158 wins and a national title stew on the sideline in the second half as the game slipped away was a little sad. His team couldn't score. Instead, it gave Oregon 14 points off Case McCoy interceptions.
Maybe a Middle Tennessee State or UNLV would have been a better bowl matchup for a romanticized farewell. Oregon wasn't at its best and was still clearly the better team. That's sort of why Brown is on the way out. UT is not an elite program, not after a 30-21 record the last four years, including four wins in the last 16 games against AP Top 25 teams.
Brown looked exhausted at his postgame press conference, maybe a little relieved. It's over.
"We need to win more than eight games," Brown said.
There was only one storyline to this night, and everyone in Texas knew it. UT really wanted this one for Mack.
Band members spelled his name on the field at halftime. Fans hoisted signs that expressed unabashed love for their coach. The sideline looked fired up in the first half.
This wasn't the proverbial pre-New Year's bowl game. The narrative is that Brown is so well-liked and classy that, though he's no longer equipped to handle Texas, he should at least have this.
But the only semblance of a celebratiobn came from a few scattered postgame moments.
Camera lines six-deep followed Brown from the head coach handshake with Oregon's Mark Helfrich to the corner of the end zone for "The Eyes of Texas" sing-along.
Brown, with his arm around Sally, heard cheers as he walked into the tunnel. Defensive coordinator Greg Robinson was behind them, urging the crowd.
"Cheer them up," he yelled, twirling his finger to the roof.
The postgame locker room crowd was so big that a handful of players couldn't enter. Families, boosters, coaches -- UT filled that place to hear Brown's last lines.
"Get better," he told them. "Let's get back in the top 10."
Brown also told his team not to get in trouble overnight because he "didn't need a call."
He'll no longer get those calls. He'll either assume a new position in the UT athletic department or take a coaching job elsewhere.
In his last crack at the job, he was playing with house money and tried everything. He called a passing play on 4th-and-7 from Oregon's 40 in the first quarter. He played prized freshman quarterback Tyrone Swoopes for three series in the second half. His defense played inspired football, holding the Ducks to one offensive touchdown and five scoreless drives. UT running back Malcolm Brown rushed for 113 yards on 18 carries in the first half.
Those factors couldn't erase Brown's look of disgust after McCoy -- who overachieved for most of the season as David Ash's backup thrust into action -- threw his second pick-six of the night to make it 30-7 early in the fourth quarter. McCoy's first pick had set the tone for a long night, a 37-yard interception touchdown by Avery Patterson on UT's third offensive play.
Brown stared at the Jumbotron and flickered his tongue in frustration. There was nothing glamorous about this game, only the scene after it.
"I've never been there before," said Brown about what's next. "We have absolutely no regrets."
Brown revitalized Texas on the field, but his postgame reception came from something more organic than on-field results.
In big-budget football that pays coaches millions, Brown always reminded his staff about the wives and kids involved in the process, offensive coordinator Major Applewhite said.
Brown's biggest strength on the job was the way he connected.
"He's never shy to show us he loves us," defensive end Jackson Jeffcoat said.
Texas reciprocated that love on this night, even when the last month wasn't so kind.
Oliver's star has already been born, but 2018 is when it will truly be recognized

Craig Kuligowski is reportedly leaving Miami to take the same job with Alabama

BT Potter is about to be very popular in the Clemson locker room
McElwain will coach receivers and help coordinate the offense for the Wolverines

Nathaniel Watson Jr. was involved in a car accident that injured a passenger in early Febr...

The honorable Tom Fornelli presides over the ASU vs. UM case