Mailbag: A rising coaching star, my fav playoff format & MSU as a BCS darkhorse?
Here is this week's mailbag. As always, send your questions to me via Twitter to @BFeldmanCBS:
Here is this week's mailbag. As always, send your questions to me via Twitter to @BFeldmanCBS:
From @MGoPlayByPlay: what coach is most likely to have a breakout year and leave for greener pastures?
There are a handful of guys at "mid-majors" whose stock has risen a lot in the past year or two and figures to continue to (FIU's Mario Cristobal, NIU's Dave Doeren, WKU's Willie Taggart, Wyoming's Dave Christensen and La. Tech's Sonny Dykes), but the guy I predict may end up as the hottest commodity of all by the end of 2012 is San Jose State coach Mike MacIntyre.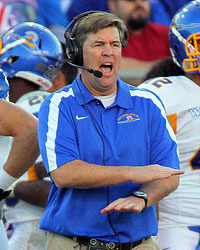 In MacIntyre's first two seasons, the Spartans went from 1-12 to 5-7. And, a few weeks back -- right before SJSU's AD bolted for Memphis and the WAC essentially disintegrated -- the coach told me he believed his team would win the WAC this fall. "Our goal this year is to win the WAC," MacIntyre said. "And I really do think it's a realistic goal."
The third-year San Jose State coach rescued a Spartan football program that seemingly had been on life support. His predecessor, Dick Tomey had gone 2-10 in his final season. The Spartans had been to one bowl game, the New Mexico Bowl, in the previous two decades. The program, which had been rocked by hefty scholarship reductions the previous few years due to APR issues, was also being pushed into the margins by impending conference realignment chaos. Worse still, resources were dismal given the financial circumstances of the state. The SJSU football program didn't even have a blocking shoot--the kind most high schools even have these days to coax linemen to stay low out of their stances.
When MacIntyre showed up at SJSU, he faced most brutal schedule in college football. They opened at No. 1 Alabama, then traveled to No. 11 Wisconsin, perhaps the two most physical teams in the country. Five of the Spartans five seven opponents were ranked. "We were so beaten up after that," MacIntyre recalled. It's often difficult to properly quantify the physical toll such steps up in competition can take for an undermanned team. But try this for a barometer of the brutality: SJSU began the season with 75 scholarship players and were down to just 40 healthy scholarship guys by the final game of 2010. For-TEE! They finished 1-12.
Oh, and all of that realignment chaos? The dominoes weren't toppling. They were being swatted all over the place. The Western Athletic Conference, like the rest of the lower half of major college football, was being decimated. MacIntyre - the coach who found and recruited unheralded linebacker prospect Patrick Willis for Ole Miss -- stuck to his plan to building the Spartans program with old-fashioned guile and elbow grease. 
The Spartans' most immediate problem, the one that MacIntyre had the best chance of getting his mitts around, he felt, was that his program didn't have year-round conditioning, like just about everyone else his team played. Trouble was, SJSU couldn't afford it. To allow players to be around the school in the summer cost about $200,000 for tuition, housing and food. To raise that money MacIntyre hit the road, trying to court whatever boosters or local businessmen he could find, tapping into the Silicon Valley community.
In Year Two, MacIntyre's Spartans went from 1-12 to 5-7 thanks to the improved conditioning as well as better focus and attention to detail. As a coach you become pretty good at those things when you have spent years working with a Bill Parcells as MacIntyre did in the NFL and with David Cutcliffe. The Spartans went from being the 84th most penalized team in the country in 2010 to No. 2 in one off-season. They defeated rival Fresno State for the first time in 24 years and beat Colorado State for SJSU's first non-conference road win in nine seasons.
I'm not saying the Spartans will emerge as a Top 25 team this fall, but they will be interesting to keep an eye on. They brought in a JC QB, David Fales, who has been impressive in the spring and has the inside track to win the starting job, and Minnesota transfer DeLeon Eskridge, the Gophers former leading rusher. The 215-pound San Francisco native, a powerful inside-zone runner, is an ideal fit for the Spartans one-back, three-wide, downhill Pistol attack. 
Charles Clark, the Spartans secondary coach, says Eskridge's physical style reminds him of another one-time former Big Ten transfer BenJarvus Green-Ellis, who has muscled his way into becoming a 1000-yard back in the NFL. "He runs so much like Ben but he may be a bit faster," says Clark, who should known since he played with Green-Ellis at Ole Miss and faced him every day in practice. 
In January, the school gave MacIntyre a contract extension through the 2017 season. In July, they will break ground on the 60,000-square foot Bill Walsh Center/Dick Vermeil Complex in the north end zone of Spartan Stadium that will include, among other things, a new lockerroom, coaches offices and meeting rooms. But will it be enough to keep MacIntyre, a Georgia native and son of a former head coach at Vandy around? We'll see. There could be a few pretty intriguing openings in the SEC by the end of this year. By the way, MacIntyre did spend four seasons working for Jerry Jones' organization in Dallas.
From @TheReaLegend: Is Michigan State a good darkhorse bet for the national title?
As darkhorses go, the Spartans aren't a bad call. Their D should be nasty again, led by William Gholston, who looked like a dominating presence this spring. Gholston is one of eight defensive starters returning; along with studs Max Bullough, a MLB; Denicos Allen, an OLB; and CB Johnny Adams. Better still, MSU was fortunate to retain DC Pat Narduzzi. He is as good as there is.
The issue will be on offense. QB Kirk Cousins led MSU to a lot of wins. They'll miss him, but everyone in the program is high on Andrew Maxwell. A few weeks ago when I visited MSU, Mark Dantonio spoke about the leadership and presence Cousins brought to the program, and he says Maxwell has that kind of presence too. Maxwell has had three years in the system. He's also a really underrated athlete. The guy was a 6-7 high jumper and his agility may give them an added dimension, especially off the play-action game when you have a powerhouse back like Le'Veon Bell and an experienced O-line.
Finding some playmakers are WR is a big question mark, although MSU got great news when the NCAA cleared Tennessee transfer DeAnthony Arnett for this season. Maxwell was impressed with Arnett's speed, shiftiness and route running ability when we spoke. They need to get a lot more from Tony Lippett and Bennie Fowler too.
The opener won't be easy with Boise State coming in, but the Broncos are in rebuilding mode, without Kellen Moore and most of their D, so it may take them some time before they're close to dangerous again, especially for a new QB facing this Spartan D. MSU gets Notre Dame home this year after the Irish spanked the Spartans in South Bend. They get OSU at home too.
The meat of the schedule really begins in late October when they have to go on the road to play Michigan, then Wisconsin and then host Nebraska in three consecutive weeks. Getting through all of that with a first-year starting QB is a tall order. But that is why these guys are a darkhorse.
From @TheDSportsRant: Likelihood of FSU and Clemson heading to the Big 12 for the 2013 season?
I'm very skeptical of FSU and Clemson making such a move, especially in the wake of the new ACC $3 billion TV deal. From what I've heard, I'm not even sure the Noles could get out of that deal and not have the ACC squeezing so much money out of them going forward that such a jump would even be viable.

Last summer, the ACC presidents voted to more than double what the exit fee was before, and it was one of the heftiest among all conferences even prior to that vote. As things escalate, it might cost FSU $30 million to bolt, a source confirmed Friday. And, for all the speculation about third-tier rights, that's essentially only for football, which would mean the Noles' FCS game would be in play. How much interest would really come for the Savannah State-FSU game? Keep in mind, it's not like FSU has the pull in its home state to the level Texas does in Texas.

One other factor that's worth noting: Mack Brown and Texas are about as media-friendly as you're going to find in a national program. I've heard that the spotlight of having a network shine on UT football around-the-clock isn't easy, even for Brown. I'm not so sure Jimbo Fisher, who barely even lets his assistants speak to the media, would love for the inner parts of his program to get such a big spotlight and shoulder the responsibilities of carrying a network. Of course, any such decision would happen at the heighest levels at FSU, but it's something to keep in mind since UT has become a test case of sorts.
 
On Friday, FSU athletics director Randy Spetman told the Orlando Sentinel that his programs were "committed to the ACC" and that any conversations about the school switching conferences is pure nonsense.
From @elMachoGabriel: What college football model do you prefer???
I prefer a four-team playoff with the three highest-ranked ranked conference champs going in, and a fourth team, if it were ranked in the Top 4, being an at-large.
I'd like to see the semi-final games on campus and let them rotate bowl sites for the title game each year.
I'd also like to see a committee put together to do the rankings, and ideally there would be transparency in the voting process, which I feel would bring a greater level of accountability. Would they find qualified people to join such a committee knowing the immense scrutiny you'd face? I'm not so sure of that part.
From @Mastokes91: Um yeah, how do you feel about that outrage you caused yesterday on the Finebaum show? Really think Bobby P to UK?
For background: I appear weekly on Paul Finebaum's radio show. On Thursday, he asked me where I could see Bobby Petrino coaching next. My answer was that Joker Phillips at Kentucky better win.
Phillips is 11-14 in two seasons at UK and 4-12 in league play. By Kentucky football standards, that's not that bad. But Phillips can't afford a backwards step in the next two seasons with Petrino out there. If UK goes 4-8 this year, even if it's still only Phillips' third year, the pressure will be high. Anything short of a bowl season will add a lot more heat.
I've heard a lot of folks say how three years is the new five years in college coaching these days, and I think there is something to that. My hunch is Petrino may be out for two years while some of the spectacle of his demise at Arkansas fades. So what may be a viable landing spot in two years? Well, Kentucky could fit that recipe: Petrino is a proven winner at the highest level of the SEC. Obviously, he comes with major baggage and that would scare off probably all Top 25 football programs, but the thought that he could make UK dangerous in football might be tempting.
From @JBOwen04: do feel like Texas Tech will rebound after a disappointing 2011?
I expect the Red Raiders to get back to being bowl eligible after missing out on making the post-season for the first-time since the '90s. Few teams were hit as hard as Tech was by injury in 2011 and you wouldn't think they could be as snake-bit again like that.
Tommy Tuberville really shook up his staff, making a lot of changes and who knows how that will play out on the field. I would say the D has to be better this fall because it's hard to get any worse than it was in 2011 although we all said that at this point last year too. In 2011, they ranked 117th in scoring defense. In 2010, they were 93rd. Even when Tech was a consistent Top 20 team (from 04-09), the Red Raiders never had a dominant defense but it had been at least respectable, by Big 12 standards.  In DC Ruffin McNeill's final three seasons at Tech, when the program won 29 games, the Red Raiders ranked 49th, 79th and 45th nationally in scoring defense. If this team is going to get back to approaching eight wins this fall, the defense needs to go from atrocious to respectable.
Seth Doege is a good triggerman at QB. They can win a lot of games with him running the offense. Just ask OU about how dangerous he can be when he gets hot. Getting RB Eric Stephens back is a big key. When he was lost for the season, it really slowed the Tech offense.
They have three cupcake games to open in the non-conference (Northwestern State, Texas State and New Mexico) and then visit Iowa State, one of the lesser teams in the Big 12. Short of a visit from Kansas, this is about as favorable an opening month as a Big 12 team will ever have to try and build some confidence in a new defense. The tricky part is after that, beyond a visit from Kansas in November, the next easiest game looks like the finale against a rebuilding Baylor team. I expect Tech to win those three Big 12 games and upset someone else in conference play to get seven Ws assuming the defense even improves just a bit because Doege and the offense should be sharp.
From @CliftonOftedahl: In the "what have you done for me lately?" world of NCAAFB, is anyone under more pressure to win in 2012 than Mack Brown?
Yes, Derek Dooley and Frank Spaziani immediately come to mind as guys who desperately need improvement. Mack Brown won a BCS title at Texas. The Longhorns, despite their youth at QB last year, took a step forward after that disastrous 2010. I expect Texas to take another step forward this fall. I think Dooley has a good shot to get to eight wins with the experience and firepower the Vols have back on offense to save his job. But they need to finally start beating some good teams. I suspect if UT beats NC State and Florida early, that will calm things down around Knoxville. Lose again to Florida, especially with these Gators in rebuilding mode and Dooley's got major problems.
I think it's even bleaker for Spaziani and BC. That program has fallen apart under him with all sorts of staff chemistry issues. Oregon State's Mike Riley and Cal's Jeff Tedford also are on the hot seat this fall as well. Maryland's Randy Edsall had a train-wreck of a debut season, but unless he goes 2-10 again, or say 3-9, he probably gets at least a Year III.
From @ILookGoodToday: Is Michigan's non-home schedule one of the most difficult you've ever seen? Also, what would you predict their record to be?
Start with defending BCS champ Alabama and you've already got a rough road. Then, there's at Notre Dame (pretty rough), at Purdue (very manageable), at Nebraska (pretty rough), at Minnesota (very manageable) and at OSU (rough). That's four hefty road trips. Despite that, I'll say Michigan gets at least nine wins in the regular season.
In terms of magnitude, I think LSU's road last year away from Tiger Stadium was even rougher: the Tigers faced No. 3 Oregon in its opener; Visited No. 25 Miss. State on a Thursday night game; visited No. 16 WVU on a Saturday night; went to Knoxville, visited No. 2 Alabama and then played at a dreadful Ole Miss team. I could see four of those Michigan opponents being ranked, but beyond Alabama, I don't see another top-five team this year. Also, of that road group, LSU played three teams that went to – and won BCS bowl games last winter.
From @Gfish405: Why has Oregon and Chip Kelly gotten a pass with their NCAA issues by the media?
They haven't. Get on Google and search around. Lots of us wrote and talked about Oregon and Will Lyles a ton in 2011. I know I talked about it on several Outside the Lines episodes and wrote about Oregon recruiting probably a half-dozen times. Recently, I know Gregg Doyel wrote a column about it as well. If you think it's fallen on the back burner, it's because everyone is waiting to see how the NCAA rules on it.
Locksley has been the offensive coordinator at Illinois and Maryland during his coaching c...

Bidding for Salaam's trophy, which the auction house says was obtained legally, ends Satur...

Many NFL-eligible juniors ignore advice provided by the league and risk going undrafted each...
Snyder died in Manhattan, Kansas, on Wednesday

Locksley joined Alabama's staff in 2016

Saban reportedly wants to hire Freeze, but there may be things keeping that from happening