Mailbag: A very longshot Heisman QB hopeful to watch; C-USA race and Hogs vacancy
Here is the weekend mailbag. As always, send your questions to me via Twitter to @BFeldmanCBS: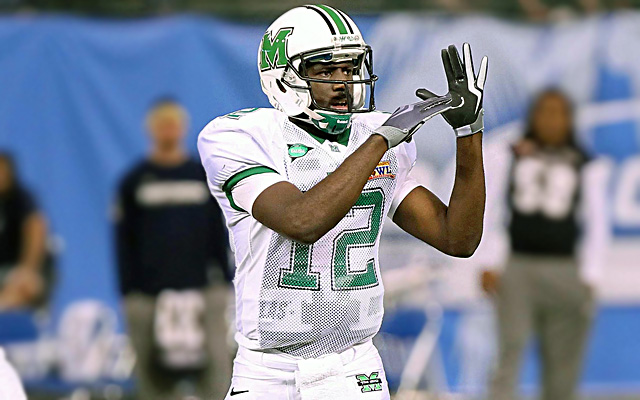 Rakeem Cato is maturing and that also bodes well for Marshall's chances to win Conference USA.
(Getty Images)
Here is the weekend mailbag. As always, send your questions to me via Twitter to @BFeldmanCBS:
From @SaminCali: No one thought Cam Newton had a shot at winning the Heisman 2 yrs ago. Which off the radar QB has the best shot to win it?
I guess it depends exactly on how do define as off-the-radar. I'll go with this: there are 21 QBs listed in Vegas Odds to win the Heisman all the way to the 200-1 guys. N.C. State QB Mike Glennon isn't even one of those 21 quarterbacks.
Glennon is certainly on NFL scouts' radar, though. I got a chance to see him in person a few weeks back out here in California, while he was working as a counselor at the Elite 11 camp. Glennon was there, along Matt Barkley, Geno Smith, Aaron Murray, among others. The 6-6, 230-pounder stood out, and not just because of his height. His arm is very, very impressive. It's not as strong as another towering QB, Joe Flacco, then again, few guys if any in the NFL throw it as well as Flacco, but Glennon's a talent worth keeping an eye on.
With Russell Wilson at Wisconsin, Glennon shined in his first season as the Pack's starter, throwing 31 TDs against just 12 INTs. He also finished the season really strong, throwing 11 TDs and only two picks while averaging close to 300 yards per game as the Pack won all three games, going for 41 ppg.
Most of the O-line in front of Glennon returns this fall. The downside: State does have to replace blazer T.J. Graham and a solid TE in George Bryan, but it does have some capable young receivers.
Glennon will be able to create some buzz if he can put up a big performance and lead State to a win over Tennessee in the opener in Atlanta. Even though, the Vols aren't Bama or LSU or a Top 20 team, it's still a recognizable program from the SEC with some talent, especially on offense. I do like the Vols to win that game, but if Glennon has any shot of getting in contention, he needs to key the win here. After that, there isn't much that figures to get national exposure aside from an early October trip to FSU, which, hopefully for Glennon's sake, will come into the game 5-0 and in the Top 5. If Glennon can light up what will arguably be the nation's top D—and yes, that seems like a stretch, he may at least have a shot to get to New York as a Heisman finalist.
From @jayrthomas: Who wins CUSA? 
This is going to be an interesting battle because the league has really been turned over from 2011. Not only have you seen two really good coaches (Kevin Sumlin and Larry Fedora) move on to bigger jobs, but you've seen a group of prolific QBs, led by Houston's Case Keenum move on.
The Cougars still have the best player in the league in do-everything RB Charles Sims. They also have an experienced O-line. David Piland, the new QB, played a lot in 2010 when Keenum was sidelined by injured. Piland has Sims and an impressive group of young receivers, starting with five-star freshman Deontay Greenberry. I love the quote from new Cougars coach Tony Levine about the transition: "There are no shoes to fill for David Piland. He's got his own shoes, he wears a different size." Expect UH to win the West.
The East should be more interesting because you have four talented teams in UCF; Southern Miss, ECU and Marshall. I'm curious to see how UCF responds this season because George O'Leary's program has had so many distractions since winning 11 games and beating Georgia in a bowl game in 2010. I think their first month of the season will send them in the wrong direction with a game at Ohio State, followed by a visit from FIU and then from Mizzou.
Southern Miss has stud LB Jamie Collins, but not much else back in its front seven and also has to replace Austin Davis. On top of that, it'll be hard to generate some momentum, when you open at Nebraska, then face ECU and have back-to-back games with Louisville and Boise State before getting into the thick of the conference schedule with a visit to UCF.
I believe that ECU will be improved, but feel like Marshall, which has a lot of young talent in guys who were recruited by bigger programs but ended up with the Thundering Herd for one reason or another. QB Rakeem Cato is maturing and that also bodes well. Having a go-to guy like rangy Aaron Dobson also is key.
I'll go with Houston over Marshall for the league title.
From @Jason__Tweets: Bruce, the chatter in Arkansas is that Jeff Long is going to make a hard run at Sarkisian.
I could see Steve Sarkisian being attractive to a lot of ADs. He's done a terrific job at Washington since taking a program that was 0-12 in 2008. Sarkisian has U-Dub headed in the right direction. I also like the hires he made to improve the defense, which had been dreadful.
It won't be easy to get him to leave Washington for another job. I know how much he and his family like it up there. He's in a cool city; is at a program that has won a national title before and can sell playing in a loud, picturesque stadium and in a conference that has been amped up financially with a robust TV deal.
I don't see him leaving for Arkansas. Sarkisian may have a better chance of getting to a national title game coming out of the Pac-12 North from Washington than he would being in the same division as Alabama, LSU and Auburn, among others. The one job in college football I could see him being tempted by would be USC, which is near where he grew up.
For now, the sitting head coaches I suspect will get a long look from Arkansas this fall are Louisville coach Charlie Strong; FIU coach Mario Cristobal; NIU coach Dave Doeren and perhaps Arkansas State coach Gus Malzahn. Another guy whose stock should rise fast is La. Tech's Sonny Dykes.
From @Sam_BHam: What will Happen if Oklahoma and Florida State both go undefeated this year, and the SEC champ and Pac-12 champ are 12-1?
I'm pretty sure if that'd be the case you'd have an OU-FSU re-match from the third year of the BCS back in 2001. Being undefeated, especially when you play in a major conference, is going to carry a lot of weight because teams have that aura about being unblemished; that they were able to find a way to stay perfect.
Obviously, it remains to be seen just how good these teams will actually be, but according to the Coaches Poll, there are six Big 12 teams ranked in the preseason Top 25. The Sooners will face three teams in the top 17 away from Norman: No. 11 WVU; No. 15 UT and No. 17 TCU along with games against No. 19 Oklahoma State and No. 21 K-State. They also get a visit from No. 24 Notre Dame. That's a formidable slate.
The Noles' path doesn't sound as daunting. They get a visit from No. 14 Clemson; visit No. 20 Va. Tech and host No. 23 Florida to wrap the regular season. They also would have a conference title game, potentially against the Hokies again, to survive as well.
From @andorez: How big of a story will Penn State playing football be on September 1? Will you be there, Dallas or...
It will be a very big story primarily because it's the first football game in State College since 1965 where Joe Paterno wasn't the guy running the Nittany Lions program and you'd have to go all the way back to 1949 to find a PSU team where he wasn't a part of it. Obviously, with the scandal still hanging over the program; the transition to Bill O'Brien as well as the fans supporting the team and those players who have opted to remain is a very compelling bunch of story lines.
We have a hectic first weekend of the season and our crew at CBS Sports Network will be all over it. I'll be back in the studios in New York that weekend.  
Saban isn't going to win Alabama's special election, but the Crimson Tide coach got some l...

The Sooners' quarterback and Badgers' rusher stood out among their peers this season

Clark led UAB to an 8-4 overall record, 6-2 in conference this season
SportsLine simulated every bowl game 10,000 times for pick'em leagues and confidence pools

The Tigers are going worldwide for their next punter

Led by Heisman Trophy winner Baker Mayfield, the Big 12 finished with seven first-team sel...