Mailbag: Auburn team of destiny? Coaching carousel heating up
Lots of BCS Title Game questions plus a bunch in the mailbag about the coaching carousel relating to Penn State, Texas, Miami and Vandy.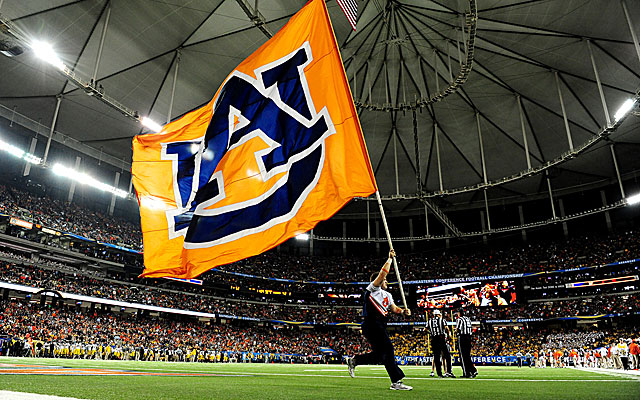 Here is this week's mailbag. As always, send your questions to me via Twitter to @BFeldmanCBS:
From @sportspundette: On paper FSU should handle Auburn on Monday. But it's hard to ignore the intangible "magic" that's followed Auburn this season. Do you believe in this "magic" -- or destiny, if you will -- and do you see it being a factor in the game?
Good question. I had a discussion about this very topic Thursday with my pal Stew Mandel on his podcast at SI.com. He said he thought this was a mismatch and he quoted some stats to support. And I get that a lot of folks are pointing to the Tigers' shaky defense, but my answer to that is this has probably been the best run of gifted QBs that the SECs had in years. Maybe ever. Auburn faced most of those guys and they also had to play a pass-happy Washington State team with Connor Halliday in the non-conference and that'll also help to skew some defensive stats. In all, Auburn faced Halliday, Zach Mettenberger, Johnny Manziel, Aaron Murray, AJ McCarron and then James Franklin with the most imposing WR group in the conference. That's a lot of firepower although now they have to cope with the Heisman winner Jameis Winston, the best O-line they've seen and the deepest group of receivers.
So, back to the destiny part. I asked Stew if he had seen Auburn in person yet this season. He admitted he hadn't.  "There's your problem," I said. If you saw Auburn late in the year, as I did against Mizzou and the nation's No. 14 run defense, you probably think the Tigers have a puncher's chance against FSU. All of that misdirection and up-tempo attacking can put a good defense on its heels in a hurry, and this is now an ultra-confident team.
I asked some of the Auburn players about their "buy-in" on Gus Malzahn and what seems to be happening with this team this year and you can tell the power of belief is at an all-time high. Too many crazy things have happened to get them here with some of those wild finishes. Anyone in that locker room who was ever remotely skeptical is probably on board now. Toward this point, Auburn tight end C.J. Uzomah referenced something assistant Dameyune Craig I guess says a lot: "The story has already been written."
Is there really a team of destiny here? I don't know. I do think Auburn believes it though and that makes them even more dangerous. I still picked FSU to win because the Noles are the more complete team and I think we'll see Jameis Winston shine on the big stage, but I also only picked FSU to win 35-31. And, the thought of Auburn in a down-to-the-wire game should scare the heck out of FSU, especially since the Noles haven't been in anything remotely close this season.
From @kentuckyloan: Will FSU be ranked #1 next year in College Football?
It's too soon to tell who is coming back and who is jumping to the NFL, but Jameis can't go to the NFL yet, and that's a great place to start. Winston, by the way, wowed the national media at the BCS event. He was folksy. He was funny. He was thoughtful and engaging. I can see why players and coaches gush about his presence and leadership skills. I've never covered a young star athlete more comfortable on the big media stage than Winston.
This was his answer on FSU's penchant for blowing everyone out: "Before we played Clemson, before we played Florida, before we played Miami, we took together as a team, I said 'Guys, where in the rulebook does it say we can't blow out every team that we play?' And we took that mentality and ran with it. NCAA has all these rules, but in the rulebook it doesn't say you cannot blow out everybody that you play. And that's the mentality that we took. This is going to be a real tough game for us because Auburn holds the ball all the time with that dynamic run game. I'm like, 'Guys, where in the rulebook still says we can't blow out every team we play?' Because it's a championship game and in a championship game, Alabama blew out Notre Dame last year. We can do anything we want to do."
Winston also was asked about something I had reported earlier in the season about his high school coach reaching out to Texas numerous times to try and get the Longhorns to recruit him:
"Texas was my favorite team. Through my whole recruiting process, I told my high school coach, 'Coach, we have to get Texas on the phone,' because when I was young I looked up to Vince Young and always wanted to go to Texas. But the funny thing was I was always an Oklahoma Sooner fan so when Oklahoma came I was like I'm a fan but I really want to go to Texas. It didn't work out. That's probably why I didn't get offered from Texas because I was an Oklahoma fan. I know I tried to call (Texas) a couple times because I really liked Texas."
He also didn't steer clear of the Jimbo Fisher rumors to Texas: "Yeah, I mess with coach Fisher about that. Me and coach Fisher, we're not worried about that. We're worried about winning the national championship. Even if coach Fisher leaves, I'm going to say, 'Coach, can I go?' But we're not worried about that. We want to win a national championship game."
From @jsayler1: Bo Pelini. What should I think of him?
It's complicated. Pelini is responsible for the coolest highlight of the year, and it wasn't some sideline outburst. It was truly an awesome thing and should've made a lot of college football people, not just Nebraska fans, proud.
Pelini's record at Nebraska is more than just respectable. He's 58-24 and never lost more than four games in a season with the Huskers. Problem is, in those six seasons, his teams have been pretty good, but never very good. Only once have they finished higher than 19th and that was when they came in 14th in 2009. As Brian Christopherson noted the other day, NU has won nine consecutive games decided by a TD or less. That is impressive. But there really have been nothing close to a signature win and, of course, there have been the outbursts. The perception of Pelini being out of control seems so, well, un-Nebraska like. Folks tend to get tired of coaches after six or seven years anyhow. Pelini's ranting and often out of control persona has probably quickened that timeline.
From @MR_BRC: Who would be a better hire for PSU, James Franklin or Al Golden?
Both are guys with local ties and reputations for being very organized and dogged recruiters. Obviously Golden has connections within the program as a former player. And I suspect after seeing an outsider like Bill O'Brien rally folks in the wake of such a complete mess, it's tricky to bypass another guy with PSU ties for someone without.
Golden's also done an excellent job managing a grease-fire at Miami that he walked into and that experience I'd think would help him in Penn State's eyes. But I think Franklin has actually proven a lot more on the field in a much tougher league at a place that had been abysmal before he showed up. The 41-year-old walked into the toughest conference in college football three years ago and worked wonders at a program that won just 13 SEC games in the previous 10 seasons. After a 6-7 debut season in Nashville, the charismatic Franklin has coached the Commodores to a 17-8 record and a 9-5 mark in their past 14 SEC games. (Golden's record, with better talent and in a much easier league the past two years is 16-9.) Vandy beat Georgia, Florida and Tennessee in the same year. I get it that all three of those programs aren't flying high now, but in what world did anyone see that trifecta happening?
Almost every coach who has been at Miami has won really, really big. Miami has been a rebuilding job, but there's still plenty of talent and yet UM has been dreadful in games against ranked opponents the past two years. Take away the Canes win over No. 12 (at the time) Florida, 21-16 and they have lost five games against ranked opponents by an average score of 41-12. And, hearing comments from David Cutcliffe talking about how he told his players to relish that they were physically dominating Miami should've been embarrassing to the program. Just like how UM was overwhelmed by Louisville the other night.
I was skeptical that Golden would leave UM after all he'd endured to go to Penn State where that program is dealing a whole lot more of NCAA-imposed restrictions, some of the depth issues still haven't actually bottomed out yet. USC coaches can explain to Penn State folks about what that false bottom feels like. Still, I've heard from several sources that say Golden's thinking a lot about the prospects of leaving. We'll see if he gets offered the job and if he jumps.
<strong>From @bruinfan21: Does UCLA's recent success and commitment from Coach Mora translate to future success and potential 5* recruits?</strong>
I do. The Bruins had a big win over USC and have some momentum. As I reported Friday morning, despite a lot of rumors swirling about how the Texas coaching search had focused on Jim Mora, my sources told me he withdrew his name from consideration. He wasn't offered the UT job, but he realized he and his family were happy with their set-up in LA. Think about this: Mora, who has become a pretty hot commodity, this winter turned down two of the more intriguing vacancies you'd think he was be tempted by Washington and Texas.
The Bruins are battling their arch-rival USC, which has another new staff and some new energy, but still working through scholarship limitations. The Bruins have a bunch of four-star guys in their class with a couple of top DBs: Aldarius PIckett and Jaleel Wadood, along with DT Ainuu Taua, WR Alex Van Dyke and athlete Austin Roberts. They're also a player for many of the top juniors in the country who no doubt are relieved to hear Mora is staying in Westwood.
The freshman is already on Heisman lists after throwing the walk-off score in the national...

These seven teams should make the most noise down the homestretch towards signing day

Air Force was forced to cancel 11 athletic events because of the 69-hour government shutdo...
Olson has a lot of the tools offensive coordinators want in a quarterback

The Tigers have a wealth of talent at their biggest position

Pineiro received the award for stopping an attack the morning of Oct. 15, 2017