Mailbag: Believing Jameis hype; the best mid-major conference
FSU QB Jameis Winston was one of the big stories from Week 1. Was he that good or more a product of media overreaction? How good will Texas Tech's Baker Mayfield be? Which is the best mid-major and what would it take for Mark Richt to end up on the hot seat at Georgia?
Here is this week's mailbag. As always, if you have questions send them to me via Twitter to @BFeldmanCBS.
From @DaU_Canes: Do you think Jameis Winston is THAT good or is it a blatant overreaction by the media for his performance against a bad defense
I realize it is ONLY ONE game, and we in the media trip over ourselves all the time with hyperbole about the "greatest" this or the "worst" that in the echo chamber of twitter hyperbole. My friend Jim Trotter and I discussed this in some detail with Jim Rome on Wednesday on ROME.
I agree with Trotter's point that the word "great" is the most overused word in sports these days. We often can't help ourselves trying to find a new way to put something in some perspective and I'm as guilty of that as anyone. To some degree this is all human nature, where we overreact to things we see and experience but these are honest, if not flawed, reactions.
If you ask me if I think Jameis Winston is going to be special, I'd say it's still too early to say although my hunch is yes, he is. Here's why: Too many football people I trust, who have worked with Winston have said things about him, that have me confident he will be THAT good. Winston's arm is plenty strong -- as Nole baseball fans can attest. His feet are nimble too. He's got ideal size at 6-4, 225, but it's his intangibles that really have me buying in.
Earlier this week, his high school coach Matt Scott gushed to me about Winston's competitiveness. But I'd take that with a grain of salt because lots of high school coaches gush about their best player. Scott did send me some video of Winston doing some things I'd never seen any QB do before that underscore the kid's competitiveness. (I'll have more on this down the road.)
To me, the most significant intel I've had on Florida State's new QB came in the spring, when a coach who worked with Winston at FSU told me his best trait of all his is leadership skills: "Best natural leader I've ever seen." And that coach is a guy who's been around a lot of elite players, both in college and the NFL.
Trent Dilfer, who was hands on with Winston during the Elite 11 process, raved about, among other things, his presence. I also really liked how Winston stood with pressure in his face and threw strikes Monday night. That grit is key for all top quarterbacks, especially in a first college start on the road. And, while people knock the Pitt program, the Panthers were No. 17 in the country in total defense in 2012. They had nine starters back from that group. They actually may be the toughest group Winston and the Noles may face all season aside from Florida.
From @MattWhitfield83: How good of a QB can Baker Mayfield be?
As I said the other day on TV, Baker Mayfield is no ordinary walk-on QB. I happened to be at Washington State some 16 months ago when the Cougars staff offered Mayfield a scholarship. I think he was one of four QBs in his class they were targeting. They wondered some about his size-- was he really over 6-feet tall? -- but they liked his arm, feet and moxie. Plus, he came from a great program in Texas, Lake Travis. Then-WSU assistant Eric Morris had stood on the proverbial table for Mayfield. (He really didn't get on the table, but it wouldn't have shocked me if he did.)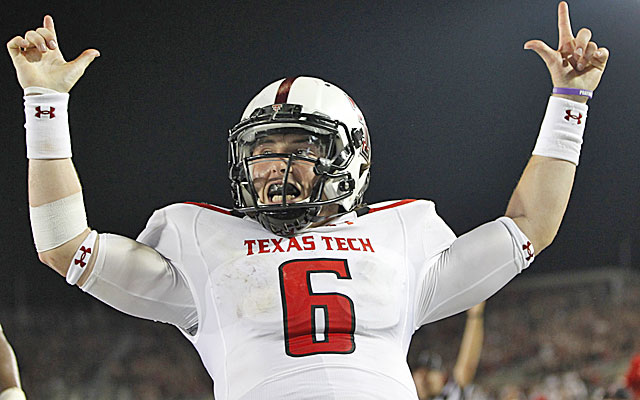 Morris, a former Red Raiders slot receiver, has since returned to his alma mater to join Kliff Kingsbury, his old roommate from their Houston days under Kevin Sumlin. Morris told me that Kingsbury was actually the one who sold him on Mayfield. A&M had already locked in on its QB target, but Kingsbury believed Mayfield was a big-time talent too. Morris told me on the eve of the season that Mayfield reminds him of Case Keenum, especially in terms of his pocket presence, which was probably the best attribute the former UH star had. And that Mayfield probably has a stronger arm than Keenum.
Washington State ended up getting a commitment from four-star recruit Tyler Bruggman while Mayfield waited for a TCU offer that never came. And that's how Mayfield fell into Tech's lap.
You had to be impressed with how Mayfield operated the system in his debut at SMU, going 43-60 for 413 yards and four TDs with no picks. Remember, the kid only showed up at Tech for the second summer session. Look for him to put up more gaudy stats this weekend against FCS SFA. I'm not ready to say he's going to re-write the prodigious Tech record book, but he won't be easy to get out of the lineup. I'm very curious to see how he and Tech respond in Week 3 against TCU. We'll find out a lot more about him then.
From @pelliott7190: what mid-major conf is the best?
Despite Boise State's drubbing at the hands of Washington in Seattle, UCLA's thumping of Nevada and the ugly San Diego State loss to FCS EIU last weekend, I'll still go with the Mountain West. Fresno State beat Rutgers. Utah State gave Utah fits while Wyoming came close to knocking off Nebraska. The league can match up QBs with pretty much any conference in college football with Fresno's Derek Carr, San Jose State's David Fales, Utah State's Chuckie Keeton, Nevada's Cody Fajardo and Wyoming's Brett Smith. Just ask the Cornhuskers how dangerous Smith is.
The MAC's best result was Bowling Green blasting Tulsa, which is coming off an 11-win season. The MAC also had a decent win with Northern Illinoiswinning at Iowa although the Hawkeyes are pretty down right now. Buffalo had a respectable showing at Ohio State and kept it kinda interesting. The rest of the opening weekend was pretty shaky though, but I'd say the MAC closed the gap on the MWC some.
The Sun Belt has a chance to make a little bit of noise with Bobby Petrino in the league. WKU beat an SEC team, UK. Troy also beat UAB and Texas State beat Southern Miss.
C-USA, which took a hit with conference favorite Tulsa getting drilled by a MAC team, had only one win of note with UTSA winning at New Mexico.
From @Bryan_Levin: If BCS doesn't incorporate AP poll into its standings, what purpose does it serve?
Not much of one other than it helps TV promotes some games and keeps people talking.
From @StevenCollier82: After seeing each team play, who do you have winning Oct. 19th? Tigers or Noles!
I picked Clemson to win the ACC before the season and after seeing the Tigers beat Georgia, I'll stick to that pick. Seeing Jameis Winston light up Pitt on opening night also wasn't any big surprise. Plus, the Noles have to come Clemson. If it were in Tallahassee, I might feel differently.
From @altdan: How many losses would it take for hot seat talk to come up again in Athens?
For it to "come up" or for it to be warranted? Big difference when you're talking about a coach who has won almost 75 percent of his games at a powerhouse program in the toughest conference in the country. And it's also a guy who is very well respected in the local community as a decent man. The bigger points though are that Mark Richt just led Georgia to a top-five finish last season. In the past two seasons, the Bulldogs are also 14-2 in SEC play. It's not like his program has been back-sliding for a run of a few years say in the way Jeff Tedford's did at Cal.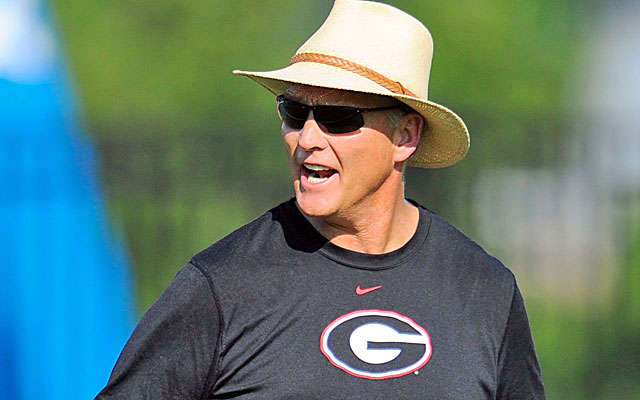 Then again, technically, it's coming up right now with us batting it around. Short of absolute disaster of a season, and by that I mean like a 4-8 record, I don't see Richt near a hot seat. And even if the Dawgs had that bad a year, barring some scandal related to the program he'd still figure to get at least one more season to show that 2013 was a fluke.


This is precisely what you'd think would happen between Kiffin and Saban

Anybody can rank the best 25 teams, only the Bottom 25 ranks the worst

Former Tennessee State player Latrelle Lee has already been expelled from school for the i...
Whether Kelly picks Florida, UCLA ... or even Tennessee ... his decision will reverberate

The Canes have put themselves in a great spot in this college football rankings prediction

Mayfield will not start and will not be a captain in Oklahoma's regular-season finale