Mailbag: Best Week 1 game; Bama's rebuilt O-line; USC hot seat
The Georgia-Clemson match-up leads a list of compelling August games along with LSU-TCU, Boise State-Washington and some others to lead the weekend mailbag.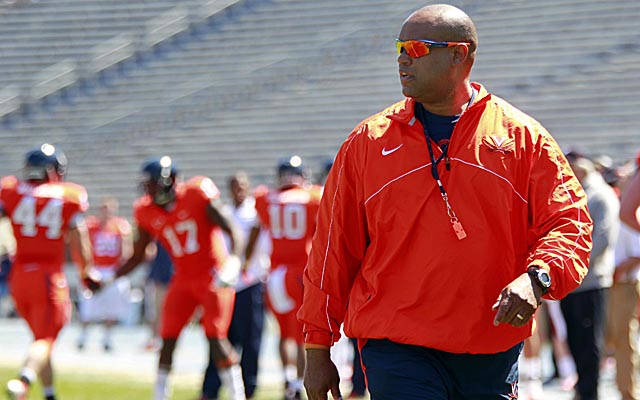 Here is the weekend mailbag. As always, you can send me your questions via Twitter to @BFeldmanCBS:

From @Zach_grant: What games are you most looking forward to in the opening week?

I'll be in studio for CBS in New York City the first two weeks of the season, but if I could be at one game opening week it'd be Georgia-Clemson. Both teams have experienced QBs and question marks on defense. I also think if these teams can show that their defenses are strong enough, they each have a shot to get to the BCS title game. It's a great opportunity for Aaron Murray to silence some critics who say for all his production, he can't win "big" games.

For Tajh Boyd, one of the most talented QBs in the country, this could serve as a springboard to the top of the Heisman race, much as it could for Murray.

Other really intriguing games for Week One: TCU-LSU; Boise State-Washington and Texas Tech-SMU.

From @BrainstemTime: Whats the real downside of letting players make $ in an Olympic-style model (ads, comp for likeness,etc)?

My hunch is that it'd be where you'd have schools and boosters using this as their most convenient way to funnel more money to players by paying, say, $10,000 for a signed picture or something. Word is, over the past decade people have been able to find ways to get players taken care of, whether that means having boosters donate money to a recruit's church or providing free airline tickets for prospects to travel in for unofficial visits.

I guess the NCAA could try to regulate that part of the "image" business, but I suspect people would still find a way to exploit it but that doesn't mean the idea shouldn't be examined.

No matter what, you're never going to stop people from bending the rules. There will always been people trying to get an edge any way they can.

From RobertBRameyJR: Is Alabama's O-Line good enough this year to get them back into the title game?

From talking to someone inside the Bama program, it sounds like they have the personnel to be excellent again up front. Cyrus Kouandijo at left tackle is a great foundation for the Tide to start with. He could be a Top 10 draft pick. His brother, Arie, also has emerged nicely and that should anchor the left side. Anthony Steen is very solid on the inside and Ryan Kelly is a star on the horizon, I'm told. Another big plus is having such an experienced QB in AJ McCarron to run the show.

From @cnsieler:  Is Lane Kiffin on the Hot Seat?

Yes. I realize that his boss Pat Haden gave him a vote of confidence on the eve of Pac-12 media day, but after last season, where the team that was picked No. 1 in the pre-season (Kiffin picked USC No. 1 also) finished a dreadful 7-6 and lost to a mediocre Ga. Tech team, Kiffin's in dire need of a bounce-back season. There is simply no way around that.
USC plays 13 regular-season games and he needs to win at least nine of them. He also can't afford to go 0-for-2 against the Trojans' two biggest rivals, UCLA and Notre Dame. In addition, he needs to avoid any off-field non-sense which he and his program were plagued by from training camp on right through the bowl game in 2012. It's not just that that stuff would annoy his bosses in showing USC in a negative light but they can become distractions for the locker-room.

Having said, all of that, I wouldn't bet against Kiffin and the Trojans to have a strong 2013. They have the best 1-2 receiving punch in the country; a very good, seasoned front-seven and a manageable schedule. Keep in mind, Kiffin did a terrific job managing USC in 2011 when his team handled both the Irish and Bruins and won at Oregon. (To his credit he has also done a nice job recruiting and re-stocking the roster in the face of brutal NCAA sanctions.) This year, they also have a new 5-2 defensive scheme and there's no Ducks on the schedule to worry about.

From @mbayer1248: I know it's a tired topic, but curious to hear your take: Coaches with the most pressure on them in Week 1?

In terms of having tricky openers I'd say Virginia's Mike London needs to beat a solid BYU team that visits. UVA then hosts a dynamic Oregon team the following week and going 0-2 at home in the non-conference to start the season for a coach in his fourth season, coming off a 4-8 season, is a lot to overcome especially with a hefty November schedule ahead.

The other coach who came to mind for this is Kirk Ferentz. Iowa hosts a good NIU team. It's a team that is still talented, but Big Ten teams, especially ones with strong histories like the Hawkeyes, aren't supposed to lose at home to MAC teams. If they beat NIU and can get some momentum, Iowa could roll out to a 5-0 start heading into October.

From @Kevekman: based on the 3 worst teams in each conference, could you rank the major conferences? Who has the best bad teams?

To do this, I need to sort out how I'd rank the bottom three teams in each league. These would be my groups in how I'd rank them: SEC (Arkansas, Tennessee, Kentucky); Big 12: (WVU, ISU, Kansas); Pac-12 (Cal, WSU, Colorado); Big Ten (Indiana, Illinois, Minnesota); and ACC (Pitt, Wake Forest, BC).
I'd rank the Big 12 above the SEC if Kansas wasn't so awful but Charlie Weis' team didn't beat a single FBS opponent last year and even with the ton of transfers he's brought in, I'm skeptical they'll do more than win three games. The bottom trios are a lot closer than the top portions of these five.


Expectations are high for Charlie Strong at South Florida, and Houston looks to take the next...

There are new names to learn every season, and here are five to keep an eye on from the AA...

Taking a close, detailed and opinionated look at the AAC a week before the start of the 2017...
These Jayhawks got a tremendous surprise they weren't expecting

Jovon Durante announced on Twitter he's headed to FAU

From Week 1 through the title game, everything runs through Atlanta this season