Mailbag: Better job: USC or UT; Kiffin's next move; unranked threats
This week's mailbag examines which is the better job: USC or Texas; whether Nick Saban is losing some control at Bama; what Lane Kiffin's next move will be and who are the biggest unranked threats to each of the top five teams.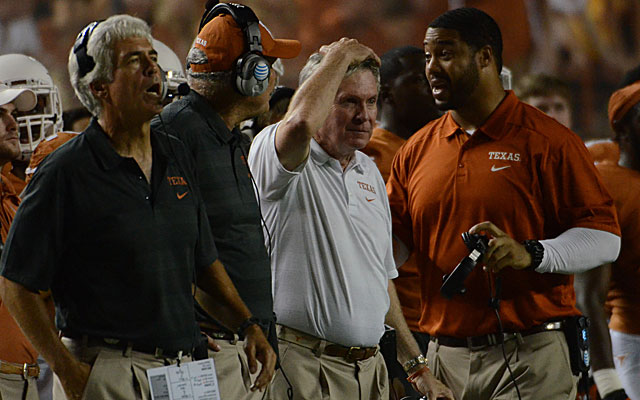 Here is this week's mailbag. As always, send your questions to me via Twitter to @BFeldmanCBS:

From @Paul Pabst: More attractive job if both were open...USC or Texas?

Both jobs are legit "Top 5" jobs, true destination jobs with seemingly unlimited resources; eye-catching facilities; rich history and set in the middle of prime recruiting turf. Also, as elite as these jobs are, at this time, they're also in conferences that are still quite favorable. The Big 12 is hardly top-heavy and the Pac-12 South is very wide open. There is no Alabama or LSU to contend with annually. Still, they also each come with a sizable negative:

In the case of the Texas job, it's the added media obligation of dealing with all of the access from the Longhorn Network. Most big-time head coaches don't want the hassle of dealing with much media coverage or cameras in their face and this added time/exposure can be seen as a nuisance.

In the case of USC, it's the fact that the program is still coping with the crippling NCAA sanctions. The Trojans still are only allowed to sign 15 scholarships for the next signing class (it'll actually be 19 since USC can count four back from last year's class) as well as there's still another season of the 75-scholarship limit. Lost in that is the reality that the roster will be under the 75-man limit since standard roster attrition (medical hardships, early NFL departures, transfers, etc.) has made it such where when you only can sign 15 players a class, you end up, at best, in the low 70s in all likelihood in 2014. And there figures to be a hangover effect from the hefty scholarship restrictions as USC endures some (roster) growing pains for the next few seasons.

For the latter, I'd say it makes Texas the more desirable job.

From @EvanK4UA: so just how much control has Saban lost of this team/program?

I don't think he's lost much control at all, but these reports of players being linked to agents, whether it was D.J. Fluker or this week's suspension of star DB Ha Ha Clinton-Dix is a reminder that all programs with prime talent are ripe to agent and money issues. What's funny is I've seen some media people note that the Clinton-Dix news occurred at an opportune time for Alabama given that the Tide's next four opponents are all unranked teams and the next two are abysmal. Did Saban orchestrate when this would be released? Who knows? I get why folks are suspicious though.

The curious part will be, if there are more players mixed up with the agents and runners, and how the NCAA proceeds to handle this stuff given we're talking about plane tickets, cash and loans. Also, keep in mind this week's Clinton-Dix story involves a Crimson Tide staffer, which seems like it should put this case into the NCAA's crosshairs. Just a few years ago, NCAA investigators would've sniffed around Tuscaloosa, but given the mess in Indianapolis and the apathetic vibe about these "scandal" stories these days, it's all met with a collective shoulder shrug and lots of cynicism.

From @davismada: Do you think Ed Orgeron will be the head coach at USC next season or will Pat Haden hire someone new?

No, I doubt Orgeron ends up as the Trojans head coach after this season. I'll stick with the candidates I outlined Sunday morning. At this point, Orgeron's an extreme long shot. Haden is expecting to hire a new head coach after this season. And Orgeron knows that. He hasn't moved into Lane Kiffin's old sprawling head coach's suite. Orgeron's been pretty adamant that his focus is the players and the program's recruiting.

I spent Thursday out at USC. It was the most time I've spent around Orgeron since the Meat Market days. It was surreal to me to listen to him now. His perspective is much, much different than when I was around him at Ole Miss. Some of it, I suspect, is due to the fact that he's now in his early 50s and not mid-40, and has had a lot of time to think about what he could've done differently at Ole Miss. He's learned he can't worry about all the little stuff and, as he said, to keep an eye towards the big picture. He has a better handle on the pulse of a team and not wearing down players, which is ironic because he inherits a team where the program seemed to have become so low-wattage, a dramatic shift since the Pete Carroll era. Orgeron also doesn't have to worry about the support and leadership above him the way he did at Ole Miss. (The old Rebels AD Pete Boone was a guy that the coaches before and after Orgeron--David Cutcliffe and Houston Nutt--also had massive frustrations with.)

So far, Orgeron's made a lot of smart moves as the interim head coach that are playing very well inside the program. He's been very energetic and upbeat. He made a strong statement that he wasn't going to use the sanctions or injuries as any excuse: "We're Trojans. We put 11 out on the field and we fight." He's brought sweets back to the training table. He catered Roscoe's (the legendary chicken and waffles place) for Thursday night dinner. He also introduced the "Trojan Bowl" to the program Thursday, which was a loose game where the starters and the seniors coached the scout teamers, which is something he picked up from his old Miami days when Jimmy Johnson would use the "Toilet Bowl" as a change of pace in open dates. In the short term, this stuff seems to be working. Senior DB Dion Bailey tweeted Thursday night, "Today's practice was the funnest  practice I have ever been apart of. Love it!!"

Of course, the reality is what happens when the Trojans go back to playing games? This is still a 3-2 team that is 0-2 in the conference with two losses against unranked teams. In truth, the Trojans didn't look very good in any of their games this season. The O-line is shaky; the QB play suspect and the defense just surrendered 62 points to an Arizona State that no one would confuse for the Oregon Ducks. Games at Notre Dame and Oregon State will be tough and games against Stanford and UCLA will be even tougher. Even beating a 3-1 Arizona team is far from a sure thing. Realistically, expecting anything better than 5-3 over the remaining eight games seems a big stretch given how mediocre USC has looked this season.

From @JimMWeber: Where do you think Lane Kiffin will resurface?

I had this conversation with some folks this week. Of the four most viable routes: studio analyst; NFL position coach; college assistant and mid-major head coach, my hunch is either TV analyst or college assistant, and the rationale goes to opposite sides of the spectrum.

Kiffin often seemed aloof, but the Tennessee version of Lane Kiffin had some zip to him and he does have a sharp sense of humor and contrary to popular belief, can be very quick on his feet and often self-deprecating. If he embraces the opportunity, he could have a home in TV in the studio. He doesn't need to go fill Mark May wrasslin' villain to work. He just needs to buy in and commit to being on camera the way he showed some personality to some recruits.

If not, he does have some colleagues who I suspect think he could help them on offense and in recruiting. I recall a few of his assistants at Tennessee spoke glowingly about how football smart the guy is. For a variety of reasons, it didn't translate in the past year and a half running the Trojans offense.

<strong>From @DanRubenstein: Football: Biggest unranked threat for each top five team? Life: Which 90's TV family would've been most fun to watch CFB with?</strong>

Good stuff, as usual Dan. So here's what I've got:

Alabama: at Auburn, Nov. 30: It's a huge, nasty rivalry game, and Gus Malzahn has the Tigers much improved. They're getting an identity back. It was either going to be that or the visit from Arkansas, but I'll go with the rivalry game since crazy stuff sometimes happens in those.

Oregon:  Oregon State, Nov. 29: The Beavers have firepower and are playing well on offense. Sean Mannion and Brandin Cooks have been one of the better stories of the first month of the season. You also never know how bad the weather could get in that game and Mike Riley's staff knows the Ducks system well. Just skeptical OSU has enough on defense to slow Oregon down at all.

Clemson: Boston College, Oct. 12: I want to cheat on this one and say it'll be the game against Maryland because at that point, after the Terps lose at FSU this weekend, they'll be out of the Top 25, but I'll say BC, which hung around with FSU for a half and has played at USC, and won't be intimidated.

Ohio State: Iowa, Oct. 19: The Hawkeyes are playing well with Jake Rudock at QB and they have a good O-line and a bruising RB in Mark Weisman. They might be able to hang around and wear on the young Buckeyes front seven and keep it interesting IF they can get some help from OSU on the turnover front, maybe they have a shot.

Stanford: Notre Dame: Nov. 30: The Irish has as good a group of D-linemen as Stanford will see this season and they have a chance to match up with the Cardinal's strength. Can Tommy Rees avoid big turnovers against a superb D? Not so sure about that part.

As for the 90s TV family, I'd lean towards Full House group. Saget's hilarious and I'm sure after a day of football his A-game material would eventually come out. Plus, I was a big fan of Lori Laughlin's. And I'd like to think they'd have a cable system where they'd have the Pac-12 Network, and LHN.
Guice is dealing with a 'minor injury' that has not been specified by coach Ed Orgeron

Professional college football bettors are loving Jim Harbaugh and Michigan against Purdue

Temple knocked off USF last year to claim the division title
These are the best bets to make in Week 4 including Florida-Kentucky and Oklahoma State-TC...

Two players died as a result of playing college football on Saturday

Gary Danielson previews this week's SEC on CBS Game of the Week from Nashville