Mailbag: Can Mountaineers have three Heisman candidates? Keys to LSU-Florida?
Here is this week's mailbag. As always, send your questions to me via Twitter to @BfeldmanCBS: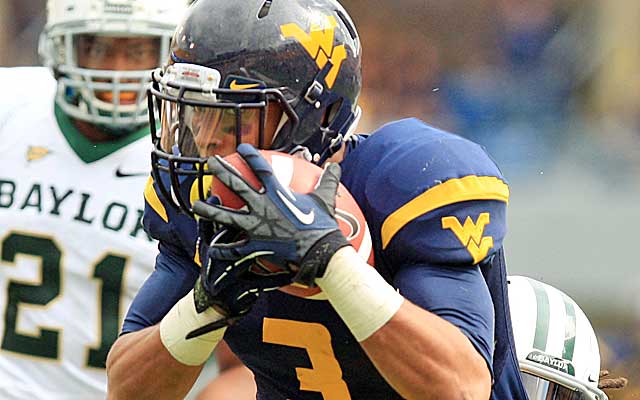 Stedman Bailey

has been Geno Smith's favorite target. (AP)
Here is this week's mailbag. As always, send your questions to me via Twitter to @BfeldmanCBS:
From @Ryan18Mac: Do you think it's possible for 3 WVU players to get invited to NYC Heisman ceremony (Geno, Stedman Bailey, Tavon Austin)?
I don't. It's really, really hard just to get two guys invited to New York. It's virtually impossible to get three, especially for a program like West Virginia that hasn't exactly been cranking out Heisman candidates.
Even though my colleague, Chris Huston, raised an interesting point about why Smith may have had an added benefit to the Heisman race by virtue of WVU's move to the Big 12, these guys are still going to be pulling votes from each other. At least the receivers would. In most years, you don't get more than four guys invited to NYC; to think that three of them will come from the same school just isn't realistic. Hoping for two just to get there seems overly optimistic. And, remember, it is still really early in the season. WVU has played only one league game, and it was against a very suspect defensive team.
 From @DWFreer: Why is C-USA so bad this yr? Only 1 win over a BCS AQ (Rice def Kansas) and 4 schools still winless.
The two best schools in recent years, Houston and Southern Mississippi, are dealing with major transition. They each have to replace record-setting QBs who won a ton of games while they're also breaking in new coaches. Tulsa also lost another talented QB in G.J. Kinne. Southern Methodist also has taken a step back while their QB issues have surfaced. The stats back it up. In 2011, four of the top 43 ranked quarterbacks came from C-USA. This year, there's only one, Marshall's Rakeem Cato (ranked No. 40 in passing efficiency.) Keep in mind that great QBs can cover up a lot of flaws, particularly as they relate to defense and depth -- issues that mid-major programs are always going to battle.
Tulsa is still pretty good. Beating Fresno State was a decent win. Right now, I'd say UCF is probably the best team in a down year for the league. George O'Leary's team has a good QB in Blake Bortles, some talented skill guys and athletes on D. There's no shame for UCF in losing at Ohio State and to Missouri by five points. But unlike in years past, I don't see anyone close to a Top 25 team.
 From @Matty416: now that we're into October, what jobs do you think will open (BC, TN, AR, NCSt?) and how would you rank them?
Not sure yet if Tennessee and North Carolina State are coming open. But if they did, I'd list your four options this way: Tennessee , Arkansas, N.C. State and then Boston College.
Tennessee has the best stadium, the most storied history of the group and is on the brink of unveiling elite facility upgrades. Arkansas is a step below that. The two ACC schools are below that.
It's been proven you can win at BC, but you are coping with stricter academic standards and in the weakest recruiting region. There's a lot of good football talent in the Carolinas. There just aren't a lot of elite players in New England. The ones that are in the Northeast, you're going to have to scrap to fend off Ohio State, Notre Dame and other bigger programs.
 From @SHigginsToronto: Does LSU Offense finally show up Saturday? UF isn't that good are they? Keys to game?
The Tigers have had all sorts of trouble protecting the passer this year. Their O-line needs to have a great game Saturday against a really talented defensive front. If not, I could see UF winning this game at home. The Gators have plenty of talent, especially on defense.
For Florida, I think it's vital that the Gators get their running game going. That'll slow down the LSU D-line and give Jeff Driskel some support. The young QB has played well in some hostile places, but this is, by far, the most talented defense he has faced.
From @LL_Lean: who starts at QB next year for Michigan. Gardner, Bellomy, Morris?
It's tough to predict how quickly a true freshman will grasp a system and fit in with his new team. I'm sure lots of people predicted that Gunner Kiel would be Notre Dame's starting QB this year. That said, I wouldn't bet against Shane Morris getting the keys to the offense in 2013. The altering of the system in the post-Denard Era at Michigan bodes well for Morris. From watching him at the Elite 11 QB Camp this summer, Morris has elite physical tools. Does he have the maturity and poise to handle being the No. 1 guy as a freshman? Who knows at this point?
Al Borges will be more comfortable with his system after Denard Robinson moves on. As dynamic a weapon as Robinson is, his skill set is very different from where Borges likes to operate. Devin Gardner's a bright kid with good size and some experience, but does Michigan think it'll be better for the program long-term if he plays outside at receiver and Bellomy or Morris get a chance to get settled in early? That wouldn't surprise me at all. My guess, though, is by the middle of 2013, Morris is the starter.
Rashaad Penny etched his name in San Diego State's history books

Kelly led Oregon to a national championship appearance and is an innovator in the game

This week's AP Top 25 college football rankings remained largely unchanged
Mora went 46-30 since joining UCLA in 2012, taking the Bruins to four bowl games

There should not be too many changes to this week's college football rankings

Elsewhere, the top 12 remains the same in this week's college football rankings