Mailbag: Coordinators set to become head coaches, Michigan's prospects & nation's top WR group
Here is this week's mailbag. As always, send you questions to me via Twitter to @BFeldmanCBS:
Here is this week's mailbag. As always, send your questions to me via Twitter to @BFeldmanCBS:
From @frettyj: Best Head coaching candidates that are assistants this year.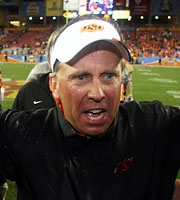 I'll start with the offensive guys because of late, those seem to catch people's eyes more and help move the needle. Chad Morris' stock soared last year in his debut season at Clemson. The school is now paying him well over a million dollars a year. If Tajh Boyd and the Tigers can take another step forward or even have a similar season, Morris could be in line for an even bigger payday via a head coaching job. Same for Oklahoma State's Todd Monken, who was excellent, picking up where Dana Holgorsen left off with the Cowboys. I listed Morris before Monken here because the Tigers are more wired for big things on offense than Monken's bunch this fall, which appears set to go with a true freshman QB while having to replace Justin Blackmon.
A couple of wildcard offensive assistants to keep in mind: Stanford OC Pep Hamilton; Oregon's Mark Helfrich, Ohio State's Tom Herman and FSU's James Coley. You may remember Herman, the Mensa guy, from a Stats That Matter last fall that ran right before his Iowa State team upset Oklahoma State. He's helping Urban Meyer tweak somethings and the action out of Columbus will be fascinating to watch unfold.
The three most intriguing defensive guys would be Bama's Kirby Smart, Michigan State's Pat Narduzzi, and Texas' Manny Diaz.

Smart is the hottest assistant name in the SEC. It can be tough to work under a head coach who is so known for being hands-on with a given side of the ball as Nick Saban is as a "defensive guy." Smart, though, is very well-regarded inside the business. If Derek Dooley doesn't win at least eight games, Smart could land a huge job working for Dave Hart, who came to Knoxville from Bama. 
Narduzzi turned down a few very lucrative high-profile coordinator jobs to stay in East Lansing. He is a charismatic guy who is the son of a former college head coach and has an impressive track record of producing Top 10 defenses despite losing standouts. Mark Dantonio deserves credit for hiring him years ago because it's not like he hired a guy whose scheme was similar to Dantonio's bread-and-butter as a DC. Over the past two seasons Narduzzi's done about as good a job as anyone. He also is a terrific recruiter. He'd an ideal candidate for the next Big Ten vacancy or any sizeable coaching job that comes out in the east.
Diaz' stock took off after a stellar year at Miss. State in 2010. He did a good job in his first season at UT helping Mack Brown make some strides after a dismal 2010. Diaz is very savvy and knows he's in a good situation for his family so we'll see how big of a step the Longhorns can take this year and what fits come open this winter. 
Georgia's Todd Grantham's name has a decent shot to heat up if the Dawgs can win the SEC East again and become a Top 10 team. FSU's Mark Stoops also is ready to run his own program and could get hot if the Noles can crack the Top 5.
One special teams guy to keep an eye on is Brian Polian, now at Texas A&M. He proved to be an excellent recruiter for Notre Dame and was a key piece for Stanford.

Kevin Sumlin's new staff at A&M has a bunch of guys who have bright futures. Sumlin's OC Kliff Kingsbury takes over a situation where they could get banged around pretty good in their first season in the SEC West, but I'm pretty sure he's destined for big things. There's a batch of young Air-Raid disciples coming up. My hunch is Kingsbury will be the next one to get his own program but it probably takes two or three more years, timing with the maturation of his green QBs at A&M. The 32-year-old Kingsbury, who played under Mike Leach and Bill Belichick, is excellent game-planning and tweaking things to take advantage of vulnerable spots he's detected in scouting.
The last assistant I'll throw out there is in the NFL right now, Greg Roman, the former Stanford staffer. He came close to getting the Vandy job before James Franklin was hired. Roman is very well respected. He's Jim Harbaugh's OC in San Francisco. The New Jersey native might get a long look at a few college places later this year, especially at BC, where Frank Spaziani is in deep trouble.
From @GR8Shane: Michigan seems overrated. Are they really capable of navigating their schedule this year or will we see a decline in '12?
Obviously, we have to see where Michigan starts the season in the pre-season polls. Vegas is listing the Wolverines at 25-1. 

They have Top 20 talent with a superb offensive backfield, but I think the Wolverines will be very fortunate to emerge from their first month 3-1 since they open against a punishing Alabama team and then turn around to face Air Force, who is never fun to prepare for. (What makes the AFA game worse is the timing coming off such a physical opener.) After that, they get UMASS and then visit Notre Dame.
Going to Nebraska and Ohio State are also going to be tough, and Michigan State has dominated the series of late. The Wolverines have a capable Iowa team mixed in there too. Add all of that up, factoring in losing two key guys in the middle of the lines on both sides of the ball (center David Molk and NT Mike Martin) and I agree it seems like things might not go quite as well as they did in Brady Hoke's first season when they finished 11-2. More specifically, if you told me the over/under for Michigan this fall was 11 wins, I'd take the under.
From @Huskerinsanity: Do you think the Big Ten should be proactive with all this realignment talk? What other teams fit the Big Ten mold?
The problem with this is it'd feel like the Big Ten would be getting bigger just for bigger sake, and that's it. What else would these other programs actually bring to the conference? The schools people always just throw out as candidates, namely Rutgers and UCONN, don't really bring much. If anything, they'd water down the product in football a little more since both, realistically, would fit into the bottom half of the league. Neither has truly a significant foothold of the NYC area TV market. I suspect there's more die-hard Michigan, Ohio State or Penn State football fans in NYC than Rutgers and UCONN football.
Maryland has the academics and would offer up reach into a different, sizeable TV market but the Terps football program is horrible right now, and it's not like this program is a slam dunk from a financial model. Keeping in mind, if you add more schools, you also have to divide up the money more and you're likely to increase travel budgets for all of your sports significantly. 
Notre Dame, no doubt, is intriguing but ND has flirted with the Big Ten several times before and blown off the conference, so I don't Jim Delany is in the courting mind any more.
From @Heretotellit: better WR core .....USC Trojans or Tenn Volunteers?
The Vols group looks more imposing in person with bigger, rangier guys assuming JC transfer Cordarrell Patterson gets eligible. The USC guys are spectacular athletes too in Marqise Lee and Robert Woods but they are also more polished receivers and have produced better at this point even though they're younger. Those top two Trojans have already backed up the hype in a big way.

At this point, UT's guys are more going on potential, so right now you have to go with Woods and Lee and USC. Woods racked up almost 1300 yards receiving and 15 TDs while Lee, as a true freshman, had over 1100 yards and 11 TDs. That's spectacular production for two former high school teammates who were still quite young.
The Vols' Justin Hunter, who is coming off a major injury, has a chance to be a special receiver with his size and athleticism. I'm more skeptical of Da'Rick Rogers. He has good size and soft hands and has produced on the field (1,040 receiving yards, 9 TDs in 2011). But he has been a major headache for that staff and is very fortunate Derek Dooley didn't boot him from the program, especially after his actions in their loss to Kentucky last season. You still don't know if he's a guy you can count on to be there this season. Patterson is a big, dynamic athlete who comes to college with great hype. USC has a guy like that too in George Farmer, a young five-star still looking to blossom. The Trojans also added another five-star WR Nelson Agholor to the mix along with 6-2 Darreus Rogers.

To say the Vols group is better at this point would be based too much on just hype and not on what has taken place on a college football field. What USC has, starting with Woods and Lee or Lee and Woods, is the country's top group of receivers. And that is certainly aided by them having arguably the top QB (Matt Barkley) setting it all up.
From @CarlBleich: If you had to predict, how many wins do you think Miami gets this upcoming season?
I've been very impressed by the work Al Golden and his staff are doing recruiting, especially in the face of all the Nevin Shapiro mess that, until the NCAA hands down sanctions, still
hovers over this program. That said, it feels like UM is in transition still.

The Canes lost some talented juniors who opted to bolt to the NFL and ended up getting drafted a lot later than you'd think their athleticism would've dictated (namely RB Lamar Miller and WR Tommy Streeter). Miami still has more than its share of athletes but do they have enough leaders on the team to keep this group focused? They haven't in recent years. I hear sophomore DE Anthony Chickillo is that kind of guy, but he's still young and I think that gets back to the transition where it seems like most of the gritty, leadership guys they need are the newer guys, so you have an odd mix. That often happens through coaching transitions.
Stephen Morris, who has some starting experience, has the arm and athleticism to be very good but we need to see his maturity and consistency, meshing with a young group of wideouts. Newcomer Duke Johnson should help a lot. He looked special as a high schooler on a big stage, but now he has to prove it in college. The O-line is big and athletic. It could be a strength, but I feel like that has been the case with UM O-lines a lot in the past few years and it hasn't happened. 
I'm most curious if some of those older Randy Shannon recruits (Ray Ray Armstrong and Vaughn Telemaque) can turn the proverbial corner and be difference-makers. Safe for a few random big hits and an INT here or there, they've been underwhelming. Unless, they really blossom to spark the D, which doesn't have that nasty dominator in the middle of the D-line the way UM's best teams had in the past, I don't see the Canes going more than 8-4. More realistically, 7-5, because at this point when you look at the schedule, there are a lot of toss-up games. Miami lost the benefit of the doubt a while ago and with the way the Canes played down the stretch in 2011, it's going to take some wins (more than just at K-State or at G-Tech or against ND in Chicago) to restore that.
From @Jus10Sarabia: With another soft schedule, do you think Houston has a chance to run the table again?
I don't see it. They lost too many talented and experienced players on offense with Case Keenum and all those receivers departing. I expect Tony Levine to do a good job there and keep things rolling at UH as it prepares to make the jump into the Big East, but Keenum will be missed. By last year, he was literally like having another coach out there running things for the Cougars. David Piland is a sharp guy with some starting experience but there'll be some drop-off offensively this fall because the guys he's throwing to are greener than the guys making all the plays in 2011. One big plus: Charles Sims, the do-everything RB, returns. He's a future NFL player.
Their non-conference schedule isn't scary but they'll face an underrated La. Tech team that should win at least eight this season and UH has to go to UCLA, which has its share of athletes. The rest of the schedule is suspect although their three most talented remaining opponents are all road trips: at SMU, at ECU and at Marshall. I'll say 9-3 regular season.
From Cdulaney85: What do you thing Washington State's record will be this year?
(Full Disclosure: As you all probably know, I co-wrote new WSU coach Mike Leach's book Swing Your Sword.) He inherits a program that has gone 4-32 in conference play and won just nine games overall in the past four seasons. Programs that have struggled as much as WSU has in recent years often have a hard time learning how to win.

Leach, who never won less than seven games in a season in a decade at Texas Tech, has a real uphill battle to get the Cougars to a bowl game in 2012. There is some talent in spots: QB Jeff Tuel has considerable starting experience, has a good arm and probably more mobility than any starting quarterback Leach had at Tech; and the receiving crew is pretty deep with some rangy guys with pretty good, but not great speed.
The past two seasons the Cougars average rank offensively is No. 75 in scoring. I saw the Cougars practice in the spring for a week. I expect them to rank in the Top 20 scoring this fall despite an O-line that is very shaky. Defensively, they've been really mediocre and I don't see them getting significantly better this fall. The D-line is really lacking difference-makers and the linebackers, aside from DE-OLB Travis Long, are undersized and have minimal game experience.
Leach's defenses in his past few seasons hardly resembled Alabama or LSU, but in his final three seasons at Tech, they were actually respectable, ranking an average of No. 55. I don't see what they have in personnel at this point being anywhere close to that level.
My prediction is they'll get to six wins this year. They have a tough opener, at BYU. The Cougars are going to be strong this fall and have a good shot at winning 10 this season. After that, I expect they'll win the next three: vs. E. Washington; at UNLV, vs. Colorado. Then, they get Oregon in Seattle, which along with Stanford in Palo Alto in late October, are the two toughest games since they avoid USC. So after a projected 3-1 start, I see their best hopes of getting the other three wins from this group: at Oregon State, home against Cal; home against UCLA in mid-November, at ASU and home against arch-rival Washington. I think they can go 3-2 out of that bunch. More than 6-6, considering how bad things have been, I just think is too much of a stretch.
From @jrg1372: how many games does joker phillips need to win to keep his job?
It's only Year Three for Phillips, who has a decent record by UK football standards so far: 11-14. But three years seems to be the new five years for coaches. Guys who haven't broken through in their first two seasons can't afford a backwards step in Year Three. I think anything less than five wins is big trouble for Phillips.
They shouldn't do any worse than 3-1 in the non-conference with at Louisville being the closest thing to a very good opponent. They don't get to face Ole Miss this season, which is a bad break since the Rebels were by far the SEC's worst team last fall. The Wildcats do host Vandy and Miss State. The way things set up, Phillips—especially if UK loses the opener at Louisville—may need to win both of those games.
The newly-ranked Tigers and top-10 Hurricanes better watch out this week

Occidental College was reportedly down to 35 healthy players for the 2017 season

Midway through the season, we make some (more educated) predictions for the rest of the ye...
Babe Ruth supporting the Fighting Irish is one of the best photos of the week

Could two teams from the same conference make it into the College Football Playoff?

Given the schedule and recent performance, can anyone in the SEC stop Alabama?