Mailbag: Expectations for Urban in Year One and for Mizzou's SEC debut
Here is the Weekend Mailbag. As always, send your questions to me via Twitter to @BFeldmanCBS: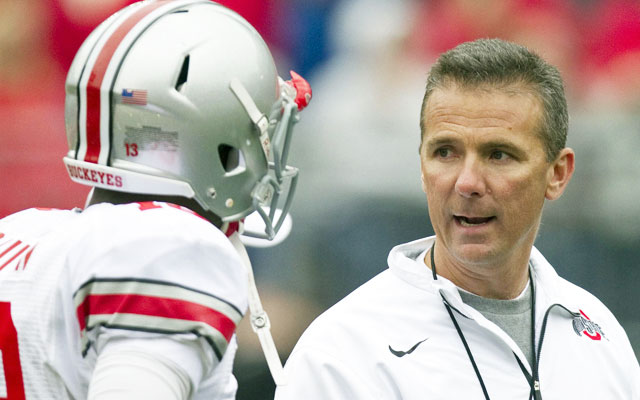 Urban Meyer will make sure the Buckeyes are focused this season.
(US Presswire)
Here is the Weekend Mailbag. As always, send your questions to me via Twitter to @BFeldmanCBS:
From @browns2212: What do you expect out of Urban Meyers first season at Ohio State?
I expect a more focused team in Year One. Meyer's attention to detail and ability to coach his assistants will calm a team that was in scramble mode after a year of disarray. Meyer knows exactly what he's doing. He's also a really sharp offensive coach and that is going to provide a major boost to what was the No. 107 O in 2011. 
He has a lot to work with in Columbus. He has his ideal triggerman in Braxton Miller, although the QB is still very young. The recent injury to Jordan Hall hurts because the Buckeyes staff was excited about his versatility. OSU still has some options behind Hall though. Carlos Hyde is a capable back and I know the staff is intrigued by the dimensions that big Zach Boren provides. The 250-pound Boren showed in the spring that he wasn't just a blocker, he can run the Inside Zone and also can be one of those X-factor, moveable pieces that Meyer and OC Tom Herman are looking for.
The best thing Meyer has in Year One is an experienced, talented defense, which returns eight of their top nine tacklers from last season. The D-line, led by Jonathan Hankins and John Simon, should be superb. Special teams, another underrated aspect of Meyer's portfolio, also will be improved.
Traditionally, Meyer's big year has been his second season at his previous coaching stops, but expect at least a few more wins than last year's 6-7 mark. I'll say the Buckeyes win at least nine this fall. There are three tricky road games—at Michigan State, at Wisconsin and at Penn State. They host Michigan and Nebraska. I don't see them losing more than three of those five at worst. Not with that defense and not with Meyer in charge. 
Oh, and I also expect Ohio State to snatch away a long-time commitment or two from someone else in late January.
From @mactiger1983: How do you see Missouri doing in their 1st year in the SEC?
James Franklin is a talented kid and plays in a very good scheme. Assuming he's back from his shoulder injury, and reports this week said he was on track, I expect him to emerge as one of the better QBs in the SEC. He also has some underrated skill guys around him. I am curious to see how big of an impact Dorial Green-Beckham, the 6-6, 220-pound wideout who was the nation's top recruit last year, makes. His skill set screams difference-maker. DGB+Mizzou run game=headaches for defenses (yes, even in the SEC). 
The big question is Gary Pinkel's defense. Does it have the depth and toughness to thrive in the SEC? I know this: it's not an undersized group. It has size across the front four and one of the bigger secondaries in the conference. The guy I'm most interested in is DT Sheldon Richardson, who was as hyped as any SEC defensive tackle recruit. He's a big, explosive player but can he live up to the expectations? It's time to find out. There is some quality guys in that front seven around him, though: DE Brad Madison is a very good player as are LBs Andrew Wilson and Zaviar Gooden.
They don't have to play LSU or Arkansas, which is a nice break. They get Alabama and Georgia at home. That Week Two visit from the Bulldogs is intriguing. UGA should have a ferocious D, but the Dawgs figure to be missing a handful of key defenders while serving suspensions. The one other point worth mentioning that dogged Mizzou beat writer Dave Matter noted, Georgia is just 10-12 away from Athens the last three years.
My hunch on Mizzou is 7-5, but if they can get past Georgia, the Tigers probably shouldn't be worse than 5-2 with the remaining five being against no teams in the Top 20—although I expect both Tennessee and Florida (both games are on the road) to be fringe Top 25 teams.
From @Bradf79: When is the last time a true freshman led their team to a conference championship? Thinking OKState – Lunt
I believe Terrelle Pryor, the Big Ten's Freshman of the Year in 2008, was. He sparked Ohio State to a share of the Big Ten title and a Fiesta Bowl berth.
From @sjolman21: if Michigan gets consistent qb play can they compete for a national champ?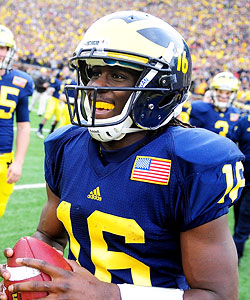 No question, Denard Robinson wasn't as dynamic or as sharp last season as he was in Rich Rodriguez' offense the previous year. He just didn't look as comfortable or as confident, and his passing stats certainly underscore that. As a sophomore, Robinson connected on 63% of his passes and had a decent 18-11 TD-INT ratio. Those numbers dropped significantly to 55% and 20-15. He also took almost twice as many sacks (13 vs. 7) as he did the previous season, which also hints at a level of indecision.
No doubt, he has to avoid his penchant for floating the ball up for grabs if the Wolverines have any hope of being a legit BCS title contender. But even if he has a season similar to one he had in 2010, both as a runner and as a passer (which considering how much they rely on Fitz Toussaint now is probably unrealistic), the defense still has to make another leap forward, which is asking a lot.
The impact Greg Mattison had in Ann Arbor last season was as dramatic as any coordinator made on a unit in 2011. That, more than anything, turned Michigan from a 7-win team to an 11-win team. The Wolverines went from 108th in scoring defense to No. 6, which is remarkable.
But, the reality is Michigan still wasn't at the level of those truly elite defenses we saw from Alabama or LSU. The Wolverines were pretty good against the run (No. 39) but certainly not outstanding. They didn't have a knack for producing those drive-killing negative plays (they ranked No. 68 in TFLs). They allowed over 500 yards to a Notre Dame team with major QB issues. Michigan State ran for over 200 yards on them and beat UM by two TDs despite committing 13 penalties. They surrendered 34 points and almost 400 yards of offense to a really struggling Ohio State O that ended up 107th in the country in total offense.
The good news is that five of the team's top six tacklers return. The bad news: strongman Mike Martin, the anchor of the defense the past few years, is now in the NFL.
I expect Michigan to be good again this year, but just not good enough on defense to be a Top 5 team. At this point, they don't have enough difference-makers to be a BCS title contender, especially along their defensive front. Maybe they'll surprise a lot of us though. We'll find out right away if they're legit. Alabama has the most physical style in college football on both sides of the ball. The Tide has the country's best offensive line returning. I am very curious to see what kind of answers Mattison can come up with.
From Wade Terry (via e-mail thru brucefeldman.com): Despite the success and positive vibes from last season, what's the explanation for the falling expectations put on K-State?
I think there are two big reasons for that: One, for as much respect as people have for coach Bill Snyder, I feel like there is a strong feeling that the ball bounced the Cats way a lot more than normal in 2011. Remember, the Cats (10-3) were a staggering 7-1 in games decided by seven points or less.
Some years, teams, whether it's chemistry-related or just luck, seem to win every tight game. The following year, things don't seem to go quite like that. Of course, Snyder deserves—and received—much of that credit last season, but to expect that they'll be as successful in such tight games I think is a reach. Of course, I could be wrong. The Cats proved me wrong for three months last year.
Second, their Big 12 schedule does not set up well for them. They have to visit Oklahoma, TCU and West Virginia, who are each in my preseason Top 10. I'll be surprised if they win more than one of those three.
I have K-State towards the bottom of my Top 25. My expectation is 8-4 and that's on the strength of Snyder and Collin Klein, who is one of the game's most productive QBs. A few months ago, I spoke with Jamie Blatnick, the former Oklahoma State standout. I'd asked Blatnick, who had faced Andrew Luck, Robert Griffin III and Sam Bradford, who was the toughest QB he ever had to prepare for. His answer surprised me: "Collin Klein because he can really run and is tough as nails."
That said, the O-line has had to be overhauled and they do have to replace three of their top four tacklers from 2011.
From @dgm591: What is Vanderbilt's ceiling as a program in next 5 years based on what they are doing now + your visit last week?
I'm not quite sure. If you'd asked me this three years ago, I'd have said they probably can hope to be a fringe Top 25 team and occasionally sneak into the Top 20, but maybe that's not their ceiling.
When I visited Vandy last weekend, I was startled at how much more impressive the facilities are now than a few years ago on my last trip. The Commodores new lockerroom rivals any I've seen around the country. The offices look like that of a top program. They're doing all of the window dressing to spruce up the facilities to make it look big-time too. They have a new indoor facility set for 2013. The stadium isn't huge, but Autzen, where Oregon plays only seats 54,000 and TCU's revamped home holds just 45,000 and both of those programs can compete for national championships. On top of that, Vandy is set in one of the best cities in the country, Nashville, which is a big selling point as is one of the most prestigious degrees in all of major college football. 
One thing Vandy O-line coach Herb Hand pointed out to me when I was touring the place was how mindful they are of Stanford's rise. Remember, Stanford was 1-11 in 2006. The program went from there to 4-8, 5-7, 8-5 and then 12-1 to last year's 11-2. That shows it can be done at an elite academic institution playing major college football if you recruit the right people, develop talent and make shrewd coaching moves. Now, it should be noted that Stanford rose up in the Pac-12, whereas Vandy plays in the SEC, which is a much stronger conference at the top. 
James Franklin has wasted little time proving he knows how to run a program. The Commodores went 6-7 and played in the Liberty Bowl in his first year after taking over a program that had gone 4-20 the previous two seasons. He also created a big buzz on the recruiting trail. He beat a bunch of SEC schools for scatback Brian Kimbrow, who pretty much everyone in the country had offered. They snagged blue-chip O-lineman Andrew Jelks away from Tennessee, which was surprising considering the kid's family were die-hard Vols fans. Those were big statements for Franklin in Year One. And now he not only has some momentum but kids have seen Vandy be competitive--they almost beat UGA, Arkansas and Florida in the Swamp. That whole vibe about 'same old Vandy' is more for fans and older people. To recruits, they barely have awareness of things more than five years ago. I doubt many top kids in the recruiting class of 2013 remember Alabama before Nick Saban.  
This year's recruiting class is off to an even better start. QB Johnny McCrary is highly regarded so is California QB Chad Kanoff, as are a few of the receivers (Carlos Burse and Dominic Walker) committed who look like the kind of athletes Top 25 teams have. In Landon Stokes and Jonathan Wynn, they have a pair of athletic, rangy defensive ends that project to be forces in the SEC down the road.
We'll see how the recruits develop. Who knew outside of a few staffers in Palo Alto that David DeCastro would blossom into a star or that Coby Fleener would? Or Jonathan Martin? People knew Andrew Luck was talented, but could be that special? The other big key, as we've noted from Stanford's rise, is for this group to have the toughness and the cohesiveness to develop together. But there are some encouraging signs that this program can at least have the success Northwestern has had in the past decade, if not reach the level Stanford has. I know that sounds pretty far-fetched, but so did Stanford doing what it has done in the past five years. It's something of a long-shot at Vandy no doubt, given the heft of the SEC football factories, but there is hope.
From @TwoSouthernUtes: Utah is a 16 point dog against USC in October. It's in SLC on a Thursday night, does Utah have a chance winning this game? 
The Utes have a decent shot. They're my pick for No. 2 in the Pac-12 South. They have an experienced QB in Jordan Wynn, a dangerous runner back in John White and arguably the best defensive lineman in college football in Star Lotuleilei, who can take over a game. The Utes have a lot more weapons than just White too. Their top six receivers all return. And, as you point out, it is a home game. Utah is 25-5 at home.
Crazy things sometimes happen in those Thursday night games. A few years back Oregon State stunned USC on a Thursday night road game. I'm not predicting another upset, but it wouldn't shock me. Utah has talent and experience.
From @atferg_ferg: Better for the perception of the B 10? Mich playing Bama to a close tight loss or msu hammering Boise? Go Bucks!
It'd be Michigan beating Alabama. That would do wonders for the Big Ten's rep. Close losses don't do much. As for the Michigan State-Boise State game, the Broncos are in re-load mode, having to replace Kellen Moore and most of the best players off their defense. It's a Spartan home game too. I'll be surprised if MSU doesn't beat them by at least double-digits.
From @marleymarl73: Should the NCAA step in and do something about what happened at PSU?
Yes. I explained why I feel like the NCAA needs to weigh on this too. My colleague Bryan Fischer made his case why Penn State needs the Death Penalty. He also made a good point on Twitter responding to someone who thought this matter is outside of the NCAA's role since the law will come down on the perpetrators that I think is worth repeating:
"People will be held accountable by authorities. But the authorities won't do anything to punish the culture that was created"
From @jimanddarcie: Its sad how everyone is treating Joe as if he was the pedophile. Shame on everyone involved. Penn State is responsible not Joe
No, the really sad part is how many more children became victims because, as the Freeh report detailed, Joe Paterno and the other three men in power at Penn State coddled and enabled a monster. The report established that Penn State changed plans to alert authorities after consulting with Paterno.
"The facts are the facts," said Louis Freeh. "(Paterno) was an integral part of the act to conceal."
Robbie Robinson has not been enrolled at ASU for more than a year

Rutgers' offensive line challenged a local curling club to a match

These five teams have the best chance of being the Group of Five darling this coming year
Drevno had been running the Michigan offense for three seasons

Aaron was reportedly shot while trying to protect his girlfriend when a fight broke out at...

An assistant-by-assistant look at changes Saban made to the Tide's staff ahead of 2018