Mailbag: Gators offense will have bite; which league is second-best?
The Florida offense, Auburn's turnaround hopes, the USC QB and A&M's chances IF the Aggies don't have Johnny Manziel are all hot topics in this week's mailbag.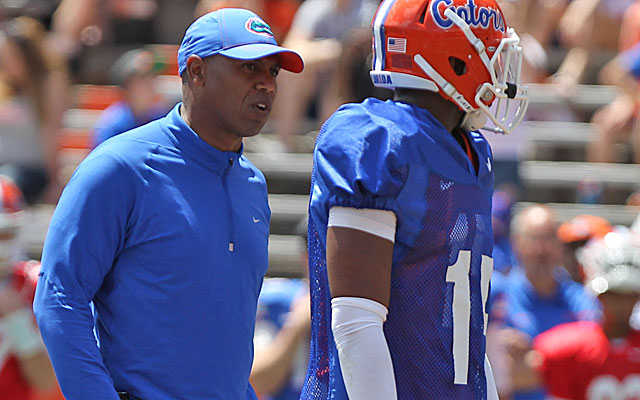 Here is this week's mailbag. As always, you can send questions to me on Twitter to @BFeldmanCBS:

From @NAWTADIGM: Gators. Can their offense improve without saying LOL at the end?

I definitely expect the Florida offense to be much better in 2013. And that is a big reason why I picked the Gators to win the SEC East -- although their run of injuries this month has given me some second thoughts.
Reasons for optimism: The O-line, especially the interior of it, is very strong. It's also the second year in the system for QB Jeff Driskel. That's a big plus. So is the addition of WR coach Joker Phillips. Keep in mind, right before the season last summer, UF WR coach Aubrey Hill resigned in the wake of the Miami investigation so the young Gator wideouts were basically coached by a grad assistant for 2012.

From @ChazThomas5: top 5 most overrated/underrated teams ranked preseason vs likely rankings post bowls

Going off the first Coaches Poll, the five teams that were higher than I'd have them: Georgia (No. 5); Notre Dame (No. 11): Oklahoma State (No. 14); Nebraska (No. 18) and Wisconsin (No. 23).

The teams I thought were a bit undervalued were Clemson at No. 8; Texas at No. 15 and then three unranked teams, Baylor, Miami and Fresno State.

From @amwright6: who is your dark horse heisman candidate this year? The one guy no one is talking about.... YET.

Given the recent history of some Heisman winners coming from way off the radar as Johnny Manziel did just last season, this is a fun question for this time of year. (I believe a reason why we've had a few guys rocket up to win the Heisman of late is because players are able to get more momentum from buzz that builds online and via social media. Much of that was the case with Johnny Football in 2013 or RG3 the year before. One huge showing in a high-profile TV game can get people, voters included, fired up.)
Sifting for "darkhorses" who no one is talking about is pretty vague, so I took the list of the summer Heisman odds where Bovada listed two dozen candidates all the way down to the 40-1 guys. Any player who wasn't on that list I figured was fair game.

My top darkhorses: Georgia RB Todd Gurley; FSU QB Jameis Winston; Baylor QB Bryce Petty and Texas QB David Ash. Behind them, I have Northwestern's versatile Venric Mark; Oklahoma's Damien Williams and Fresno State QB Derek Carr.
I like the way things could shape up for Winston and Gurley a lot better than many of the other guys who are listed at 40-1 or better.

From @johndavenportvo: how much improved will Auburn be under Malzahn?

My hunch is Auburn in 2013 makes a similar jump that Ole Miss did last year after Hugh Freeze, another former Arkansas State head coach left the Sun Belt and returned to the SEC. Gus Malzahn will significantly improve the QB play and bring an identity back to the Tigers program. They also still have some athletes in the front seven. I think they can win seven games this fall.

From @CoachHuddleston: Media perspective of top conferences? SEC followed by...?

After winning seven BCS titles in a row, it'd be ridiculous to try and claim that any conference other than the SEC is tops. Going into 2013, I expect the next best league to be either the Pac-12 or the Big 12.
The Big 12 is much more balanced, but I don't see a true top-10 team in the league this season, whereas the Pac-12 has two elite teams (Stanford and Oregon). A wild card in the race for the No. 2 slot this year is the ACC. The league finally has a strong group of quarterbacks, especially at Clemson (Tajh Boyd), Miami (Stephen Morris) and UNC (Bryn Renner), and I expect FSU's Jameis Winston to back up the mounting hype around him. I could see the ACC with three teams in the top 15 by season's end.

From @mengus22: how far from #2 do you drop  Texas A&M if Manziel is ineligible?

With Johnny Manziel, the Aggies are a legit BCS title contender. Without him, I don't see them as a top-15 team and probably more of a fringe Top 25 team. Their defense is average, by SEC standards, because they are so young. They do have a good O-line and some impressive skill talent. I've heard freshman WR Ricky Seals-Jones has wowed people there, and the combo of him and Mike Evans, another imposing young target, will make life easier for an inexperienced QB. I've also heard really good things about true freshman QB Kenny Hill.

He's very bright, has had great coaching at Texas powerhouse Southlake Carroll and is already well-versed in the no-huddle attack. Hill thas a good arm and can run -- although not like Manziel.
Looking at the Aggies schedule, it's a stretch to see them as much of an underdog to anyone aside from Alabama and at LSU. But without Manziel's play-making wizardry and experience running the system, the Aggies' margin for error shrinks considerably. Games against SMU, at Arkansas, at Ole Miss, against Vandy and Mississippi State and at Mizzou all get that much tougher. With him, I bet they'd win all six of them. Without, I suspect they'd drop at least one of them.

From @plh55: who do you winning USC QB battle? I would like to see Kessler win because more mobile and less risks than Wittek's big arm

I feel like USC would prefer that Max Wittek win the job because his style -- the 6-4, 240-pound sophomore has arguably the most powerful arm in college football -- suits what the Trojans are most comfortable doing in the passing game, but Cody Kessler played very well in the spring and has continued to do so this month. He hasn't been easy to beat out.
Both QBs know it's key to avoid turning the ball over and each has done pretty well on that front in camp. My guess is Wittek eventually gets named the starter.

From @techastech: have you ever been to Wrigley?

Kinda. Three or four years ago, when I was in Chicago for the Big Ten media days, I hopped a cab over to Wrigley with my buddy Mark Schlabach, a diehard Cubs fan. We stopped off at a few local bars to have a beer or two before trying to buy tickets on the street. I think at some point around the third inning of the game, we had the opportunity to spend $50 on tickets or more beer. Beer won that night. At some point I'll get into Wrigley.


Guice was ruled out for Saturday but convinced Ed Orgeron to let him play in a limited rol...

Greg Huegel suffered a knee injury during Wednesday's practice

The Wildcats and Utes open conference play on Friday night
Eichorst's firing on Thursday sets Riley's seat ablaze, even if a decision won't be made i...

Eichorst had been at Nebraska since 2012

Three straight titles makes it seem like 'Alabama and everybody else' in the SEC