Mailbag: Hot coordinators; Baylor's BCS watch; Canes' relief
Looking for the next Kliff Kingsbury is a hot topic, and no doubt something that has also crossed many ADs minds, especially as they size up Clemson's Chad Morris, Ohio State's Tom Herman, Oregon's Scott Frost, Alabama's Kirby Smart, Michigan State's Pat Narduzzi and a few others.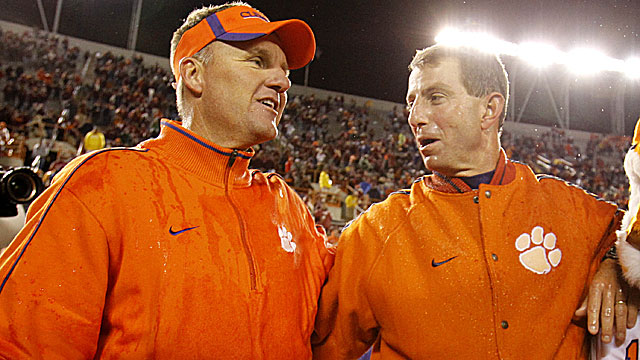 Here is the Weekend Mailbag. As always, you can send questions via Twitter to @BFeldmanCBS:

From @Pcon34: who's the next Kliff Kingsbury to come out of the coaching ranks? Coordinator to get a big job?

I suspect there will be a bigger wave of rising OCs than DCs out there this winter on AD's radar considering offensive guys tend to be easier sells to a fan base than defensive guys. Fans will be more patient with high-scoring games rather than 10-6 snoozers. My list of rising OCs to keep an eye on are: Clemson's Chad Morris, the former Texas HS coach who probably saved Dabo Swinney's job a few years back; Baylor's Phillip Montgomery, Art Briles' right-hand man who is well-schooled in the nation's No. 1 offense; Ohio State's Tom Herman, one of the brightest guys in football and now well-versed in Urban Meyer's system; Oregon's Scott Frost, like Montgomery, has the proverbial secret sauce--and that can be a great selling point; and a wildcard in this group UCLA's veteran OC Noel Mazzone.

The top three names on my defensive list are Michigan State's Pat Narduzzi, Stanford's Derek Mason and Alabama's Kirby Smart. Another one to watch is FSU's Jeremy Pruitt. These guys just get great results every year. In Narduzzi's case, you'd think the Spartans might be a 4-8 team annually without given how mediocre MSU's offense has been.

Many of these guys on this list will have some opportunity to run their own program this winter, but the key question is will those offers come from places where they'd want to be the head coach? Or would they opt to wait for bigger jobs? Many of the above group already make more as coordinators than they would as head coaches at mid-majors.

From @J_Anstey: If Baylor goes undefeated, how big do they have to beat Tech, OU, and OSU to make it to the NCG? Assuming Bama, FSU or UO loses.

If all three of those teams -- Bama, Florida State and Oregon lose--the Bears need to hope Miami has a loss too especially if the Canes are the ones to knock off the Noles. The Bears also need to hope that Mizzou isn't an unbeaten SEC champ because if that's the case, the Tigers are definitely leap-frogging Baylor too.

At this point, I think whether Baylor beats the Oklahoma schools and Texas Tech by seven or 37, pollsters would still discredit the rest of the Big 12 and a bad non-conference schedule for the Bears would be held against them. Obviously, the more convincing they are, isn't going to hurt their cause, but my hunch is they still probably end up ranked behind Ohio State -- if the Buckeyes also win out. And CBS' BCS expert Jerry Palm agreed. Of course, the Bears just need to be in the top two, not No. 1 to make it into the BCS Title Game.

From @gangrey: Diagnose Oklahoma State's offensive troubles?

Honored to see a question from former college football player-turned-superstar writer Ben Montgomery here. (If you haven't read any of Ben's work, it's well worth the time. Start with his blog.)

So about Oklahoma State's shaky offense. It's been a rocky debut season for new Cowboys OC Mike Yurcich, who has made the jump up to major college football and left many OSU fans scratching their heads.

Yurcich was determined to ramp up the Cowboys no-huddle system even faster, but it's been a problem since their wideouts have been banged up. Worse still, the O-line has had some issues too which started by losing LT Devin Davis before the opener with a season-ending knee injury. They've had to break in three new O-line starters this fall: Travis Cross, Chris Grisbhy and Paul Lewis, which helps explain why OSU is No. 95 in the country in rushing. (They were No. 21 in rushing last season.)

Jeremy Smith is also the only big-time RB they seem to have right now and the QB shuffle isn't working so well anymore between dual-threat guy J.W. Walsh and the better passer senior Clint Chelf, who is more comfortable taking shots downfield. The Cowboys have managed just six plays of 40 yards or longer in six games. Last season they had 20.

From what I've heard this is an offense that doesn't know its identity. It can't find out who--or what--it is. And it's only made things harder that they seem to be changing everything up week to week. Has Mike Gundy gotten more involved in the offensive staff room? Is that ultimately a good thing or a bad thing? We'll see. The schedule is about to heat up quite a bit now with a lot more chips on the table.

From @BKnight2: Just how good should Miami feel about the NCAA's announcement this week?

UM should feel, more than anything, relieved. This investigation began back in 2009. In college football context exactly how long ago was that? Lane Kiffin was still popular in Knoxville and the Big 12 still actually had 12 teams. In addition, something else major also happened in that time. The Penn State-Jerry Sandusky scandal came to light, and in truth, the gruesome Penn State story made everyone who follows college sports re-think our definition of the word scandal.

Still, the dark cloud of rampant speculation hovered, and so whenever Miami was involved in a recruiting, someone gloom-and-doom talk no doubt would follow from rival recruiters.

In the end, this case--which the NCAA admittedly botched in spectacular fashion--dragged on so long that Miami was able to come across as pro-active given that UM self-sanctioned two post-seasons and three post-season games (including 2012's ACC Title Game). And yet also in the wake of the NCAA's dubious enforcement methods, things riled up UM president Donna Shalala enough to the point where she publicly came at the NCAA in a way no other college administrator ever had. Intentionally or not (I'm pretty sure it was the former), the threat of another law suit probably spooked an NCAA leadership already up to its forehead in high-profile litigation.

I'm curious how Miami proceeds from here. Al Golden did an excellent job how he handled almost everything in the face of an ugly mess (the Shapiro scandal) right through to his statement Tuesday, re-affirming his thanks to the players and their families for signing on with Miami in the face of all this. Miami's undefeated and ranked in the Top 10, but it still feels like Miami isn't back yet. I'm on record as saying Canes fans should hold off on any such proclamation till UM wins another national title. I do think the Canes are getting there, but until the defensive front is loaded with difference-makers, this program is still not there yet.

From @JNGerhart: why is Missouri #5 when they've simply benefitted from big name teams, emaciated by injury, to build a "proven resume"?

They still beat those teams, and even with all of the skill guys Georgia was missing, the Dawgs still were led by one of the most prolific QBs in SEC history (Aaron Murray) and it was on the road in Athens. Florida also still had a bunch of impact players on defense and Maty Mauk and the Tigers hit on a bunch of big plays on them and rolled up 500 yards of offense. That said, I can see why folks are still skeptical about Mizzou even though the Tigers have an outstanding, deep group of D-linemen, led by Michael Sam and a huge crop of gifted receivers. But let's not forget that no one has been within 15 points of the Tigers all season.

Chip away at their schedule because of the injury-hit Georgia and Florida squads, but the Tigers' slate is hardly less impressive than the teams Baylor, Texas Tech and Ohio State have faced.

From @JasonW1856: Why have acting ADs on the playoff committee? Do they really have time 2 know enough about all the other teams to make choices?

The leadership of the sport feels like it wanted a mix on the committee. They believed that some of those administrators work well on the college basketball selection committee and are adept at building consensus. I'm sure the CFB brass feels like if they can go through the entire college hoops field, it can figure things out from what will be a much smaller batch of candidates.
Love was second in the nation in rushing with 2,118 yards in 2017

It looks like Jennings is slowly making his way back to the Vols after being dismissed last...

Offensive coordinator Brian Daboll's departure to the NFL has left a void at Alabama
Wilkins was considered a potential first-round pick in the NFL Draft

Brown will have two years of eligibility remaining

Chip Kelly has added some talent to his quarterback room from within the Pac-12