Mailbag: How hot is Chizik's seat? The Hogs' next head coach?
Here is this week's mailbag. As always, send your questions to me via Twitter to @BFeldmanCBS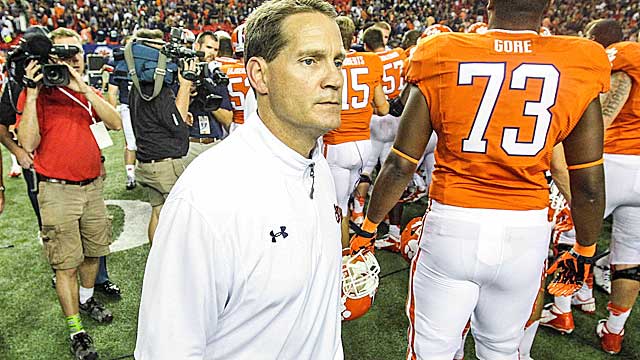 Chizik is just 22-32 without Cam Newton as his starting QB. (US Presswire)
Here is this week's mailbag. As always, send your questions to me via Twitter to @BFeldmanCBS:
From @Servantonice: Is Chizik on the hot seat after our worst start in decades?
Hard to fathom that after winning a BCS title in 2010, there could be serious rumblings about Gene Chizik's job security at Auburn less than two seasons later, but make no mistake, the pressure is mounting. The biggest question Chizik faces is, can he win without Cam Newton? With the Heisman Trophy-winning QB, Chizik was 14-0. Without him, he's 22-32 all-time. Those are some very jarring numbers, especially when you coach in a state where Nick Saban is leading your archrival.
By all accounts, Chizik's staff has recruited very well, but the performances of late on the field have not reflected that. Chizik's hired a new offensive coordinator, Scot Loeffler, this season after Gus Malzahn took the Arkansas State job. Thus far, the results have been horrible. The Tigers are ranked No. 114 in scoring. They're not good at running the ball and have been abysmal in the passing game.
In fairness to Chizik, the Tigers had a rough opening four games to their schedule. The closest thing to a cupcake -- Louisiana-Monroe -- is no cupcake at all we've learned. After that, the next easiest game was at Mississippi State. On the bright side, they played hard and hung with LSU to the end last week before losing 12-10. The bad news: they're still only 1-3.
The next four games are going to determine just how hot Chizik's seat really is. None of the opponents are ranked: Arkansas, at Ole Miss; at Vandy and Texas A&M. Given how dreadful things are around John L. Smith's team right now, you'd have to look at this stretch and think, a good team comes out of here no worse than 3-1. If Auburn comes out of this 1-3 or worse, I wouldn't put anything past the Auburn power brokers on pulling the plug by season's end. Stuff would get very real then. Some of those guys who throw their weight around down there may even be tempted to dial up Bobby Petrino.
From @JustinPhillips: with USC and Stanford both losing, how much will that effect Oregon in the BCS rankings if they continue winning?
It certainly doesn't help the Ducks' prospects as it relates to potential BCS poll position as more data filers in over the course of the season. Thursday night's Washington upset of Stanford underscored some concerns a lot of football people had about the Cardinal. Namely could, if need be, Josh Nunes win a game if everything was stacked against him. As I said earlier in the week, that place can get really, really loud and it was Nunes' first road test.
Pollsters have a lot of respect for the Ducks, though. That happens after you've had a run of outstanding seasons in the recent past. Still, when you look at the remainder of their schedule, you see three teams ranked in the top 25: No. 13 USC; No. 8 Stanford and No. 18 Oregon State. (And yes, Stanford is about to drop.) But there's a long way till the Ducks face any of them. The Beavers could keep surging and emerge as a Top 10 team. USC could get center Khaled Holmes back and go on a roll of dominant performances.
What certainly would help the Ducks' cause is for USC and/or Stanford to beat Notre Dame which would give a little boost to the Pac-12 credibility while also snuffing out Irish dreams.
Duck fans, though, need to be worried about their team just winning games, not schedule strength or style points right now. But if you want to contemplate such things . . .
What does hurt a little is after this week's game against Washington State, the Ducks face Washington. Even though Steve Sarkisian's team is coming off Thursday night's big win over Stanford, it's also not that far removed from its 41-3 thrashing at the hands of LSU. That said, I didn't see anyone being ranked above an undefeated SEC champ this year regardless. That's what happens when your league wins six BCS titles in a row. Also within the context of that, with USC already having a loss, if the Trojans still emerge from the Pac-12 South Division and Oregon has to -- and does -- beat them twice, USC would be, at best, 10-3, I'm not sure that would make them a top 10 team and the Trojans' worth would be undermined to a large extent.
Oregon's biggest threats to getting that No. 2 BCS slot would potentially be Florida State and a Big 12 undefeated champ. Right now, it's so early that the Big 12 has a bunch of them. The FSU vs. Oregon dynamic will be interesting to monitor though.
From @babcocksmash: IF, and thats a BIG IF, ND can run the table, do they get a shot at the BCS champ game over a 1 lose oregon, LSU, or USC
For starters, if Notre Dame's undefeated, you wouldn't have a one-loss USC team, because, at best, it'd be a two-loss USC team, unless you're referring to South Carolina. In that case, I suspect an unbeaten Notre Dame would trump all one-loss teams in the BCS rankings.
And yes, right now that seems like a very big 'if' considering how shaky Notre Dame's quarterback play has been. Notre Dame's defense, though, has been terrific, forcing 12 turnovers (second-best in the country) and only one short of what it did all of last season. What's interesting here is now, less than one month into the season, every supposed elite team on the Irish schedule has been exposed to some degree. USC, Stanford and Oklahoma all look much more vulnerable than they did two or three weeks ago. Unfortunately, for ND, none of those teams may prove to be Top 10 squads by season's end but it'd still be no stretch to think that the Irish would've beaten five teams ranked in the Top 25 as its stands come early December. And I think that would be plenty. A better question could be: If Notre Dame, FSU, Oregon and a Big 12 champ all go undefeated, which would be ranked highest?
From @razorhog29: Who do you think are some legitimate candidates for the Arkansas job?
Charlie Strong is definitely one to keep an eye on. He's originally from Arkansas; has coached in the SEC and is doing a nice job at Louisville. He's also in a conference that has gotten marginalized and Arkansas is a much bigger job. Sonny Dykes is another guy at a smaller program whose name has gotten hot and should continue to heat up as wins pile up this season. More options from the mid-major ranks: Western Kentucky's Willie Taggart, Northern Illinois' Dave Doeren and FIU's Mario Cristobal. One possible wildcard: AD Jeff Long also may give a long look at Art Briles.
As for the coordinators to consider, I'd think he may check out Alabama DC Kirby Smart, Texas' DC Manny Diaz and Clemson OC Chad Morris. Also, Long is aware that he may be competing with Tennessee in the coaching market this winter with the walls seemingly closing in on Derek Dooley.
From @mactiger1983: How do you rate Missouri's season so far?
It's been a dud. They've played two SEC East opponents and lost to both by three TDs. The only saving grace was the Tigers did beat ASU, 24-20. Still, their performance in SEC play thus far shows you the Tigers aren't ready to be an upper echelon SEC team, much less a division contender. They look as mediocre as SEC die-hards figured they'd be.
The Tigers offense has been considerably worse than their stats indicate. Keep in mind, they scored 62 against Southeastern Louisiana in their opener. That's eight points more than they've scored in the rest of their games combined.
They've had QB issues as James Franklin has been banged up. They've really missed OT Elvis Fisher, which has rendered the Tigers O-line woefully overmatched at times. I spoke to an old pro personnel guy who watched the Tigers-Georgia game, who said Mizzou's technique was so bad, they didn't stand a chance protecting against the Dawgs. They've also struggled to do much of anything vertically in the passing game. Where is uber blue-chip WR Dorial Green-Beckham? Six catches for 48 yards in four games? Seriously? Can they find a way to get him the ball? Worse still, they have been really shaky on kick coverage. They just look shell-shocked as they've moved onto a bigger stage.
Still, with UCF up next and home games remaining against Vandy, UK and Syracuse, Mizzou has a decent chance to get to 6-6 and a bowl game. Yawn. Short of winning at Tennessee or Florida or shocking Alabama, this season will have to be considered a big downer for Mizzou fans.
Weinke was injured when Florida State lost to Tennessee in the 1999 BCS title game

It was one of the busiest offseasons for the assistant coaching ranks

Oliver's star has already been born, but 2018 is when it will truly be recognized
Craig Kuligowski is reportedly leaving Miami to take the same job with Alabama

BT Potter is about to be very popular in the Clemson locker room

McElwain will coach receivers and help coordinate the offense for the Wolverines