Mailbag: How many wins for Ohio State? The Texas QB situation? An early signing period?
Here is the weekend mailbag. As always, send your questions to me via Twitter to @BFeldmanCBS: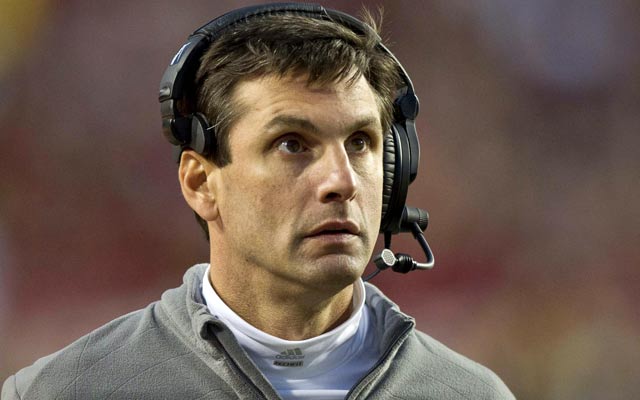 Vols coach Derek Dooley probably needs at least eight wins to stay off the hot seat.
(US Presswirwe)
Here is the weekend mailbag. As always, send your questions via Twitter to @BFeldmanCBS.
From @jason_adams: over under in wins for ohio st with urban meyer taking over?
Urban Meyer has a dangerous young QB to run his system in Braxton Miller. He doesn't have elite skill guys right now, but I expect the defense to be pretty fierce. I expect a 4-0 start before they stumble at Michigan State. My hunch is the Buckeyes will be 8-2 heading into mid-November with a road trip to Wisconsin followed by Michigan. I'd set their over/under at nine wins. I'm going with 9-3.
From @travisfossett: Is Texas in same "rut" LSU was in with no solid QB options? How can those schools go through 3+ year drought at QB?
We'll see how David Ash and Case McCoy develop in Year Two. Most QB struggle in their first seasons playing college football, especially when they don't have much time in a system. Making it even more challenging was the fact that UT was so young last season. Remember, the Horns played 18 true freshmen in 2011—most in the country.
Ash finished the year on a high note, winning offensive MVP honors of the Holiday Bowl. We knew he was a very good runner, but can he become a more accurate and efficient passer? Listening to an interview Mack Brown did earlier this week, it sounded like he was encouraged by the strides both young QBs made and they'll be better than a year ago. Will either eventually blossom into a star? It's too soon to tell.
As for how such high-profile programs can have QB "ruts" . . . one or two recruiting decisions can set a program back quite a bit when it comes to quarterbacks. I don't think anyone would think UT goes 5-7 two years ago if UT didn't bypass Texan Andrew Luck in favor of going all in on 2009 recruit Garrett Gilbert, a prolific local QB or only offered fellow Texan Robert Griffin III as an "athlete." Put either one of those QBs on the UT roster the past three seasons and the Horns probably are in back to back BCS bowls, not with a combined record of 13-12. On top of that the 2010 QB recruiting class nationally was not strong and options were limited. Would they be in better shape if they ended up with Texan James Franklin (now the Mizzou starter)? Maybe. We'll see how these young QBs develop.
The recruiting process with QBs gets complicated because they often are intertwined. Coaches sometimes recruit around touted quarterbacks, so there's sometimes a gap, which is the staff's way of showing commitment to some blue-chip QB. They may hold off on chasing a guy in the previous class just so they can tout that to the kid they really like. It can backfire in a big way though when a targeted QB doesn't develop or gets injured or simply doesn't prove to be an elite quarterback, by creating a gaping hole in your depth chart. This actually was a key factor to why things went south with FSU in Bobby Bowden's last decade. They missed on a QB, were forced to count on Chris Rix before he was ready and it knocked things off track for a long time.
From @malbrizio: What are the chances the NCAA ever adopts an early period for football? What are the hurdles?
There's a decent chance of that, although I've heard from guys in the coaching world lots of speculation on both sides. I think it'd actually be more trouble than it's worth.
I remember when I worked on "Meat Market" the recruiting cycle of when the Ole Miss staff had started extending most of their scholarship offers had shifted about two months earlier than it did the previous year. Other schools were following suit. And that was five years ago, things have only become that much more rushed and frenetic as ultra competitive coaches try and out-scramble their brethren. You know the drill: be the first to offer, and then play the loyalty card with the kid and his family.
The problems that arise from that is the staffs know little about how a recruit's transcript will shape up because so little work has been completed. You have a pretty big gray area. You also have even more speculation about how these kids, literally kids at that point, are going to mature physically and mentally. Those are a lot of murky factors on both sides. And, if you have an earlier signing period it'll only mean schools will try and get in front of each other that much sooner.
Then, there is the factor of the timing of when the early signing period would be. A lot can change with a coaching staff between Nov. 1 and Feb. 1. In the case of the college basketball early signing period, coaches aren't getting hired and fired between those times, they often do in college football. And, for as much as people like to believe that recruits commit to colleges, many really commit to coaches and systems as much as anything else.
From @PaulCostanzo: Gut feeling, is (Everett Golson) the starter?
Yes, my hunch is Golson will end up being Notre Dame's starting quarterback this year and for the next three years after that. For more on the redshirt freshman, check out this feature from the South Bend Tribune. It was interesting to hear about Golson's music background as well as his unique way of gripping a football. Maybe if he proves to be as dynamic as Brian Kelly has told people he can be, "No Laces" will become to starved ND fans what "Shoelace" has been to Michigan folks.
From @stevealbritton: BelieveinBrady. @BFeldmanCBS Reasons why I wouldn't have Michigan in top 10 now: lost key guys in heart of both lines & rougher schedule.
I think Brady Hoke is an outstanding coach. I also think Urban Meyer is an outstanding coach, but I had <span data-shortcode= State" data-canon="Ohio Bobcats" data-type="SPORTS_OBJECT_TEAM" id="shortcode0"> in the teens in my preseason top 25 for CBS too. The Buckeyes gifted young QB doesn't have the experience Denard Robinson has, but OSU does have a much better D-line than the Wolverines.
From @esserville: Why consider the schedule? A better team could lose 3 or 4 games more than an inferior team with a softer schedule.
People's criteria in how they approach a top 25 poll tends to vary. Even how we look at defining "best" team often devolves into most deserving. Is that one and the same? Not always.
I assess who I think is the most talented team. Then I look at their schedule and I consider that for my preseason rankings. People can claim best often in the subjective fashion but if you have two teams in the same conference and one is 8-4 and the other is 10-2, the 10-2 team even if it had a much easier road, it's almost a lock to be ranked higher. And, beyond that, close losses are still losses after all.
I suspect a big reason why Georgia is ranked so highly by both coaches and media is, in addition to having a really good defense, the Dawgs don't have to face LSU, Alabama or Arkansas in the regular season. And, maybe the thinking is that'd allow for more time for Mark Richt to develop his inexperienced O-line and young backs before potentially facing a conference heavyweight in the SEC title game. That said, they crept into the top 15 last year by the end of the regular season without beating anyone in the top 20.
So does that prove the toughness of a team's schedule is relevant to the rankings, or is it a red herring?
I'd put it this way: When I do my rankings in the preseason, I try to map out what a team's record may be. If Michigan opened with Ole Miss or Kentucky rather than Alabama, I'd have the Wolverines with one more win. I just think that's one bigger hurdle for a team to deal with. Plus playing as physical a team as Alabama is -- the Tide will have the top offensive line in the country -- can take a toll on an opponent. I'm not saying Air Force is going to knock off the Wolverines in Week Two, but AFA is a big headache to prepare for regardless. Coming on the heels of a game against the Tide only will make it that much more difficult.
A college football season also often becomes a battle of attrition.
As outstanding as LSU was in 2011, the Tigers defeated eight ranked teams, but eventually were knocked off by Alabama. The other part of that is when you do have those nasty early-season games, you run the risk of your team going into a tailspin with that kind of hangover effect. In 2008, No. 9 Clemson played the Tide in an opener and got thumped 34-10. The Tigers finished the season 7-6. In 2009, when No. 3 OU lost its opener to No. 20 BYU, the Sooners finished the season 8-5. And there are other examples of highly ranked preseason teams flopping. Maybe those teams weren't all that good to begin with. Maybe injuries caught up with them. And yes, I am aware there are examples of teams that do respond from early-season disappointments to have big years, as Oregon did in Chip Kelly's first season.
In 2010, Les Miles came into the season on the hot seat. His team, ranked No. 18, had a challenging opener, against No. 21 UNC. The Tar Heels, though, were ravaged by player suspensions. LSU hung on to win. The Tigers finished the season 11-2. If they played a more loaded Tar Heel team that night, maybe they lose that game and who knows what the vibe of that team might've been. Momentum is a fickle thing in sports, especially when you're dealing with 19- and 20-year-olds.
From @josephcdaniel: What do you think about WVU at 11?
I had them in my top 10. I thought WVU was ranked too low. I also thought Michigan State was ranked too low as well.
From @fmlinardo: How many wins does Dooley need to cool the hot seat at Tennessee?
Eight. And Derek Dooley could get to eight wins without beating a ranked opponent, which is a good and bad thing. It's good because it shows how realistic that is given their passing game and experience on offense. It's bad in that Dooley also is 0-19 all-time against ranked teams and needs to prove to the fan base and AD Dave Hart, who wasn't the guy that hired him that he is the right guy to lead this program.
The Vols have two intriguing games in the first three: opening with a decent N.C State team and then getting a visit from a rebuilding Florida squad. Neither are legit top 15 teams, but if they win both, that'd get some positive momentum going. Beating NC State but then losing at home to UF would be a real jolt. It would trigger the thought: "Well, if he can't beat UF now, when will we do it?!"
After those, two there are three match-ups with a lot of chips on the table: at Georgia, against Alabama and at South Carolina. Winning any one of those three would also probably be enough to cool the heat on him.
The other thing to keep in mind with Dooley is, he could have an 8-4 season, still not beat a ranked team and survive 2012, but face the potential of losing QB Tyler Bray early along with a couple of the gifted junior receivers and the Vols could be facing a daunting 2013, but first things first. Get to eight wins.
From @jw_209: Who at Notre Dame allowed those horrible uniforms for the Michigan game?
The same person who green-lighted the FreakBass fiasco? Seriously, I am not sure who ultimately was behind those things. It seems like whenever ND attempts to "get edgy," it backfires in a spectacularly comical way.
I did some surveying of Notre Dame fans in a bar in NYC on Friday and the reaction was not good. One fan lamented Notre Dame was "trying to be like everybody else, or be like Oregon." The point was valid. The same place that is so proud to talk about the spirit of retaining its independence and that unique quality you would think would hold true with things like this.
From @Matt_Lail: Where does N.C. State QB Mike Glennon rank among the nation's QBs?
As I wrote last week, there are 21 QBs listed in the odds to win the Heisman in 2012 and Glennon isn't one of them. That doesn't mean he's not an excellent QB. Those circumstances are skewed towards something very specific.
In terms of ability as a NFL style quarterback, he is in the top five. Seeing him throw at the recent Elite 11 camp, alongside of Matt Barkley and Geno Smith, two other more touted college QBs, you had to be impressed by Glennon's size and arm. It is as good as there is in college football right now. Those other guys have better skill talent around them, more game experience and play on bigger stages, but NFL people are high on Glennon.
The college game and the pro game have some significant differences. You'd have to say on play-making ability and the tools he brings to his team, Denard Robinson is one of the top five QBs in college football. As an NFL QB prospect, which puts more of a premium on the passing game, Robinson wouldn't be one of those top five. I'd rank Glennon in the top 10 among college guys even though he doesn't have a great supporting cast.
From @awjoyner: How come Tyler Wilson does not get more Heisman mentions?
Wilson is definitely on the radar. Vegas has him as a 33-1 pick to win the Heisman, only 10 other players are above that. Wilson had a strong first season as the starter for Arkansas in 2011 and generated some buzz. He threw for over 3600 yards and had a strong 24-6 TD-INT ratio and displayed some real toughness in the way he bounced back after getting pounded by the Tide D. Arkansas led the SEC in scoring at almost 37 ppg. The downside: The Hogs were also held to 31 points combined in their two biggest games, at Alabama and at LSU.
I suspect the reason why there isn't more Heisman belief in Wilson is because Arkansas lost three really good receivers from last year's team. The other key part is while it helps the Hogs to get standout RB Knile Davis back after missing last year, there is a chance that Davis could emerge as Arkansas' best Heisman candidate.
Many NFL-eligible juniors ignore advice provided by the league and risk going undrafted each...

Snyder died in Manhattan, Kansas, on Wednesday

Locksley joined Alabama's staff in 2016
Saban reportedly wants to hire Freeze, but there may be things keeping that from happening

Florida State-Miami will be on Oct. 6, and the Seminoles will play Clemson on Oct. 27

Weis Jr. was an offensive assistant for the Atlanta Falcons in 2017