Mailbag: How will the NCAA handle the Penn State case & what's good enough for Oregon?
Here is this week's mailbag.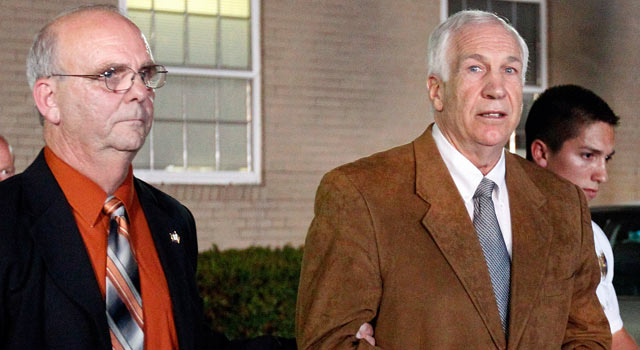 The Jerry Sandusky story is over, but Penn State's problems will linger for a long time. (Getty Images)
Here is this week's mailbag. As always, you can send in questions via Twitter to @BFeldmanCBS.
From @JayJersey14: Bruce, any ideas on what happens now with #PSU? Can you see the NCAA getting involved for lack of inst. control?
While the guilty verdict coming in on Jerry Sandusky was a significant step, there is still going to be a dark cloud hovering over Penn State for a long time. There are numerous investigations still in the works regarding the case, including one commissioned by the school's Board of Trustees that is being led by former FBI head Louis Freeh. Talk of a cover-up has surfaced, and as The New York Times reported Friday night, there's a "general feeling in State College that things could get worse." I doubt things can actually seem worse than how they have been there after something that, quite frankly, has redefined how we think of a scandal as it relates to college sports. 
That said, it's likely that the school has more turbulence to withstand. The former Penn State brass' actions (and in-action) in regard to Sandusky are now going to be under the microscope. On top of all of that, hearing about Sandusky's continued presence around the school and the program given all of the allegations for the previous decade, especially in recent years, is stunning. And, you can bet numerous lawsuits are in the pipeline.
How all of this might relate to any NCAA accountability is an interesting question. If it's proven that then-PSU president Graham Spanier and then-AD Tim Curley tried to cover up Sandusky's actions that would seem more like a real definition of Lack of Institutional Control than anything we've seen in a long time. But does it sync up with the NCAA's definition of Lack of Institutional Control?
Keep in mind that Curley and former Penn State finance official Gary Schultz, the one who oversaw the campus police, have been charged with perjury and failing to alert authorities to one act of sexual abuse by Sandusky in the scandal. Last week NBC reported that evidence has just surfaced that included emails detailing Curley, Schultz and Spanier discussing how to handle the Mike McQueary account of inappropriate conduct by Sandusky with that boy in the Penn State showers. According to the NBC report, Spanier and Schultz agreed that it would be "humane" to not report Sandusky to legal authorities. 
Truth be told, these circumstances are a lot more significant than whether some 17-year-old got free food or, as Stew Mandel pointed out, that some freshmen got to sleep on some couches as they did in the Boise State case. The NCAA, though, doesn't seem to really delve into bigger, more real-world issues and crimes.
How the actions of the former Penn State administrators would've impacted the athletic program, or more specifically the football program, is a lot to try and sort out. Are they going to ultimately examine whether they allegedly acted because they didn't want to tarnish Nittany Lion athletics?
Looking at the NCAA's list of acts that are likely to demonstrate a lack of institutional control, most are tied to the violation of NCAA rules. This Penn State case is beyond that and focusing on violation of laws, where agencies a lot more powerful than the NCAA are now involved.
A lot of people told colleague Dennis Dodd that if the NCAA were to pursue this case it would go beyond protocol.
"In the past the NCAA has looked at institutional control as it relates to specific substantive bylaws," Nebraska constitutional law professor Jo Potuto. "Although president Emmert certainly cites several bylaws that are in the general area of ethical [areas] those bylaws in the past have related to substantive athletically related violations."
I'd be surprised if the NCAA opted to get involved in a case of this magnitude, but who knows, we're in uncharted waters with a case such as this one. The focus on this story is unlike anything else we've seen with a connection to college sports and administrators and their use of power. Almost everyone involved with Penn State athletics these days is new, although the NCAA has shown in recent years, it still will try and make a statement by punishing institutions for past sins. Will the NCAA be willing to send that kind of message again in a case this big?
If not, this would seem like the latest example of the NCAA's justice system being unjust.
From @Cleared2Lloyd: what bcs conference newcomer has the best chance of winning their respective new conference championship?
I think both Texas A&M and Missouri aren't ready to compete for division titles, much less an SEC title, but I expect West Virginia and TCU to contend for the Big 12 title this fall. Both are loaded on offense and have systems built to survive in the Big 12 scheme-wise. Both are also going to be shaky on defense. I had higher hopes for TCU but after the drug sting that cost them several key players, I'm not as high on them as I was.
As I wrote a few weeks back, the Mountaineers' improved team and staff chemistry bodes well for the program in 2012 and beyond. The personnel on D there still probably holds them back from being a national title contender but they are going to pile up points this fall. The other thing I like about them compared to TCU is that the Mountaineers get to host both OU and the Horned Frogs this November. And they have an open week before TCU to get ready for Gary Patterson's team.
From @Duckfan17: With the success Oregon has had in recent years, how many wins will it take to call this year a successful campaign?
The bar is really high there in Eugene. Chip Kelly is 34-6 in his three seasons as the Ducks head coach. They just won a Rose Bowl. Yeah, they lost LaMichael James and Darron Thomas, but this team is still blazing fast, led by De'Anthony Thomas. They do have to go to USC in November, but the Ducks won in the Coliseum the last time the were there. Also, given that Stanford has to replace Andrew Luck and three other guys offensive players and the Cardinal comes to Eugene, the Ducks should at least get to the Pac-12 title game. I'd saying anything outside of winning the Pac-12 title would seem like a disappointment, meaning anything less than 12 wins this season would feel like falling short.
From @Chip_Kendall: If a committee is chosen, will they be made to watch as many games as possible to be fair? If not is it useless?
I really hope so. Among the flaws with the current process is that it uses the coaches poll, which has two big failings: First, coaches have such a conflict of interest (often including a financial stake contractually) in the outcome of their poll, it should never have been a part of the BCS. The second: coaches are already too busy worrying about their own team and their own games to have time to watch other teams and chart which school is best. Picking up off that second point, why should the new format have a similar shortcoming if they aren't willing to get folks who are totally committed to the process? I know many people who would call themselves college football fans, but they're essentially following one program, their team, and thus, they aren't well-versed in the sport as a whole.
I've heard from several sources that the upcoming selection process will have certain criteria factored into their decision-making, but still there is going to be a large factor of thought and valuation that goes into it. How can you expect an informed opinion if the committee isn't dogged in its research of the material by watching as many games as possible every weekend to create that perspective? These shouldn't be people appointed to this committee just because of their political influence, and I really hope they are not. That's the last thing college football needs. (Well, technically not the last thing. I can think of much worse, but you get the point.)
From @DrB365: can Notre Dame make it into BCS Final Four in two years? #GunnerKiel 
Let's see if the Irish can get back to being a Top 25 team first. Notre Dame finished unranked in each of Brian Kelly's first two seasons in South Bend, meaning you have to go all the way back to 2006 to find a season where ND was a Top-25 team. And, it'd be a pretty big surprise if the Irish cracked the top 15 this year.
To go from being a borderline top 25 team to a Final Four team is quite a leap. Are the young pieces emerging to think that the Irish can make a huge jump in 2014? It's way too soon to tell. Right now, no QB is established. Maybe one will show something this fall. My guess is redshirt freshman Everett Golson is that guy. Could Kiel be that guy? No one knows. They need to find a real spark though. Winning begets winning. It has to start somewhere.
Looking at the Irish depth chart right now, it's loaded with seniors and juniors. Stephon Tuitt and Ishaq Williams might be part of that team, and they could be dominant defensive players but who knows how they'll develop. George Atkinson III is another young guy to watch. Along with Golson, they're definite reasons for optimism. If things go really well for Tuitt and Williams, they may bolt for the NFL. That's the double-edged sword with elite talent. But when you're looking at teams that are the caliber of national title contenders, they are the programs that often lose three-and-out kinds of athletes and have similar studs waiting in the pipeline. LSU and Alabama lose those kinds of players and just re-load. That's what ND has to get back to. There needs to be a stockpile of difference-makers in the program. The nucleus of that 2014 team is going to be freshmen and sophomores this fall. There's too much projection work to sort out.
I think it's risky to read too much into recruiting rankings because we've seen so many examples of overhyped four and five-star prospects, especially there. Look at the ND's 2008 signing class. All but four of the 23 signees were ranked by Rivals as four-star prospects or better. Michael Floyd turned out to be an outstanding player, a difference-maker. Most of the other guys did not. Many of them were contributors and solid players, but didn't (or have yet to) prove they are the kinds of players who can be difference-makers for an elite program, not just "a pretty good" team. In essence, a bigger percentage of those four and five-star guys need to emerge as players who are among the best in the country at their positions. 
Much like the case with FSU and Miami of later, the on-field results simply haven't backed up the hype, and when a pattern of that keeps occurring, it's hard to get the benefit of the doubt.
From @JoshBaumgartner: How do u think the Iowa Hawkeyes will do this season? Is it another 7-5 season, make a bowl & lose the bowl game kinda season?
I like QB James Vandenberg. You have to be impressed any time a first-year starter in a big conference has anything like a 25-7 TD-INT ratio as he did in 2011. He's got a lot of talent for new OC Greg Davis to build around. Expect his completion percentage (under 59 percent last season) to go up quite a bit under Davis and with the added experience. They are going to miss WR Marvin McNutt, but Vandenberg has a bunch of capable targets still around. Imposing TE C.J. Fiedorowicz could be a star. It's the running game you have to worry about especially in that league. They also have to replace a lot of solid players on the defense. That D-line needs to be overhauled.
Iowa's been good but not outstanding for most of the past seven years with only one double-digit win season (2009's 11-2 record). I don't think they have enough experience or the ground attack to be as good as they were in '09, but I do think they may be getting underrated a bit.
They have a tricky opener against a solid NIU team in Chicago and host ISU in Week 2, but there is a real good chance for the Hawkeyes to be 5-0 by the middle of October when things heat up with a trip to Michigan State. You'd think that by that point it would've given the young D some time to jell. Also, after that MSU game, it looks pretty manageable for the Hawkeyes. They do have to go to Michigan late, but the other two road games are at Northwestern and at Indiana. They also don't have to play Wisconsin or Ohio State. My hunch is, as long they can get a decent running game (not necessarily a very good ground attack but at least respectable), they'll be 8-2 going to Ann Arbor (with the finale being home to Nebraska).
From @islandcanes: Could LeBron be All-Pro TE?
No doubt about it. I think he'd be a star in the NFL too. Maybe not go down as one of the best the sport had ever seen, but certainly an All-Pro. LeBron James is the Freak of all Freaks. He's a 6-8, 260-pound guy who runs faster and jumps higher than many NFL receivers. He also has great hands and body control. He was an all-state receiver in high school in Ohio. As a junior, he caught 61 passes for 1,245 yards and 16 TDs.
Years ago, while I was working on Cane Mutiny, I called Jay Brophy, a former Miami All-American linebacker and ex-NFLer, to ask him about playing for Howard Schnellenberger. Brophy didn't know I'd be calling. I just left him a voicemail identifying myself as a reporter.
An hour later, my phone rings. "Bruce, this is Jay Brophy. Yes, LeBron James would've been a great football player if he had opted to go that route. . ." Brophy assumed I was calling to ask about LeBron's football prowess and just launched into it because he was James' high school football coach and apparently that's all reporters wanted to ask him about these days. I wasn't, but we ended up chatting about James' anyhow. He said James' athleticism was Randy Moss caliber--only in a much bigger, stronger body. Like LeBron would've been a combination of (former Eagles great) Harold Carmichael and Moss.
Look at the impact Pro Bowler Jimmy Graham has had in the NFL after only playing one season at Miami. LeBron is a taller, even more athletic, more explosive guy than Graham.
From @CDbarker: What is America's finest college football press box?
The more I thought about this, the more Oregon kept coming to mind. The whole facility is state of the art. Autzen has lots of accessible TVs to watch other games before kickoff and at halftime. Wi-fi isn't an issue. It's not cramped where everyone's practically in each other's laps. Plus, the place has a great view of the surrounding area. It's not quite as picturesque as the Utah schools visually, but it is a very writer-friendly set-up.
I spoke to a few of my colleagues who echoed the sentiment about Autzen Stadium. One of them also had, um, high praise for Oklahoma State: "It has the nicest bathroom of any press box bathroom I've been in," one sports writer told me Friday. O.K., that's a sentence I never thought I'd ever write, but I'm sure Boone Pickens will pump his fist if he ever gets wind of the media's feelings about his bathrooms.
Many NFL-eligible juniors ignore advice provided by the league and risk going undrafted each...

Snyder died in Manhattan, Kansas, on Wednesday

Locksley joined Alabama's staff in 2016
Saban reportedly wants to hire Freeze, but there may be things keeping that from happening

Florida State-Miami will be on Oct. 6, and the Seminoles will play Clemson on Oct. 27

Weis Jr. was an offensive assistant for the Atlanta Falcons in 2017