Mailbag: Illinois; Lville's BCS hopes and Michigan's best case scenario
This week's mailbag on the reasons for optimism at Illinois; Louisville's hopes for a BCS lot; the best and worst case scenarios for Michigan; Bama QB AJ McCarron and recruiting drama.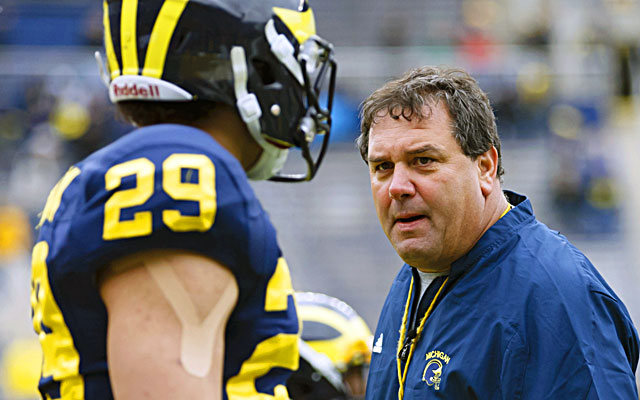 Here is the Weekend Mailbag. As always, send your questions to me via Twitter to @BFeldmanCBS:

From @DouginChiTown: After such a bad first year, are there ANY reasons for optimism for Illini fans with Beckman and Illinois?

I'd start by going back to track records. Tim Beckman's team went 5-7 and 3-5 in the league in his first season at Toledo and followed that up by going 14-2 in MAC play over his next two seasons. He also wouldn't be the first Illini football coach to have a woeful debut season and then get things going a little later. Mike White went 3-7-1 in his first season (1980). Ron Turner went 0-11 in '97. Ron Zook went 2-9 in 2005. All three of those guys would later go on to win Big Ten Coach of the Year honors at Illinois and two of them -- Zook and White -- actually earned National Coach of the Year awards. The problem at Illinois, though has been consistency.

So can Beckman, first get it going there and then keep it going? It's not going to be easy, especially since Ohio State and Michigan look like they're just getting cranked up again. What is encouraging though for Beckman is the off-field indicators within his program. In each of the three semesters since he's been there, the team GPA has improved. It's gone from a 2.6 to a 2.87. They went from having 36 players with a 3.0 GPA to now 51, which is a school record, Beckman pointed out. There also haven't been a bunch of embarrassing off-field incidents since he took over.

"It reminds me of about this time of when we made those big strides at Toledo," Beckman told me Friday morning. He talked a lot about attitude and accountability. At Toledo, he took over a program that was on scholarship probation because of a low APR. Among the rules he instituted at Illinois: players had to sit in the first two rows of class; live by "Illini Time," which means always being 10 minutes early; and all players must do at least six hours of community service.

The other big changes Beckman was excited about were the additions of OC Bill Cubit and D-line coach Greg Colby, two seasoned guys whose experience should help. What also will help is if the Illini can keep standout LB Jonathan Brown healthy. He was really banged up in 2012 and was missed.

Offensively, we'll see who emerges as Cubit's triggerman. Nathan Scheelhaase has good feet and plenty of experience, but must do a better job of taking care of the football (four TDs, eight INTs) if he is going to keep the QB job. RBs Donovonn Young and Josh Ferguson are capable, but is either one a difference-maker? A plus is that the O-line should be much improved.

We'll see how much some of these off-field positives carry over to the field in 2013. The schedule also isn't easy with likely all four league home opponents: Michigan State, Wisconsin, Northwestern and Ohio State being capable of ranking in the Top 25 this season. My hunch is things will still be quite a bit better for the Illini than they were in 2012.

From @Boomerseven: with Louisville's schedule, how overwhelming must their wins be to get in the mix ahead of a 1 loss SEC or other team ?

The Cardinals are going to need a lot of help if they have any shot of getting into the top two to make the BCS national title game. First, obviously the Cardinals need to handily beat everyone on what, on paper, looks like perhaps the easiest schedule in college football. Right now, there is no opponent on their schedule that even looks close to being a Top 25 team. Rutgers on Oct. 10 is probably the only one even worth considering among the top 40. Almost every other team in the country has more returning starters back than the Scarlet Knights. There is not a single game where the country, or more specifically, pollsters can be impressed by someone Louisville beats. (And from talking to a buddy whose opinion I really respect, this dynamic also is going to hurt QB Teddy Bridgewater's Heisman chances because it's harder to get a gauge on a guy when he's not playing any great competition. Even most mid-majors end up with some Top 20 opponent in their non-conference slate.)
The trickiest game for the Cards in the regular season I suspect will be the Dec. 5 game at Cincinnati. It's a Thursday night game. Butch Jones left Tommy Tuberville some talented players and the new UC coach knows plenty about upsetting Top 10 teams. I was actually surprised to see the Vegas experts at the Golden Nugget only have the Cards as a 3-point favorite but given the circumstances and Tuberville's rep for upsets that probably shouldn't be so surprising.

What would help Louisville immensely is if a few of their opponents make some noise in their other games. Let's rattle off almost a perfect storm of goodness for U of L's BCS hopes: Ohio, which is a good MAC team, wins its league; Kentucky knocks off either Florida, UGA, Bama or South Carolina and wins at least seven games in Mark Stoops' first season; Temple upsets Notre Dame in Week One; Rutgers beats Arkansas; UCF wins at Penn State or against South Carolina; USF wins at Michigan State or against Miami; UConn beats Michigan, and Houston beats BYU. Of all those, most are longshots. The best bets among them: Ohio winning the MAC and RU beating Arkansas, and I doubt either helps enough to do too much for Louisville. The Cards need Kentucky to stun people and USF to win both of its games and emerge as a Top 25 team.

Playing it out even more, let's say Texas A&M loses at home to Bama, but then wins out. The Aggies are almost surely going to be ahead of an unbeaten Louisville. Use Georgia losing to Clemson and running the table and the Dawgs are probably still ahead of the Cards. Same for probably any other one-loss SEC team. Now if it's a one-loss Big Ten champ, it might be a different story. Ohio State could face only one or two ranked teams all season and if the Buckeyes lose to one of them but still end up 12-1, maybe Louisville ends up above them. Maybe. But I doubt it because the combination of the Cards schedule and the credibility of the league they're in is just lacking so much right now.

From @ACallahan24: What are the best and worst case scenarios for Michigan this season?

Best case: Devin Gardner looks like the DG who carved up Iowa last year; Fitz Toussaint and touted freshman Derrick Green push each other to provide the Wolverines with a punishing running game reminiscent of Bama's Mark Ingram-Trent Richardson combo while the front seven sees some young guys step up and become difference-makers. If those things happen and the Wolverines get some momentum going with a Week 2 win over visiting Notre Dame, they should be in good shape by the time they visit MSU in early November, when things get rough. Hopefully for Michigan, standout LB Jake Ryan is back by midseason and in good form for this rugged stretch run: In addition to facing the Spartans, they also face three other potential Top 25 teams: Nebraska; Northwestern and then Ohio State. And then, if all has gone well, they have a Big Ten title game.

Realistic best case scenario: 12-1. Despite some impressive talent, I think that month of November has too many tough games to expect the Wolverines to navigate especially for a team with the fewest returning starters in the Big Ten (12).

Worst case: Gardner looks more like the guy who was shaky against the Buckeyes; the running game isn't consistent behind a revamped interior O-line and doesn't get enough support from what was the No. 97 passing offense in 2013. Worse: Ryan isn't back to bolster the defense. They can't get anything going against a big ND defense and lose in Week Two. Then struggle at Penn State before the brutal month of November, where Gardner gets hurt and a lack of depth at QB forces Brady Hoke to play freshman Shane Morris before he wants to and they go into a tailspin and end up 6-6 despite starting 4-1.

From @Chuc241: When will @10AJMcCarron get the national respect he deserves? He gets it done every Sat. but is still regarded as a game mgr.

McCarron is now considered a terrific big-game QB after his performance in the last two BCS title games. That's strong stuff. Is he looked at as a guy who can carry a team on his back the way that Cam Newton or Johnny Manziel have done? No, probably not, but he is thought of by most credible folks as one of the top quarterbacks in college football. Case in point: only Manziel and Braxton Miller have heavier odds to win the Heisman than McCarron's 9-1.

From an NFL scouting perspective, McCarron gets praise for his great touch and ability to make quick decisions. The negatives are for his average velocity on his throws and long delivery, according to former NFL scout Daniel Jeremiah.

From @Winn3317: After the where's Deshaun Watson soap opera, Do you think social media has made it easier or harder for commits to switch?

Good question. My initial instinct was to say it makes it easier because the more people talking or chirping at a recruit (often a very impressionable 17-year-old) only mucks up the process that much more for the kid and may plant more doubt in there. Then again, getting blasted by a bunch of strangers probably is something a lot of kids dread especially after they have watched their number of twitter followers swell thanks to wooing fan bases. The more I think about it, the more I buy that it's actually harder on them because it seems like more and more kids tend to get caught up in what other people think/say.

From @NateTalksSports: do you see a time where top prospects stop signing the NLI to avoid what Thomas and Vanderdoes are dealing with?

I do. I wouldn't be surprised in fact if it happens in 2014. In the wake of the Eddie Vanderdoes mess, there's been enough chatter and attention on the subject that I could see a player holding back knowing he doesn't have to pull the trigger if it keeps him from getting tied down. And if the player is a big enough recruit, schools will wait. Two of the best players Miami ever had, Ray Lewis and Edgerrin James, were late additions by months to their program. Not because they were sorting out college options but more because they were getting their academic profiles straight, but UM still was savvy enough to leave room just in case. And it paid off big-time.


The Fighting Irish will be without some playmakers in 2018

It may have been impossible for Sumlin to meet the expectations set for him in College Sta...

Some players are more easily replaced than others
The 2017 season is in the books, and several big-name stars are jumping early to the NFL

Love was second in the nation in rushing with 2,118 yards in 2017

It looks like Jennings is slowly making his way back to the Vols after being dismissed last...