Mailbag: Is ND really relevant?
Here is the Friday Mailbag. As always, send your questions to me via Twitter to @BFeldmanCBS:
Here is the Friday Mailbag. As always, send your questions to me via Twitter to @BFeldmanCBS:
From @EdwardLane2: Why is Notre Dame considered the envy of every conference despite recent on field & TV ratings mediocrity? What am I missing?
The TV ratings aren't mediocre at all. They've been down (you can point to the numbers for the game last year against Air Force), but people still tune in even when this program isn't in the Top 25. The Irish played Florida State in the Champs Sports Bowl and ratings jumped 64 percent from the previous year. You can give some of that credit to the 'Noles, but ND also deserves it too. The Irish prompted a Hawaii Bowl TV ratings record when ND played in that a few years ago toward the end of the Charlie Weis era.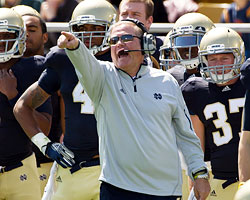 The issue over whether the Fighting Irish, who have not won a national title in almost a quarter century are still relevant surely does get folks fired up. Is the on-field product diminished compared to what it once was? No doubt, but in the truest sense of the term relevant, people still really, really care about Notre Dame. Especially, the people who matter most, the power brokers of the sport, namely the conference commissioners who trip over themselves to try and woo the school. Same with the TV execs. That's what makes Notre Dame relevant. If those people didn't really care, ND wouldn't be nationally relevant. When top decision-makers change the way they do business depending on you, that speaks to relevance. This isn't just about a program putting together a couple of teams ranked in the top 15. Listen to what people in the Big 12 or ACC commissioner John Swafford have said about the Irish in the past few weeks. That's what shows you just how relevant the ND brand still is. Like it or not. Fair or unfair.
In fact, I think the like-or-not part touches on something that factors into the relevancy part with the Irish. No question, the Irish have a huge fan base, coast to coast, but the Irish also draw an overwhelming number of people who hate ND. They'll tune in religiously hoping to see the Irish get beat. That factors into TV ratings too. Fans simply don't hate other programs like that. They don't tune in hoping to see Nebraska lose. Or Virginia Tech. Or Oklahoma. At least not in the way they do for Notre Dame. And this has kind of a self-fulfilling prophecy quality to it because the more we in the media talk about it or answer questions about it or dredge up the Irish, the more irked ND haters get about the Irish.
From @SECBlog: Who's the second best coach in the SEC?
I suspect you're insinuating that Alabama's Nick Saban would rank No. 1. If so, we're in agreement. I think most people in the media would have him there too.
The No. 2 slot in the SEC comes down to LSU's Les Miles vs. Steve Spurrier. Miles, for all of his curious sideline antics, mannerisms and time-management maneuvers, has pushed the right button as often, if not more often, than any other coach in the country. He has produced five top-eight finishes in the past seven seasons. The most important thing a coach can do is get his players to respond to him, and Miles is great at that. If LSU had beaten Alabama a second time last season, I would have had him No. 2 in the SEC, perhaps even No. 1. But the Tigers looked like a mess in the BCS title game.
Spurrier took Florida to a level it had never been at before. He also has taken over a previously listless South Carolina program, where no one, including his predecessor Lou Holtz (33-37 in six seasons and 16-19 in his final three years with the Gamecocks), has been able to do much with there and made them into a power. Spurrier won an SEC East title in 2010. Last fall, he led them into the top 10. The program looks like it's ready for another top-15 season. At 67, is he slowing down? Doesn't seem to be. Oh, and the guy won at Duke. I'll go with Spurrier at No. 2.
From @Juliecmiller: How does Wisconsin's offense stack up in the B1G ? Where do you think they'll end up in Leaders Div?
Russell Wilson did wonders for that offense. His dual-threat ability is going to be missed, but Danny O'Brien, the Maryland transfer, is very talented. Two seasons ago, O'Brien was one of the best young quarterbacks in college football. He doesn't have Wilson's agility, but he is accurate and very sharp. And he has two capable targets in WR Jared Abbrederis and tight end Jake Pedersen. Of course, the bread-and-butter for this team is still going to be the power running game behind a physical offensive line and star running back Montee Ball. I've heard great things about new OC Matt Canada from some guys who coached with him in the MAC. He should be fine replacing Paul Chryst. 
I think the only offense that will be better in the conference is Denard Robinson's attack at Michigan, but if O'Brien regains the form he displayed in 2010, the Badgers might have enough to surpass the Wolverines.
I have the Badgers winning the Leaders Division. Ohio State, which should be led by a superb defense, is out of the postseason due to NCAA sanctions. I realize there has been a big staff shakeup in Madison, but this is still a program with a lot of players that know how to win. The Badgers have won 32 games in the past three seasons and been to back-to-back Rose Bowls. 
Illinois and Penn State are both intriguing teams, but each has new coaches and I'm not convinced they have enough to overtake the Badgers. This leads me to ...
From @MikeLWalsh: What kind of season would be viewed as successful for first year head coach, PSU's Bill O'Brien? 
After all of the chaos that the Penn State community has gone through, anything more than seven wins would seem like a very successful first season, especially since it appears O'Brien is recruiting very well: Six of the 10 commits are ranked as four-star prospects (by Rivals.com). This program hasn't landed that many four-star guys in three of its previous five signing classes. They also have their first commitment from the state of Florida in a decade. Better still, QB commit Christian Hackenberg is widely considered to be one of the best in the country. This is a huge need when you think about how mediocre PSU QB play has been over the past decade.
Their schedule sets up pretty favorably. The Nittany Lions don't have to face either Michigan school, who could be both in the top 15 this fall. Of their five road trips, only Nebraska figures to be ranked in the Top 25. If O'Brien can get decent QB play from Matt McGloin, eight wins seems viable. Seven wins would be fine and should be considered a positive first step for O'Brien. Less than that will give folks around there some pause, but they have to understand how difficult this transition is going to be.
From @allgritsandballs: should BC fire spaziani if they have another bad year? who should they go after of they do?
If Frank Spaziani can't get the Eagles back to postseason play, you would have to say the program is clearly going in the wrong direction and needs a change. BC had been a consistent winner, but then they elevated Spaziani and things are falling apart. They go from eight wins to seven wins to four wins last year to what now? (In the three seasons before he took over, they won 30 games and they had won at least eight games the previous eight years.) Spaziani desperately needs a big bounce-back. And I'm not expecting one. 
Sources close to the BC program told me Spaziani has had all sorts of trouble with staff chemistry issues. Key assistants Ryan Day and Kevin Rogers bailed to Temple. Spaziani had crossed a personal line with Rogers early last season and the spin that came out of that couldn't resolve a fractured staff. Spaziani was a good defensive coach, but hasn't shown he can manage a staff and run a program. 
A couple of names to remember for later this fall if this job does come open: 49ers assistant Greg Roman, a well-respected offensive mind who impressed in interviews at Vandy and almost got that job, and Michigan State DC Pat Narduzzi, a top defensive coach, who went to college in New England and is also a very good recruiter.
From @fightingirish50: In your experience is this also true of the NFL? Are the best players from those 3 states? Are recruiting sites biased?
This question came in response to something I tweeted earlier this week after ESPN came out with its updated top 150 recruits lists for the Class of 2013. In it, seven of the top eight prospects came from the states of Georgia, Florida and Alabama. That didn't sit well with a lot of folks in other parts of the country.
Is it possible for a region to be that stacked in a given year? Yes, but it would have to be a very unique season. The odds are really, really stacked against it.
That said, in 2009, I charted the actual best of the best in football. I examined where all of the Pro Bowl picks played high school football. A significantly high number, in fact, did come from the Southeast, with a whopping 36 from there. The most amazing part was that the state of Florida produced 16 Pro Bowl players by itself, just one less than the entire Midwest region and 10 more than the entire Northeast yielded and the same as the whole West. (The Southwest had 12.) In truth, I'm not sure that means much more than what we already knew: The South, and Florida in particular, produces some great football players. Does it produce almost all of the best players? No, of course not.
If you were to re-rank last year's top recruits, the Southeast would've had more than its share, led by Sammy Watkins (Fort Myers, Fla.) and Jadeveon Clowney (Rock Hill, S.C.), but California did too with Marqise Lee and De'Anthony Thomas.
The reality is the old lament "the East Coast bias" has morphed into the Southeast bias, at least in terms of football. But that's what happens when a region, rooted in SEC football, has its conference win six consecutive BCS titles. You can also factor in the run before the SEC dominance, where the state of Florida programs -- Miami, FSU and UF -- were piling up national titles and cranking out all those first-rounders.
So are recruiting sites biased? I have a lot of respect for the guys who do the ESPN rankings. They're all former coaches and are serious about what they do. The hardest part of that business is the limited intel that all the recruiting analysts have. They can only eyeball so many kids. Recruits also mature at different times; operate in dramatically different schemes, against different levels of competition and the level of coaching they get varies quite a bit too. Those are huge x-factors. 
Recruiting analysts, like the rest of us, tend to favor what they're most familiar with or see the most.

The biggest missing piece in the high school recruiting business is the guys who do the star system seldom have intangible insight into who these kids are: how sharp they are, how tough they are and how much they love football. The analysts rarely get to spend much time with or around the kid.
They may hear praise from the recruit's coaches, but as one veteran recruiter once told me, if those high school coaches haven't had many elite prospects, how do those guys really know what "a great one" is?
From @hogeandrew: so 2 of the main Characters in your 2 recent books are now in the PAC 12 together, will we get a follow up of them?
There will be a follow-up to the Mike Leach book, Swing Your Sword that I co-authored. I just turned in the update chapter of that book. The paperback for Swing Your Sword will be on sale Aug. 7.
I don't have any plans for a followup on Meat Market or Ed Orgeron, now an assistant at Southern California, although at some point this fall, I'm going to try and get down to Ole Miss, where the new staff is almost entirely made up of coaches from Orgeron's Rebels staff.
CBS Sports HQ Daily Newsletter
Get the best highlights and stories - yeah, just the good stuff handpicked by our team to start your day.
Please check the opt-in box to acknowledge that you would like to subscribe.
Thanks for signing up!
Keep an eye on your inbox for the latest sports news.
Sorry!
There was an error processing your subscription.
Boermeester was expelled in 2017 following an alleged altercation with his girlfriend

Kiffin has accepted his fair share of transfers in two seasons leading the Owls

The Canes are becoming Transfer U, but while their latest addition will be impactful, he's...
Sarkisian is in his second stint as Alabama's defensive coordinator

Vote in the first round of the Snacket and help decide the ultimate snack food

DaMarcus Fields, Joseph Wallace and Da'Leon Ward were suspended for unspecified reasons