Mailbag: Legit BCS hopefuls, Manziel matters, Penn State's prospects
Here is the weekend mailbag, which looks at which teams have legit BCS title hopes, the prospects of Johnny Manziel, Penn State and Cincinnati as well as the college football world's view of 'advanced' stats.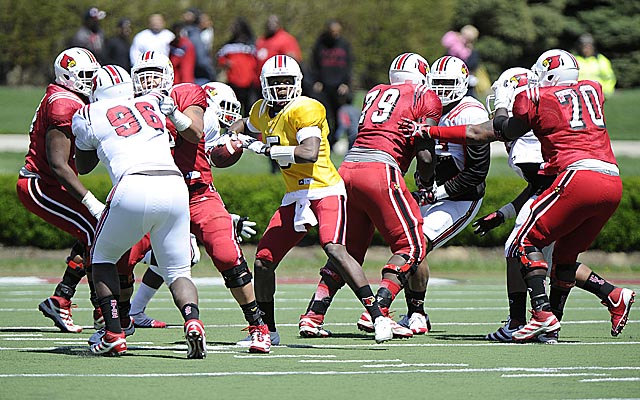 Here is the Weekend Mailbag. As always, send your questions to me via Twitter to @BFeldmanCBS:
From @PaulPabst: How many teams can win the national title in 2013?
Obviously, we never know which players could emerge as difference-makers and potentially change the course of a BCS title run or which vital players might go down with season-ending injuries, but I'll separate the legit contenders into two categories: decent shot and outside shot.
Decent shot: Alabama, Texas A&M, Stanford, Ohio State, Oregon, and I'll lump Louisville in with this batch because, even though the Cards play a weak schedule, they'll probably still be ranked behind a few one-loss teams. There have been seasons in which power conferences have had two-loss champs. Charlie Strong's team has a talented QB in Teddy Bridgewater and some athletic WRs who will be a handful for anyone. Just ask Florida how dangerous Bridgewater is.
I almost included Georgia in the decent-shot group but feel like the Dawgs have too many key guys to replace on D, especially with such a treacherous first few weeks of the season. Others in the outside-shot category with Georgia are Florida, Florida State, Clemson, LSU, Michigan, South Carolina and Texas.
UCLA, Notre Dame, Oklahoma, TCU, Miami, USC, Oklahoma State and Nebraska all have some intriguing pieces but have too many areas of big concern to say they are title contenders at this point. I'd have included the Irish in the outside-shot group before the news that Everett Golson wasn't going to be with the team. I figured if Golson kept developing, he could provide that offense with a much-needed spark.
From @ThatCraigSnyde: Another week, another weird Manziel story. And it's more stuff he brought on himself. Will this end well for him?
It's amazing to see how much attention a guy got for something that stemmed from a parking ticket, but that's where we apparently are with Johnny Manziel and today's media culture. The Texas A&M QB was discussed all over SportsCenter and ESPN's myriad of talking-head shows this past week. USA Today said he's "becoming the Kardashian of college football." The Sporting News referred to him as "Johnny Look at Me."
"What we are witnessing, people, is the social implosion of a man who has played one season of college football – and already can't get out of his own way," wrote TSN's Matt Hayes. "We've seen this before (hello, Maurice Clarett, Mike Williams) and it doesn't end well. There's no way to sugarcoat this: Johnny Look At Me is acting like a spoiled baby."

As many have said, Manziel has brought much of this attention on himself. But in fairness to him, the media climate that he's living in is much different than it was just a few years ago -- thanks to Twitter. Not only does so much more stuff get out, but it gets out so much faster around the country -- and to these talking-head shows that regurgitate it in a way that makes almost everything seem scandalous.
Should Manziel have sent those tweets the other night? Probably not. But a lot of us regret stuff that we've tweeted that often can make us sound tone deaf.
Individually, much of this is harmless. Hanging out with A-listers at clubs or road trips to big sporting events? Break 80 at Pebble Beach? Hit a home run in BP at a major-league stadium? He's experiencing -- and doing -- a lot of things that most folks wish they could do.
Earlier this spring, I wrote that Manziel is a cross between a Dan Jenkins character and Vinny Chase. In truth, Manziel's living the Entourage life right now for real. (He even refers to one of his best friends as "Turtle.")
One of the big things that I think makes Manziel's situation different from other star college athletes is that he comes from a wealthy family, so he has the means to take advantage of some of the things that his newfound celebrity status has afforded him. On top of that, you do have a 20-year-old guy faced with so many signs spotlighting his worth: the reported $37 million in media exposure that he brought to A&M; all of the times that he's shown and talked about on national media outlets; celebs posting pictures hanging with him on their Instagram accounts; or even the fact that he has almost 375,000 Twitter followers who care what he says or does. Beyond that, any A&M book store that he walks into features dozens of Aggie items with his No. 2 on them for sale. Put all that together with a ultra-competitive guy who has had a chip on his shoulder from years of people doubting him, and you get quite a combustible mix.
No doubt, NFL personnel folks are keeping tabs on all of it. Dealing with celebrity is a big part of the job at the next level. Maturity and commitment need to be givens when it comes to that world. But before we get to that, Manziel has to show he can handle success at the college level. He certainly showed he could handle the supposed Heisman jinx when he lit up Oklahoma in the Cotton Bowl. I wouldn't bet against him having a big 2013 and leading A&M back into the top five.
What I think has gotten lost this offseason is how talented Manziel is as a playmaker. His arm is more accurate and stronger than most people think. It got better as the 2012 season went on, and it has continued to blossom this offseason. Those who have worked with him in the past few months have been impressed by his development, but of course, now the bar is so much higher. There's a reason (actually, a few reasons) why only one man has ever won two Heisman Trophies. There are many more distractions. Things are more complicated. Or at least appear to be. Right now, it seems like the best thing that can happen for Manziel is that the season is close to starting.
From @ShakenBlake1515: How many wins do you see for Penn State this year?
Bill O'Brien had a very impressive debut season with the Nittany Lions both on the field and in recruiting. Unfortunately for him, depth issues will continue to mount with the way the NCAA sanctions are set up. PSU has 13 starters back with only five returning on defense.
O'Brien might now have two more talented QBs than Matt McGloin, but they don't have the guy's experience. They also lost a couple of steady LBs in Michael Mauti and Gerald Hodges, and there are some sizable holes on the D-line. The non-conference schedule is hardly ominous, though. They open at MetLife Stadium against Syracuse, which will be breaking in a new QB, too. Then, they sandwich two MAC opponents (Kent State and lowly Eastern Michigan) around a game against UCF, all at home. None of the four games will be played in enemy territory. It'd be surprising to see PSU go any worse than 3-1 on that stretch and probably 4-0 given that they're home games. Then, they get a week off before opening the Big Ten schedule at a mediocre Indiana squad. Things heat up after that with games against Michigan and at Ohio State.
I see them at 5-2 heading into November, where they have three games that I'd expect them to win (Illinois, at Minnesota and against Purdue) although, given the depth concerns, I could see them slipping in one of them, too. I'll say 8-4 or 7-5, especially since the first month affords O'Brien some time to develop his QB.
From @Bearcat_ED30: How do you see Tommy Tuberville's first year in Cincinnati?
This program has grown accustomed to success, having won a share of the conference title in four of the past five seasons. Tuberville knows exactly what he's doing when it comes to running a program, and he has assembled a good staff around him. Better still, Butch Jones left the cupboard well stocked. The Bearcats have the conference's best O-line and two capable, experienced QBs in Brandon Kay and Munchie Legeaux. We'll see who ends up the starter there. Tuberville has said Kay has the slight edge. He figures to be tough to unseat, and he does still have a few nice weapons in Belk Bowl star Anthony McClung and explosive Ralph David Abernathy IV. UC does need a running back to emerge now that George Winn has moved on. But with a seasoned offensive front, that shouldn't be too much of a problem.
Former junior college standout Greg Blair anchors the D that has to replace five starters and has some legit questions in the secondary. It'll also be interesting to see if former FSU LB Jeff Luc, a one-time five-star recruit, can give UC a big boost and provide some balance to Blair, the guy who seems to make every tackle for the Bearcats.
On paper, I'd say this is the AAC's second-best team (behind Louisville) with a slight edge over Rutgers. It wouldn't shock me if UC was undefeated and 8-0 heading into November, cracking into the Top 25. They open with two suspect Big Ten teams (home against Purdue and at an Illinois team that just went 2-10). Beyond that, the biggest hurdle of the first two months is a road trip to USF. I'd say 9-3 is realistic for this team. And if there's a team that has a good chance to knock off Louisville in the regular season, it's the Bearcats, who get a visit from the Cards on Dec. 5.
From @Backlineshow: Sports are becoming more and more stat-driven with sabermetrics. Do you see that path working for a college football team?
I suspect what we see as "advanced" stats depends on whom you ask. To me, it felt like that meant the stats that weren't typically flashed up on the screen whenever a guy came to bat in baseball or what they put on the back of his trading card.
In terms of football, coaches have been using detailed statistically situational breakdowns in game preparations for years outside of the media's purview. Walk into any offensive or defensive staff room, and you'll see so many grease boards covered with what an opponent does on third-and-two via formation, personnel grouping, etc., your eyes will bug. In the predictive sense, that kind of advanced analysis has been around for a very long time. In the quantitative sense of measuring a player's worth, it gets murkier with college football than other sports.
A few years ago, Texas DC Manny Diaz told me that reading Michael Lewis' book Moneyball really got him thinking.
"You can't read that and not try and find some ways that can relate back to our game," Diaz said. "It's tough because the thing that's so different in college football is that the level of competition changes so drastically. You can play against I-AA teams, where people pad their own stats; you play against out-of-conference opponents, against in-conference opponents. Who you play has so much to do with what happens.
"The last thing that really makes it different from baseball is that the sample size is so small. You're trying to make assessments off of 12 games. Everybody laughs around this time of year with baseball stats when they say, 'So-and-so is on pace to hit so many home runs.' Well, 12 games isn't a lot of data, either, but that's the world that we live in."
What also makes it trickier to use as a gauge for a player is unless you're on the coaching staff, you probably don't know exactly what a guy's assignment was or what he was faced with on a given play, and that adds to the mix of reading a lot into a perceived outcome.
Getting Leavitt back was obviously high on Cristobal's list of priorities

Cristobal's first game at Oregon ended the same way Chip Kelly's did

Conner Manning and the Panthers dominated the Hilltoppers in the Cure Bowl
You can only go to the well so often before it dries up

The Trojans beat LSU earlier in the year and now have their first 11-win season as a FBS t...

Saban has never been a fan of the early signing period and made it clear that hasn't chang...